To make life easy for our customers, we offer testing as a service via our offering called CloudTestMate. This service comes bundled with a pack of testing scripts across HCM, Financials, and EPM in Oracle Cloud. Further, we also offer a service to automate the testing of custom components that you may have developed on Oracle PAAS or Oracle Cloud Infrastructure (OCI). Oracle Cloud ERP is upgraded every quarter whereas EPM gets upgraded every month. Therefore, we find more and more of our customers opting for testing as a service that could come bundled with automated testing scripts within the regression packs.
What do we offer in our testing as a service?
Fusion Practices "Testing as a Service" includes:
Unit Testing of Incidents before releasing it to production
System Integration testing for technical components/integrations after quarterly upgrade.
Co-ordinating with end-users to complete User Accepted Testing (UAT) and sign off for enhancements/releases.
Automated Regression testing as part of the Quarterly patch upgrades
Performance testing (gathering metrics from CloudTestMate (Automated Testing) on time taken to complete transactions)
As part of the release process, every change to production undergoes unit testing and end-user testing, and signoff.
How can CloudTestMate help your business processes?
With quarterly Patching & upgrades in the cloud environments, the manual testing of business processes becomes very difficult. The testing window being narrowed down to two weeks for Oracle Fusion cloud calls for quicker and more reliable testing processes. With our experiences in the past, we have identified the key impact areas during upgrades and our test scripts include test cases.
With Fusion Practices CloudTestMate (an automated testing service offered by Fusion Practices), testing can be completed in hours when compared to days in manual testing. Greater efforts can be diverted into analysing the results with the reports/dashboards that are available as part of the solution.
A proven repository of test scripts across Oracle Cloud Financials, Procurement, and HCM modules in Oracle Cloud, these test scripts are tailored to the Customer's configuration and process flows. We bring in pre-built test scripts (vanilla flow) for Oracle ERP cloud from our repository.
CloudTestMate ensures regression testing is completed in hours instead of days and saves almost 120 man days a year
Added value benefits for the customer:
Quarterly patch testing as a service
Automates execution of regression tests
Regression test completed within hours
Validates and ensures business processes continuity
Test execution evidences, history of regression execution
Performance trend of key business processes
Failure analysis by our Fusion Cloud SMEs
Test scripts tailored as per Customer's business processes and configuration
Can complement UAT and other test cycles
Risk of integration failures minimised
Advisory on new product features
Continuous evolution of test scripts, Risk of human errors avoided
Outputs from regression testing examples: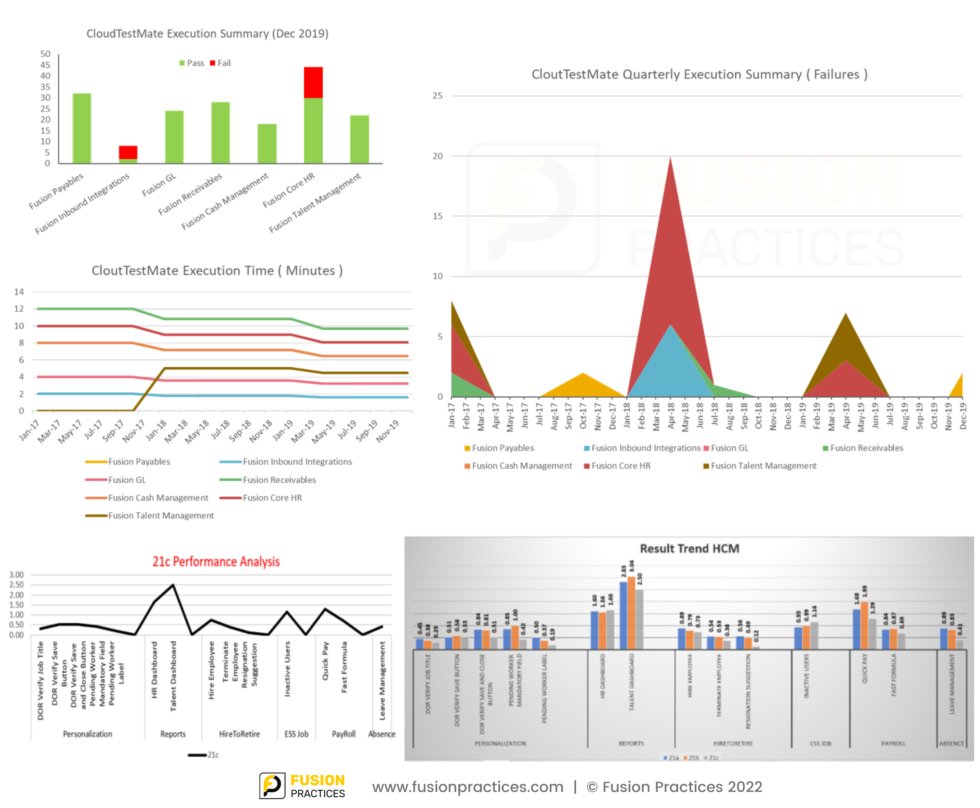 To know more about Fusion Practices' automated quarterly patch testing service, Click here to request a demo