Reduce time spent on collating inputs, data remediation, and manual checking and get information sooner for better planning using our Data Hub Platform. For a demo contact us
Fusion Practices' Data Hub Solution decreases reliance on spreadsheets to create, store information, and source key reports. To understand how contact us
Minimise manual work by automated integrations, transformations and data checks. To understand our Data Hub solution's benefits contact us
Improve data integrity by having built in data validations to ensure your data is correct. To know how contact us
Fusion Practices Data Hub Platform solutions enable your business to discover hidden opportunities. To know more contact us
Better data to mitigate risks
Data-driven insights to discover hidden opportunities
Self-service reporting capability
Data lineage using monitoring dashboards
What is our Data Hub service?
Our Data Hub Platform, available on both Microsoft's Azure Cloud data platform and Oracle Cloud PAAS 
9

Offers a centralised place to access data.

9

Has the capability to source data from many different sources.

9

Can cleanse and convert data into a required format and standard.
Fusion Practices has industry best Microsoft Azure and Oracle Cloud certified developers with more than 7 years of experience.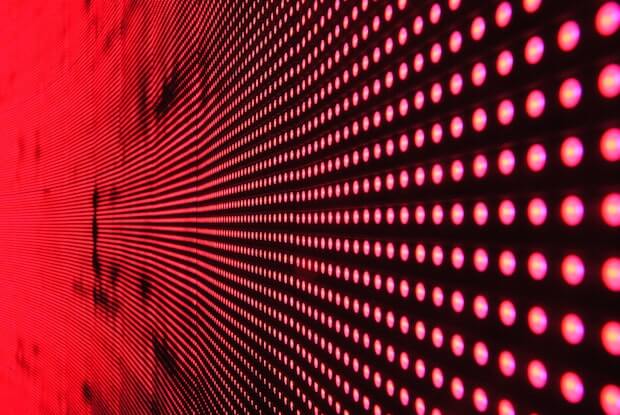 Why should your business use our Data Hub services?
Provides integration services
Pull data from multiple source systems into one place

Transforms the data in a central place

System to system automation

Enables data to be sent to cloud-based systems that cannot call the data itself
Reporting solutions
Ability to create self-service reports 

Query data historically and with greater flexibility  

Data available in structure and shape required with the right permissions

Data more accessible enabling analysis for more effective decision-making
Publishes data services
Ability to call data automatically 

Can reduce the number of manual processes and spreadsheets because no longer needs to be manually requested or inputted
Data quality checking
Can add data quality rules and transform the data

Preparation of data

Ability to replace the manual checks currently done in Excel.
Why should your business move to Cloud Data Platform?
A versatile cloud platform offers
Secured scalability, and flexibility to adapt to business growth needs and innovate better
Agility through built in intelligence and Artificial Intelligence to go to market faster
Z

Numerous Excel spreadsheets that are manually loaded into systems

Z

High data integrity risk due to the manual handling of data

Z

Data lineage is difficult to guarantee

Z

Poor data management, data access and data confidentiality issues

Z

Multiple, non-integrated customisations that hold multiple versions of the same data

Z

Long term expense due to manual work required

Z

The need to scale up volumes - which is not practical with manual effort
How can Fusion Practices Microsoft Azure or Oracle PAAS Data Platform Solution benefit your business?
Our Data Platform Solution transforms business growth bottle necks/challenges to accelerators
P

Difficulty in efficiently storing and auditing historical data

P

Talent stressed with operational activities

P

Reduced delivery speed

P

Lack of data visibility due to non-standarisation of quality

P

Non-scalable manual processes
P

Best-in-class security mechanisms and standardized (data) access mechanisms

P

Business processes streamlined and automated to enable better analysis and reporting

P

A data hub, acting as a single source of truth with higher quality data

P

Layered design that decouples data from logic to ensure scalability of operations
Data Architecture principles help you achieve your business outcomes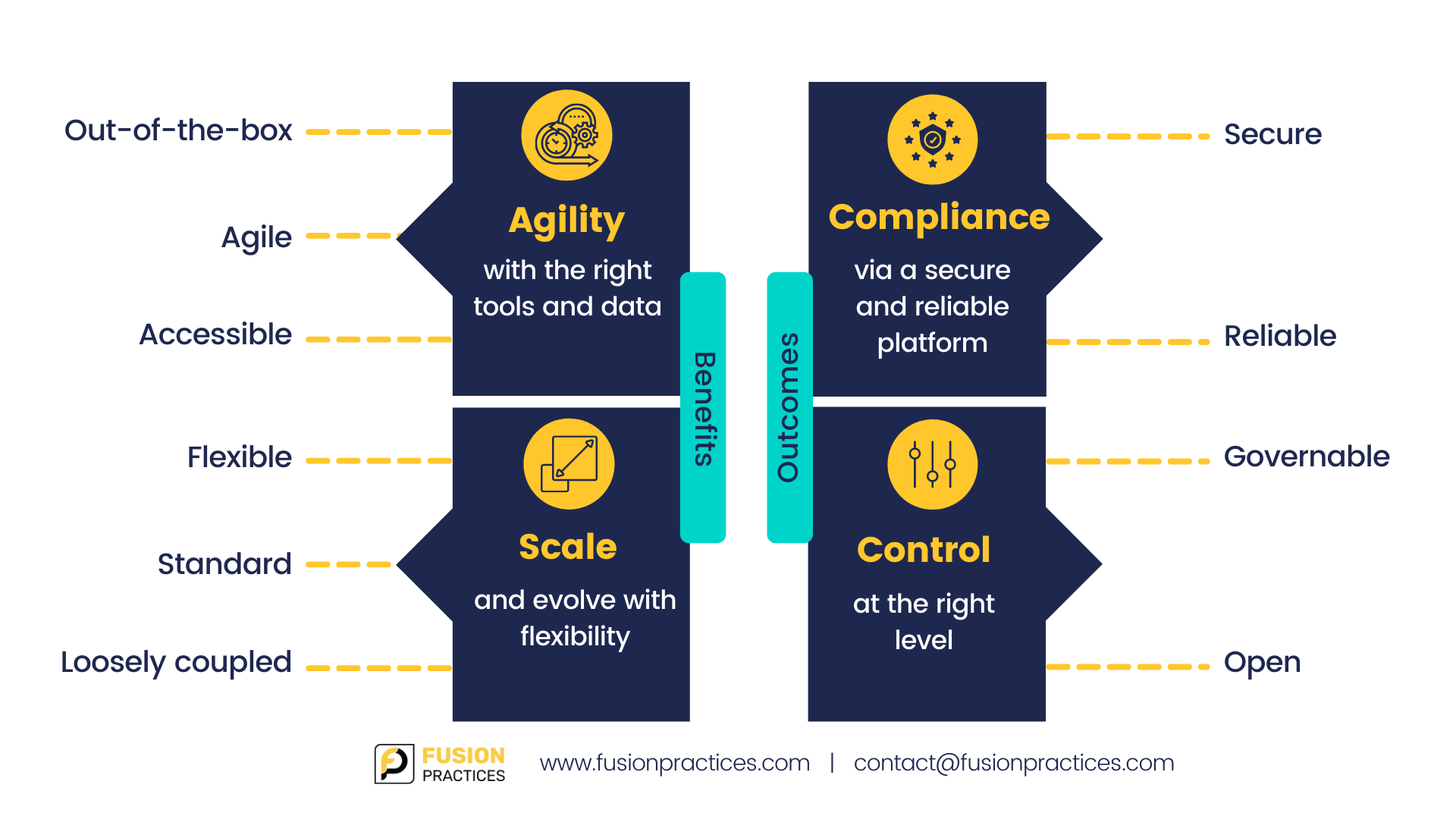 Harnessing the power of cloud computing, we managed to reduce the operational cost by ~250% at a recent client site by implementing the below checks:
Shut down unused resources

Right-size underused resources

Choose the right compute service on cloud

Take advantage of the Hybrid Benefit (VM, Cloud infrastructure & PAAS components)

Configure autoscaling, time-to-live, auto pause

Set up budgets and allocate costs to teams and projects
For a demo of our solution or a reference call email us at contact@fusionpractices.com
Aligned to customers' business needs and supports growth goals by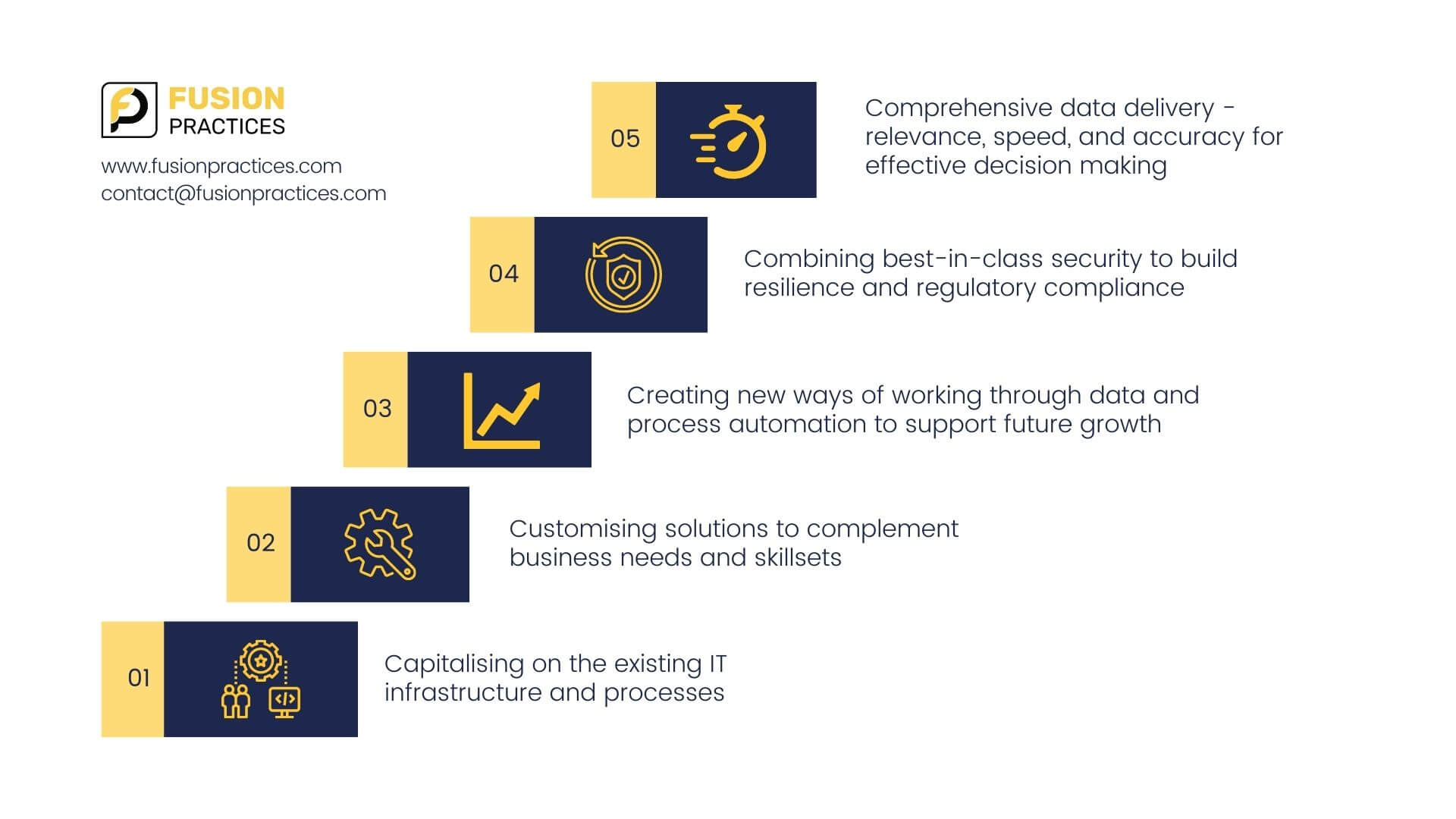 Capitalising on the existing IT infrastructure and processes
Customising solutions to complement business needs and skillsets
Creating new ways of working through data and process automation to support future growth
Combining best-in-class security to build resilience and regulatory compliance
Comprehensive data delivery-relevance, speed, and accuracy for effective decision making
Key principles for your data platform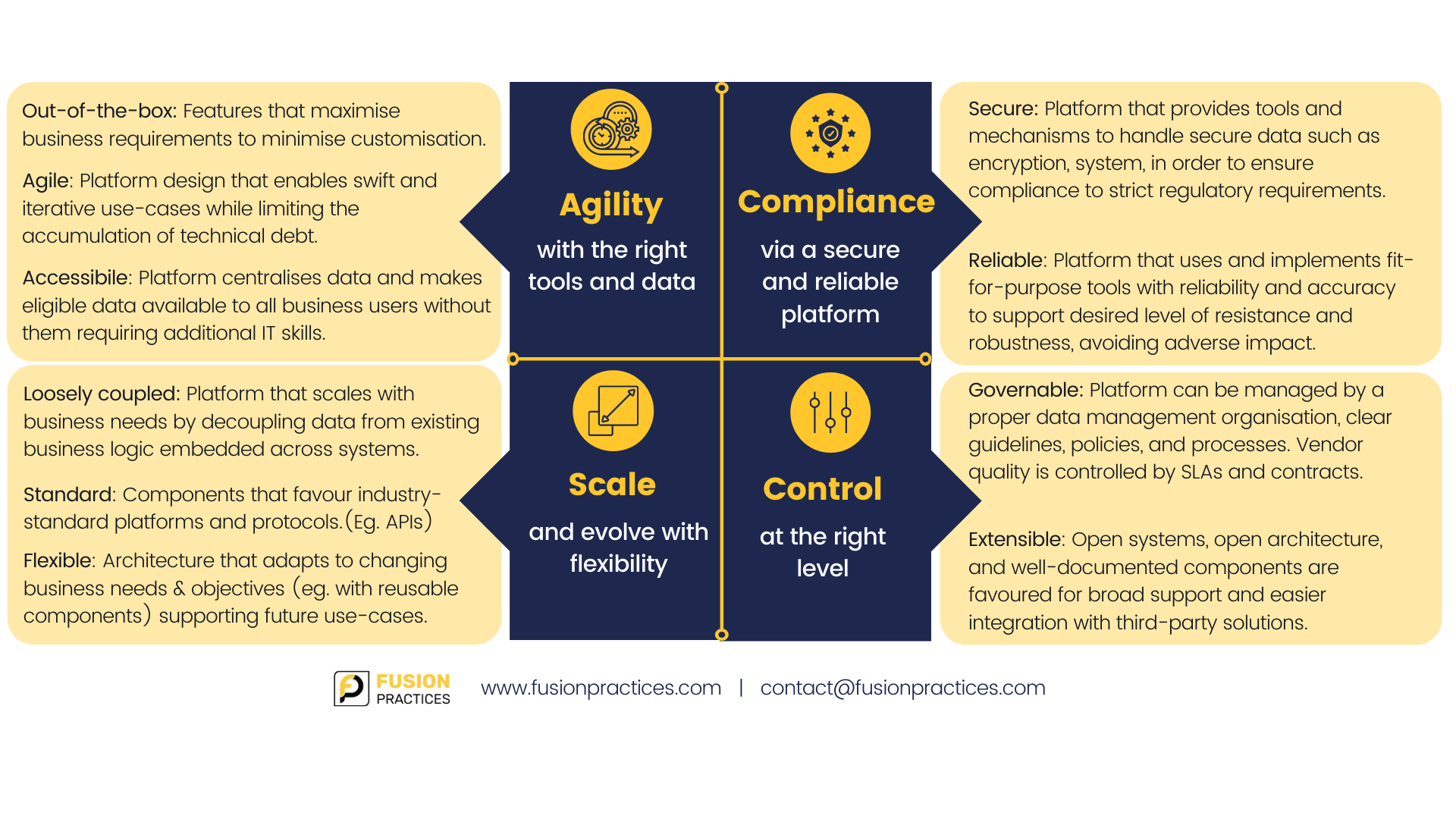 Oracle DataHub Components