Starting December 2021, Oracle Hyperion Premier support transitioned to sustaining support for version 11.1.2.x. This change presents several challenges for existing Hyperion customers, including limited support services, no access to new features or enhancements, potential compatibility issues, and increased costs.
As businesses grapple with these challenges, Oracle EPM emerges as the natural upgrade to address these concerns while delivering a modernised, comprehensive enterprise performance management solution. In this blog post, we will delve into the reasons why Oracle EPM is the go-to choice for Hyperion users seeking to stay ahead in today's competitive business landscape.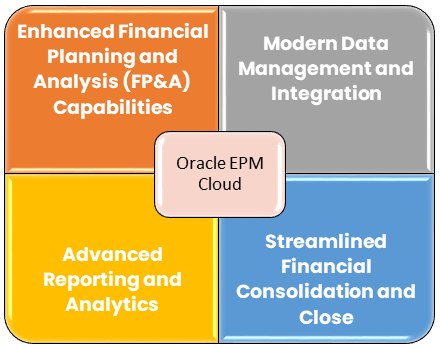 Enhanced Financial Planning and Analysis (FP&A) Capabilities: Oracle EPM Cloud, combined with Fusion Practices, offers advanced FP&A capabilities that allow organisations to create detailed financial plans, budgets, and forecasts. With features like driver-based modelling, rolling forecasts, and scenario planning, Oracle EPM Cloud provides superior functionality compared to Oracle Hyperion Planning, empowering businesses to better anticipate and respond to market changes.
Modern Data Management and Integration: Oracle EPM Cloud and Fusion Practices enable seamless data integration and management, ensuring accurate, consistent, and timely data for reporting and decision-making. Oracle Data Management, a key component of Oracle EPM Cloud, simplifies data integration from multiple sources, including Oracle ERP Cloud, Oracle Fusion Applications, and third-party systems, eliminating data silos and improving data quality.
Advanced Reporting and Analytics: Oracle EPM Cloud's reporting and analytics capabilities surpass those of Oracle Hyperion Financial Management (HFM). With features such as interactive dashboards, rich visualisation, and mobile access, organisations can gain real-time insights into their financial performance and make more informed decisions. Additionally, Oracle EPM Cloud integrates with Oracle Analytics Cloud, further enhancing analytical capabilities and providing advanced predictive analytics.
Streamlined Financial Consolidation and Close:  Oracle EPM Cloud's Financial Consolidation and Close (FCC) module streamlines the financial close process, automating tasks and reducing manual effort. Compared to Oracle Hyperion Financial Management (HFM), Oracle EPM Cloud FCC offers a more modern, user-friendly experience with enhanced features like task orchestration, automated reconciliations, and configurable compliance rules, ensuring a faster and more accurate financial close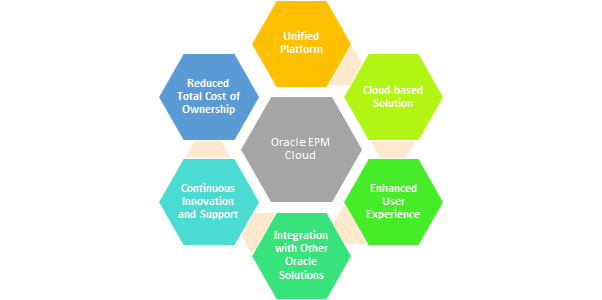 Unified Platform: Oracle EPM offers a unified platform for financial planning, budgeting, forecasting, consolidation, reporting, and analytics. Unlike Hyperion, which comprises multiple disparate components and tools, Oracle EPM brings all these functions together in a single, cohesive solution. This not only reduces complexity but also enables seamless integration between different EPM processes, leading to better efficiency and decision-making.
Cloud-based Solution: One of the most significant advantages of Oracle EPM is its cloud-based architecture. With Oracle EPM Cloud, organisations can scale their EPM processes as needed without investing in expensive hardware and infrastructure. Cloud-based solutions also provide better security, data protection, and easier access for users, ensuring that the system is always up-to-date and available.
Enhanced User Experience: Oracle EPM offers a modern, intuitive user interface that caters to the needs of today's finance professionals. The platform is designed to be user-friendly, with features like drag-and-drop functionality, easy navigation, and advanced visualisation capabilities that make it simpler to use than Hyperion. This not only improves user adoption but also reduces the time and effort required to train new users.
Integration with Other Oracle Solutions: As part of the larger Oracle ecosystem, Oracle EPM can be easily integrated with other Oracle solutions such as Oracle ERP, Oracle Analytics Cloud, and Oracle Autonomous Database. This integration allows organizations to leverage their existing investments in Oracle technologies, streamline data flows, and improve overall operational efficiency.
Continuous Innovation and Support: Oracle is committed to providing ongoing innovation and support for its EPM products. By choosing Oracle EPM, customers gain access to regular product updates, enhancements, and new features, ensuring that they always have access to the latest tools and best practices in enterprise performance management. Additionally, Oracle's extensive support network and resources help customers with any issues they may face during the transition from Hyperion to Oracle EPM.
As Oracle Hyperion customers navigate the challenges presented by the shift to sustaining support, Oracle EPM Cloud and Fusion Practices provide a modern and comprehensive solution to meet their enterprise performance management needs. By embracing Oracle EPM Cloud, organisations can benefit from enhanced FP&A capabilities, modern data management and integration, advanced reporting and analytics, and streamlined financial consolidation and close processes, ensuring a competitive edge in today's dynamic business environment. 
Leveraging our extensive expertise in Oracle Hyperion and Oracle EPM solutions, we are well-equipped to assist you in developing a seamless, risk-free transition roadmap for your Hyperion migration.

---