Innovative Oracle Cloud quarterly patch automated testing solution
Faster validation of Oracle Cloud quarterly patch upgrade lends more time for enhancements and bug-fixes
When compared to manual testing, it reduces regression testing time from days to mere hours
Looks beyond mere testing of Oracle Cloud quarterly patch upgrade; it analyses the impact on system performance
Analyses trends and identifies patterns, and provides customers quick, easy dashboards with details of the testing results
Fusion Practices' Oracle Cloud experts will assist customers in analyzing the testing issues and work closely to fix those, ensuring business continuity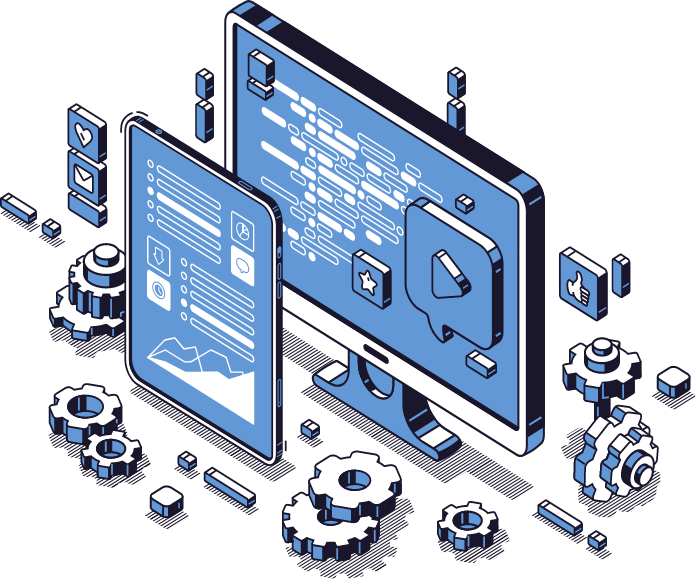 Reduction in the cost of quality
Informed decisions on new feature adoption

Quarterly patch testing as a service

Failure analysis by our Oracle Cloud ERP SMEs

Automates execution of regression tests

Advisory on new product features

Extend CloudTestMate to test your interfaces and integrations to Oracle Cloud ERP

Tailored test scripts using our repository

Ensures data security and compliance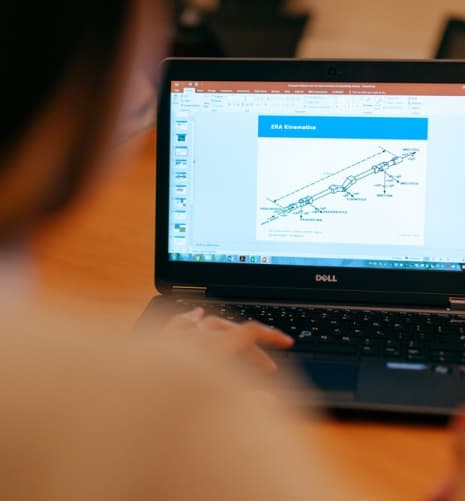 Oracle Cloud quarterly patch upgrade cycle for Oracle Cloud (SaaS) requires businesses to test the new release's bug-fixes and enhancements swiftly. In such a scenario, manual testing is unfeasible.
Apart from losing precious days, manual testing can also impact business continuity due to limited testing coverage, human errors, and its inability to scan and identify patterns impacting performance.
FPL Edge
Fusion Practices' CloudTestMate is an automated testing service which de-risks the entire patch upgrade cycle delivery, ensures that testing is completed in hours instead of days, and provides reports and dashboards for quick and easy analysis. CloudTestMate is provided as a complementary solution with our Managed Support Services, or even as a stand-alone service depending on customer needs.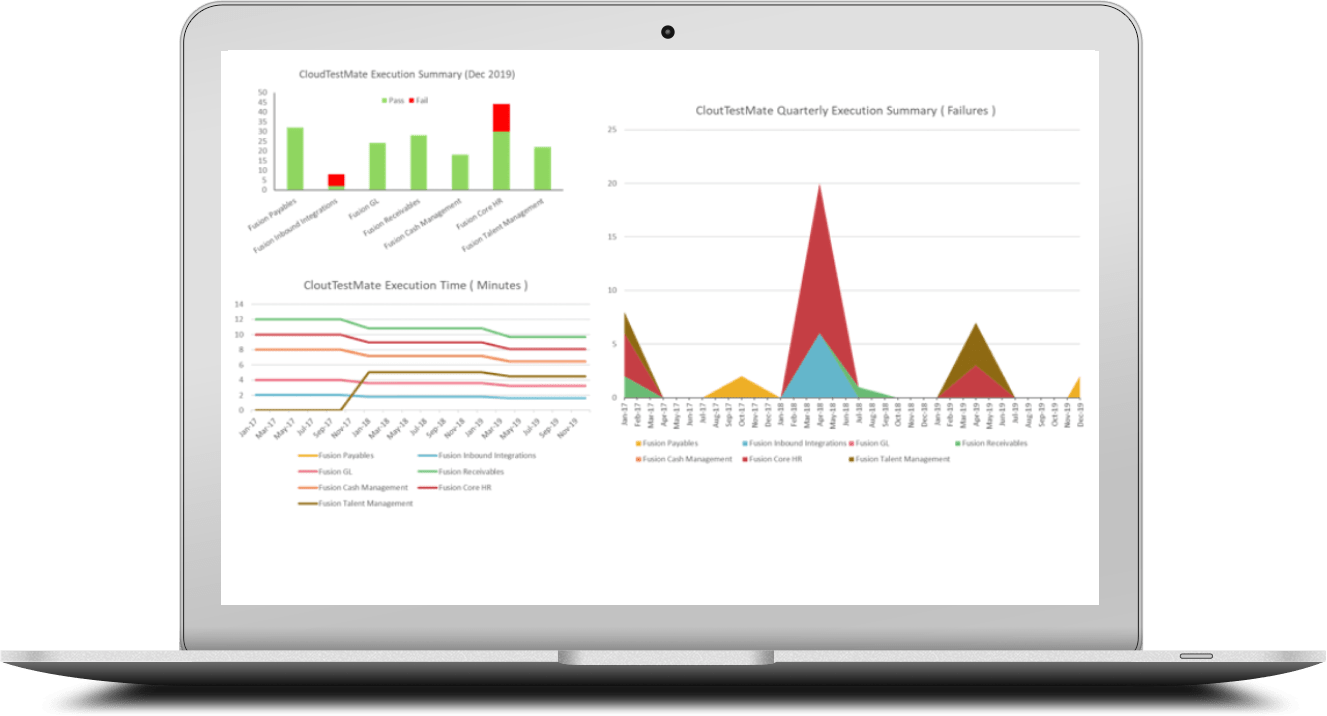 Repository of test scripts
CloudTestMate includes a rich repository of our proven test scripts, which are used as a baseline and modified to match the customer processes.
Comprehensive test results analysis
Our Oracle Cloud SMEs analyse test results and provide configuration and product issues with in-depth analysis.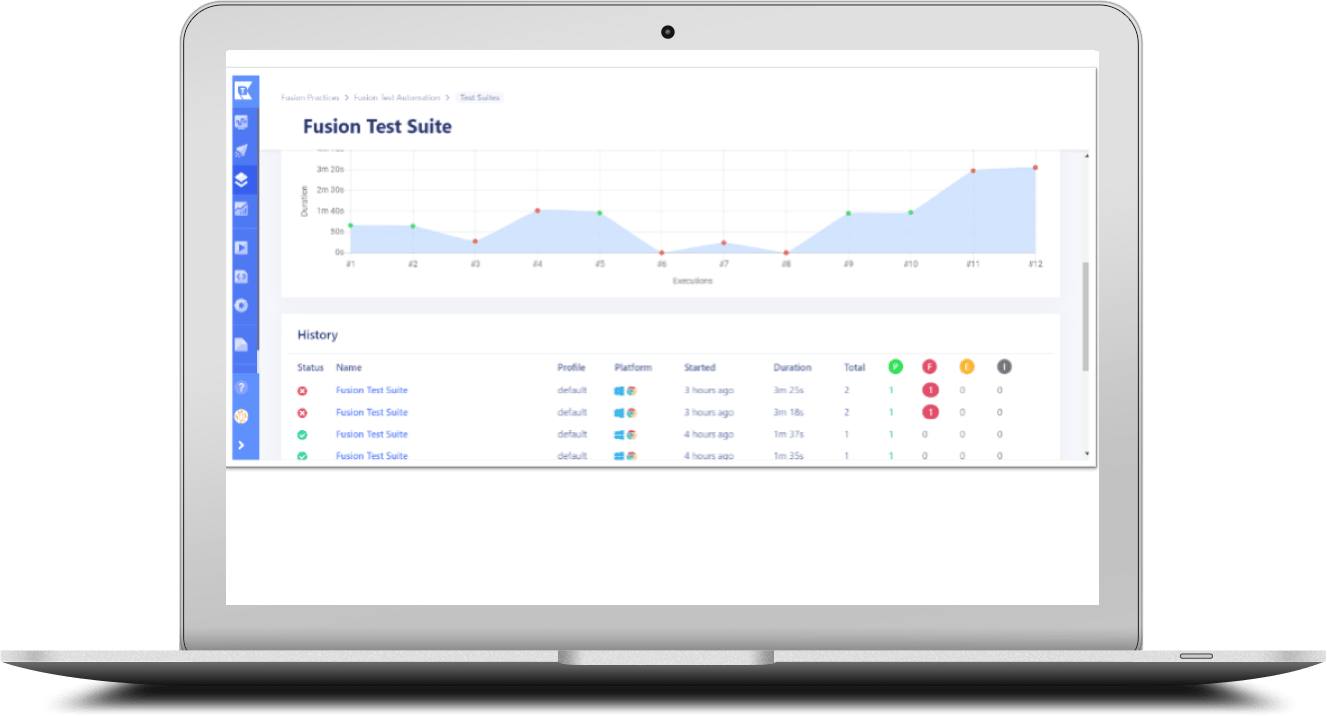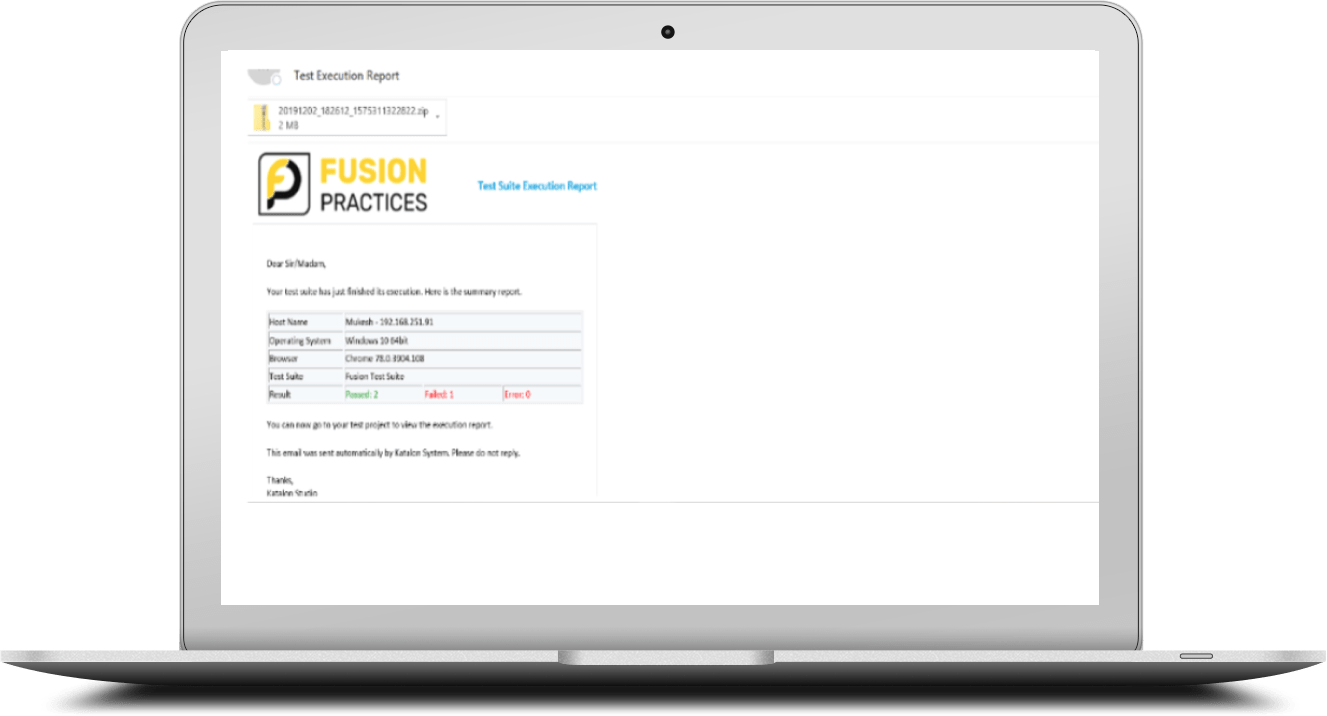 Advisory service for new features
Our advisory service, a value addition along with CloudTestMate, proactively analyses new features and helps customers choose those that are relevant to them.
Independent Testing Service
Along with CloudTestMate, Fusion Practices has an independent testing team of experts. Whether it is manual or automated testing, our team can assist customers' implementation partners. CloudTestMate can be extended to be used for UAT/SIT or any major implementation of new functionality.
CloudTestMate offers support for all Oracle applications: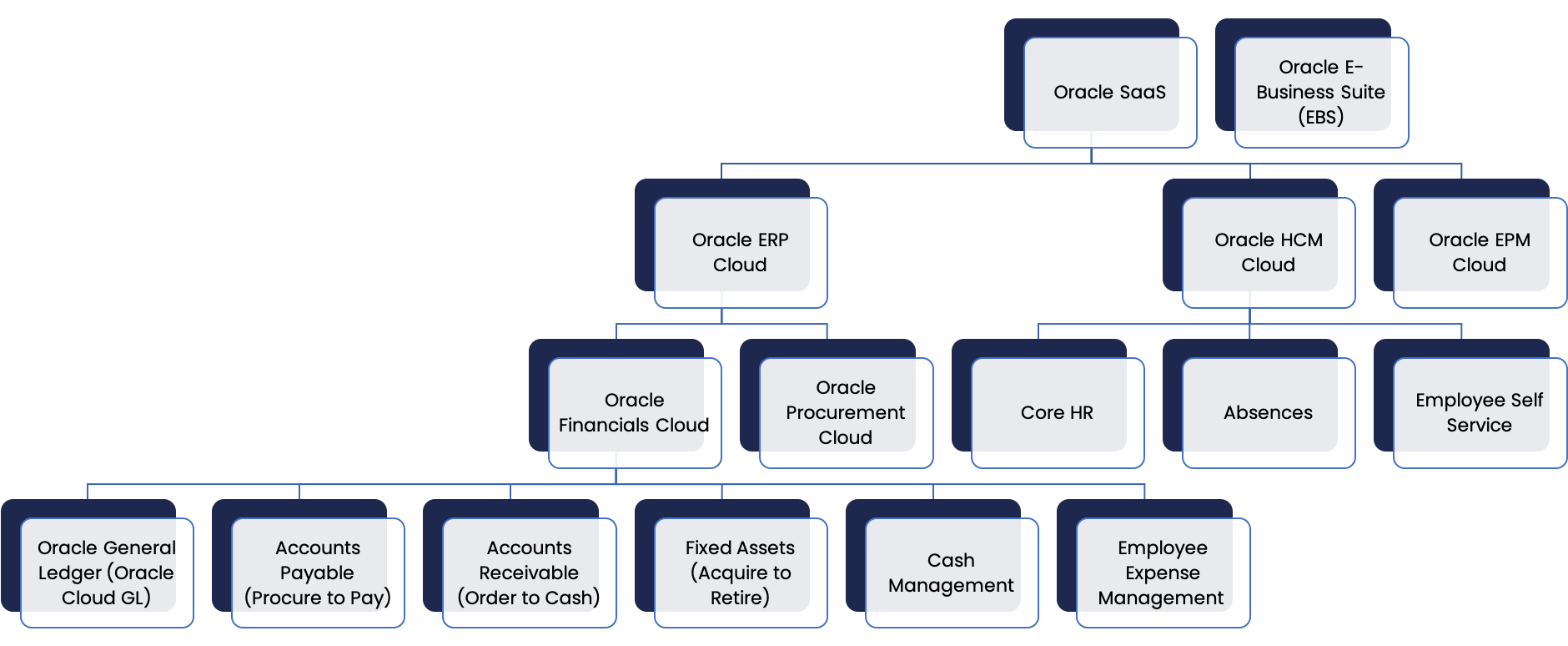 The time window between quarterly patch application in DEV/Test instance and production is just two weeks. Within these two weeks, customers need to complete testing, analyse the results, and raise issues with Oracle, if any.
CloudTestMate reduces the regression testing to merely hours, enabling faster validation of Oracle Cloud quarterly patch upgrade.
Manual testing is not accurate because of the possibility of human errors.
CloudTestMate is a reliable solution as it is performed by tools and scripts, preventing testing fatigue.
Ensuring that patching has not adversely impacted the system performance.
CloudTestMate reduces the time taken to complete each transaction and provides comparison with historical information.
The number of test scripts that can be run manually is limited, restricting the overall test coverage. 
CloudTestMate can execute a large number of test scripts, offering a wider overall test coverage.
FPL Data Migration
A fixed price, end-to-end automation toolkit that helps customers de-risk their go live with a seamless data migration from legacy systems to the cloud.
Training Suite
Our best-in-class Oracle training modules ensure that customers are equipped with the relevant skills to adopt and use new technology.
FLAT
Fusion Legacy Archival Tool is a proprietary solution to archive Oracle EBS to data lake with reporting enabled on historic data.
Knowledge Repository
Knowledge repository equips customer teams with the necessary know-how and resources to resolve recurring issues at the helpdesk level to avoid escalations leading to cost reduction.
Rapid Implementation Toolkit
A fixed scope offering that enables our customers to reduce their implementation time with our predefined solution blueprints and templates.