years experience in supporting enterprise systems
repeat clients in the last five years
rating in CSAT score by our customers
maintenance contracts won during the pandemic
What is Managed Support in Oracle Cloud?
Our Associate Director of Service Delivery, Goutham shares his views on the value that Fusion Practices offers and why Oracle Cloud ERP Managed Support Services is much more than incident management.
It offers supports the entire pack of solutions,whether its is Oracle PAAS, Oracle IAAS, and Oracle Cloud ERP.
ITIL driven support approach
Seamless service transition
Holistic support approach
Customised levels of support
Effective knowledge management
Shared or dedicated services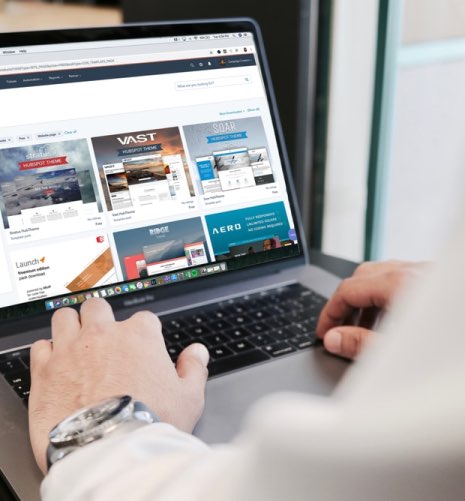 Many organisations today are shifting to cloud from traditional on-premise systems to enhance their business agility and drive meaningful transformations to spur growth. 
Shifting to cloud and optimising its potential can be challenging without a specialist partner.
The need for a partner
Hiring experts to manage and support the IT investment, keeping abreast of the various updates and patches, and providing 24×7 support can be a challenging task that could prove to be both capital and resource intensive.
A partner like Fusion Practices will help you focus on your business imperative while taking care of support and management.
We have a highly experienced, multinational team of Oracle consultants that has been delivering high-quality Oracle Cloud services globally since the very first release of Oracle Cloud ERP.
With our global delivery and significant experience in implementing Oracle Cloud programs, our customers get varied options for 'right shoring' delivery and operations, and managing overall costs.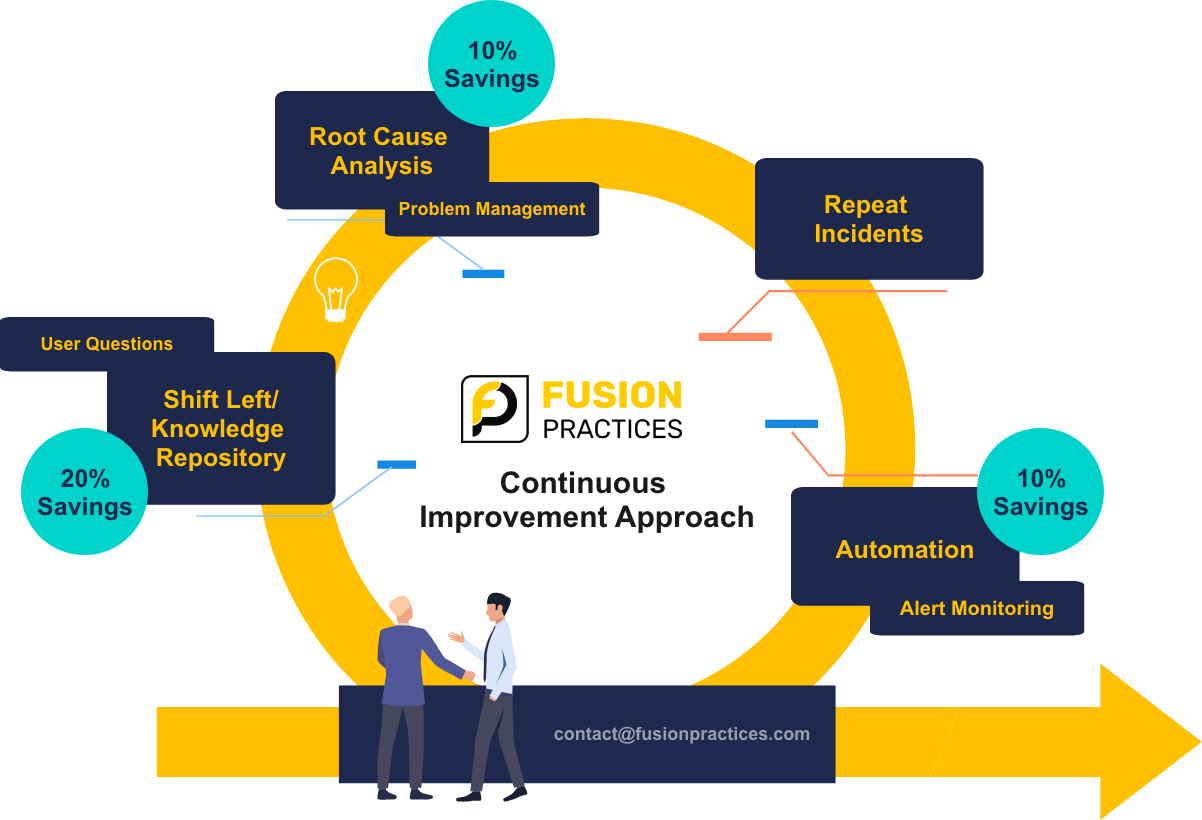 Beyond Incident Management
The Fusion Practices Managed Support Services suite includes consulting advisory as part of its process. With each quarterly Oracle update, our experts help you in analysing and enhancing your cloud system, identifying additional and relevant features, and optimising the system for maximum benefit. Our accelerators and expertise of certified professionals ensure a significant increase in efficiency, resulting in maximum cost-benefit ratio. Our customers can leverage Fusion Practices' dedicated resources and subject matter experts (SMEs) to ensure service delivery even at times of extreme need and uncertainty.
Seamless Service Transition
The first six months are crucial post transitioning to cloud. New processes and varied features generate tremendous queries from the end users. This is where our experience, knowledge and expertise make a difference. Our on-ground and offshore teams invest deeply in understanding customer processes, architecture, and requirements, to ensure a light weight service transition model.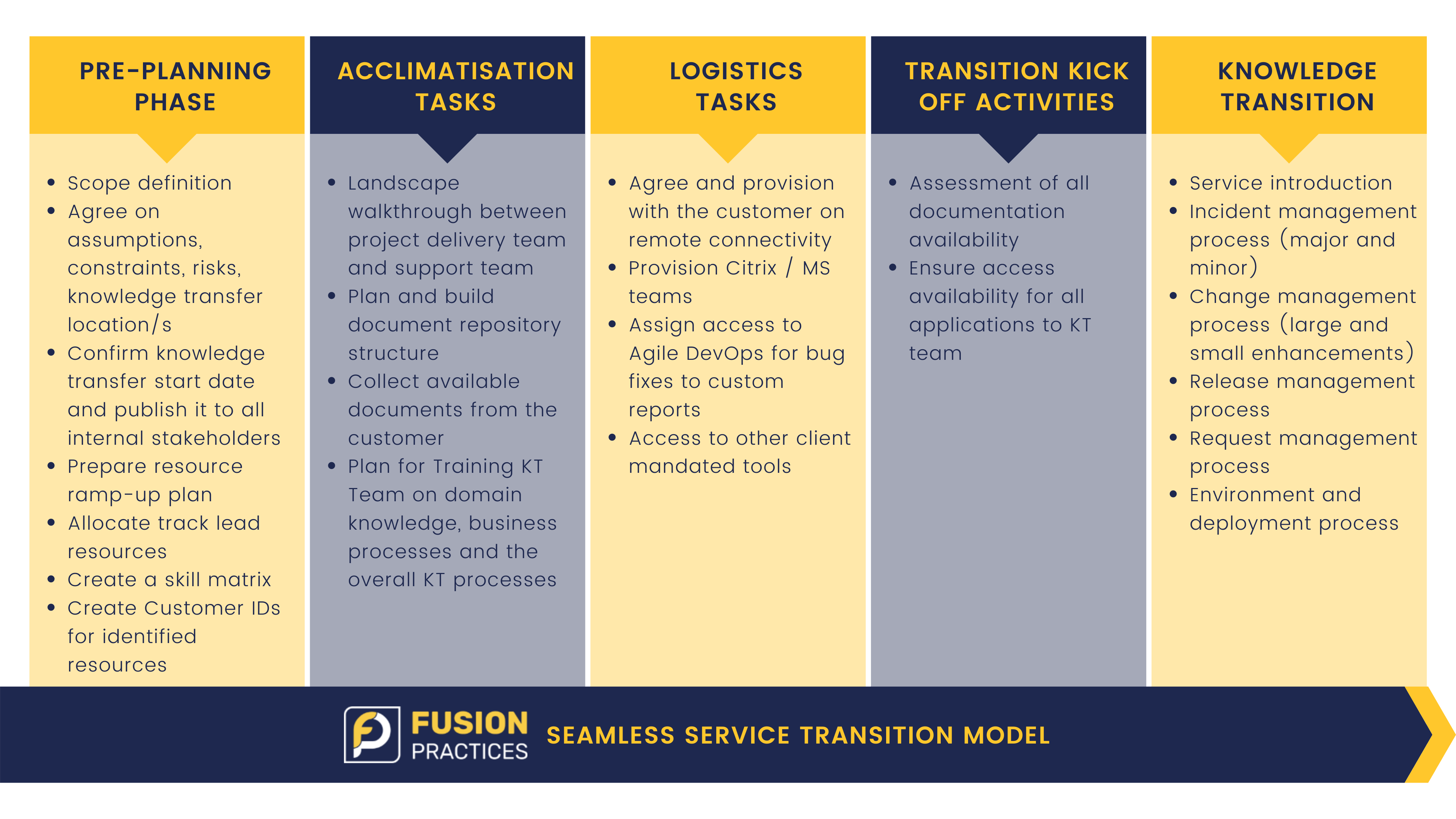 Holistic Service Management Approach
An overview of our Managed Services Operating model for the entire application landscape.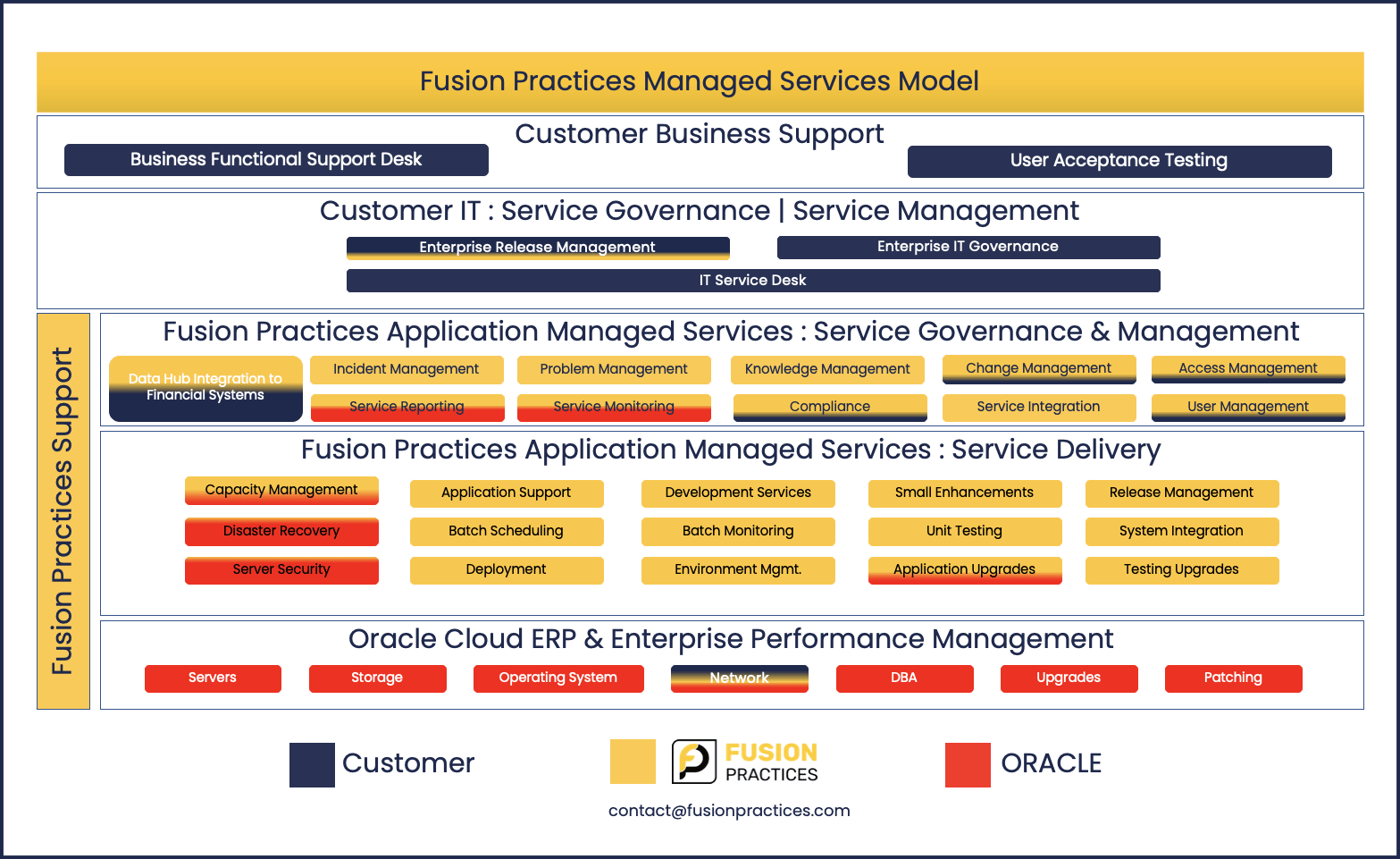 Customised levels of support
We provide a unified and highly reliable Level 2 managed services support, while enabling our customers to operate a focused Level 1 support layer, comprising well trained and an upskilled help desk team.
Level 1 Service Desk – Customer's Level 1 help desk will identify tickets for Oracle ERP, perform initial triage, and resolve possible tickets. Fusion Practices will handle the remaining tickets.
Level 2 Application Support – Fusion Practices will provide second line application support with onsite support team present at the customer's location.
Level 3 Support – Fusion Practices will coordinate with cloud partners such as Oracle for managing cloning schedules for test environments, bug fixes, enhancements, and other product-related issues. We will also monitor and report the service requests to all customer stakeholders.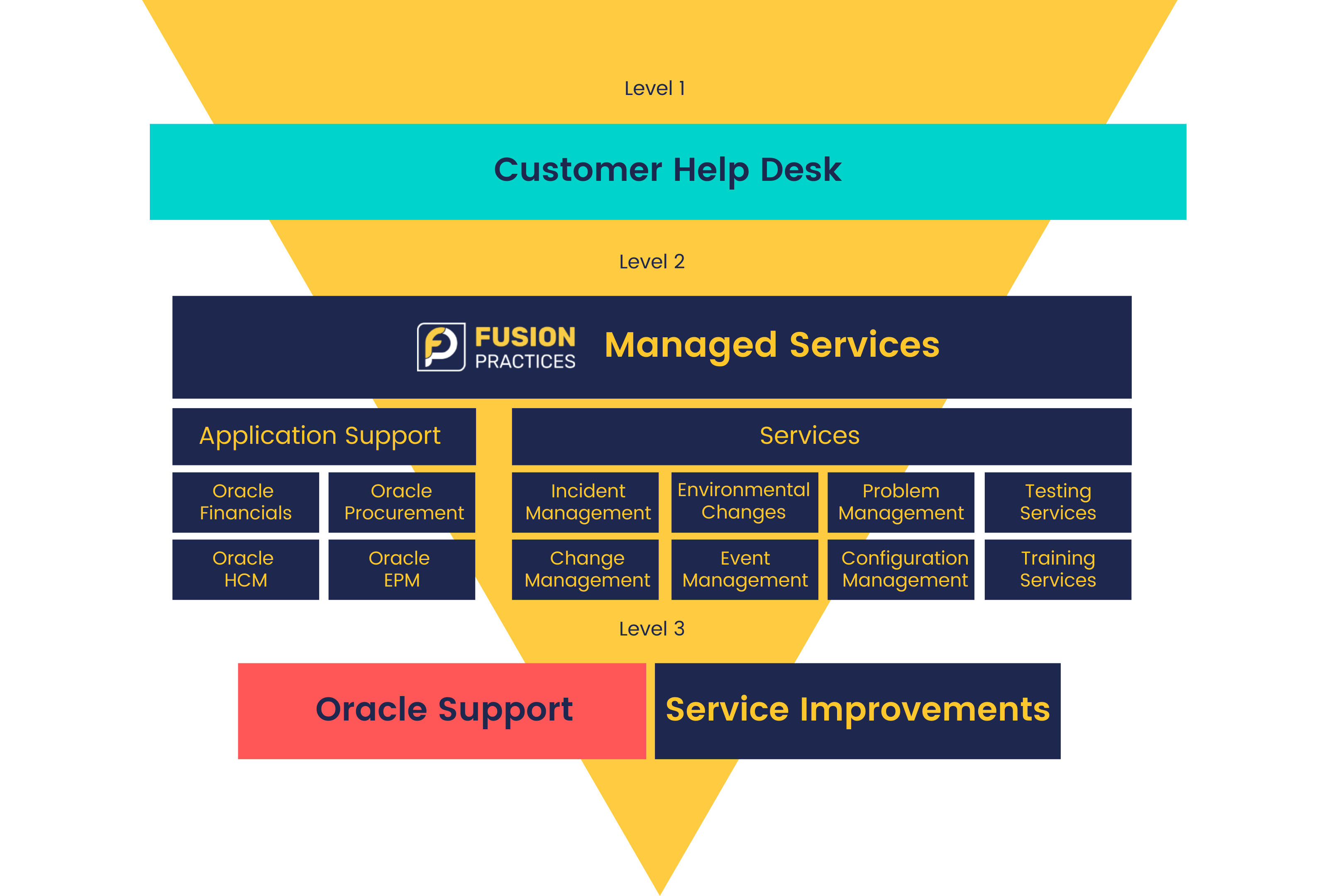 Effective Knowledge Management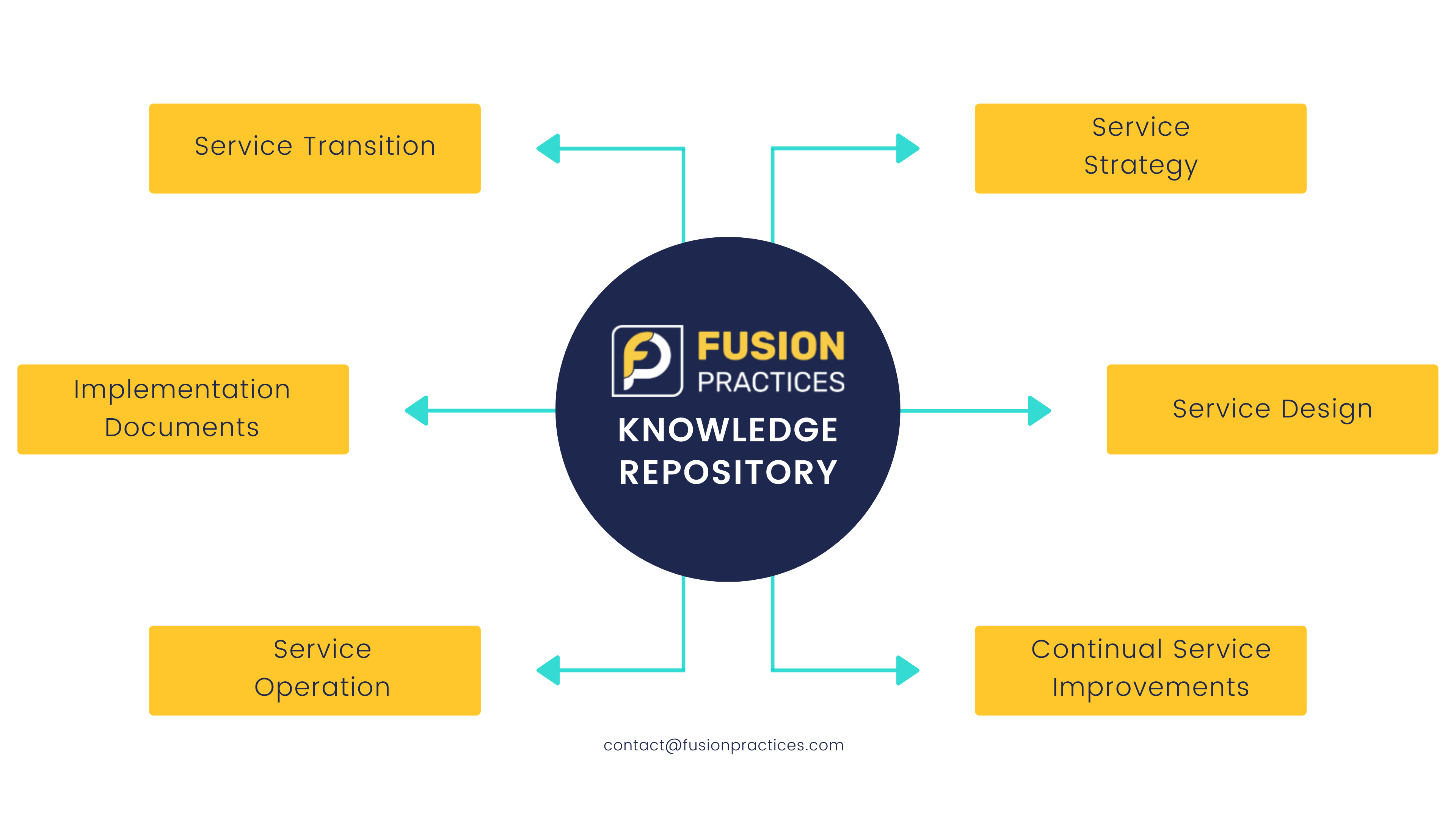 Building and maintaining quality knowledge database is one of the pillars of our support strategy.
As part of knowledge management, Fusion Practices strives for continuous improvement through creation of a robust knowledge repository and enabling knowledge transfer to the customer team.
Some of the activities include:
Optimising the on ground and off-shore working practices, which result in cost savings over the duration of the contract

Cross-skilling of resources to minimise dependence on individuals as well as leveraging existing knowledge base of Fusion Practices

Creation of knowledge articles and workarounds for known errors

Development and use of a single repository of past knowledge, and continuous consolidation of knowledge to deliver level 2 and level 3 application support services to our customers
Customer benefit:
We ensure smooth coordination between the implementation team and the managed support team regarding the latest code packs, versions and changes
Knowledge repository ensures that minimal effort is spent on troubleshooting repeat incidents
Access to the knowledge repository enables customer Level 1 support team to resolve more issues at the help desk and prevent them from escalating further
Easy knowledge transfer to newly onboarded users
Optimising cost through self-reliance
Our support team seamlessly collaborates with your IT department with a focus on 'Shift Left,' where we train and equip your team with the right knowledge and resources to handle frequent issues and repeat incidents at the base level, drastically reducing the support cost by approximately 40 percent.
Shared or dedicated services
Dedicated: 
Fusion Practices will provide a dedicated support team based on agreed parameters, either onsite or offshore depending on the organisation size and needs. We will provide end to end support that covers various levels of support phases. 
Shared: 
In this model, Fusion Services will provide a support team that will work based on issue categories and nature as agreed in service level agreements, and within defined timelines. 
CloudTestMate
Our automated testing tool, CloudTestMate, will ensure that frequent updates and patches are regressively tested within just hours rather than days.
Knowledge Repository
Knowledge repository equips customer teams with the necessary know-how and resources to resolve recurring issues at the helpdesk level to avoid escalations leading to cost reduction.
FPL Data Migration
A fixed price, end-to-end automation toolkit that helps customers de-risk their go live with a seamless data migration from legacy systems to the cloud.
Training Suite
Our best-in-class Oracle training modules ensure that customers are equipped with the relevant skills to adopt and use new technology.
FLAT
Fusion Legacy Archival Tool is a proprietary solution to archive Oracle EBS to data lake with reporting enabled on historic data.
Rapid Implementation Toolkit
A fixed scope offering that enables our customers to reduce their implementation time with our predefined solution blueprints and templates.
Oracle SaaS Cloud –
ERP, Finance, Procurement, PPM, HCM, Supply Chain
With more than 11 years of Oracle implementation experience, we have helped in transforming businesses across sectors such as banking, finance, retail, and insurance with wide-ranging, tier-1 referenceable clients.  
FPL Edge
We take complete ownership of your upgrade cycles, analyse and fix issues with the lowest possible impact. 
General Ledger, UK/USGAAP, IFRS9, IFRS16, IFRS17 and Solvency II
Sourcing and Procurement Cloud
Financial Operations and Accounting Hub
End-to-end, tailored support for all your requirements. Our focus is not just on maintaining Oracle EBS and helping you reduce costs, but we actively work on developing a cloud roadmap for your organisation.  
FPL Edge
With the premier support for Oracle EBS R12.1 ending by December 2021, it is imperative to start thinking of shifting from on premise systems to the cloud. We help you not only to develop industry best practices and reduce the number of customisations over time, but also ensure that you are future-ready for the transition to cloud by creating a cloud roadmap bespoke to your organisation.
End to end support, including full support for all your customisations. Our focus is not just on maintaining Oracle EBS and helping you reduce costs, but we actively work on developing a cloud roadmap for your organisation.  
Understanding all the custom code, developing industry best practices and reducing the number of customisations over time, we ensure that you are future-ready for the transition to cloud when the time comes. 
Microsoft Azure (Data Hub)
Oracle and Microsoft have announced an enhanced cloud collaboration, enabling their customers to migrate to the cloud or build new applications leveraging the best of Oracle Cloud and Microsoft Azure with seamless interoperability.
FPL Edge
Fusion Practices is both a Microsoft and an Oracle Partner.
This enables us to offer solutions that seamlessly blend Microsoft Azure and the latest Oracle Cloud ERP.