Agile4Fusion is Fusion Practices' Implementation Methodology for Oracle Cloud implementation, which provides a new and innovative way to streamline the implementation of an Enterprise-wide information system, outlining a clear path for planning, executing, testing, and supporting the implementation process. It is an iterative, modular, and flexible approach that covers all stages of an end-to-end implementation. The methodology is tailored to suit the needs of Customer. The Agile4Fusion methodology is a solution-driven approach to map the business requirements into cloud processes involving frequent user engagement and post-implementation support.
We review the existing processes used by the customer and suggest improvements possible based on what Oracle Cloud offers and based on leading practices implemented at other customers. As part of the requirements analysis the as-is processes and to-be processes are mapped and compared with:
Oracle Cloud capabilities
Data integration opportunities
Business process automation
Process standardisation
Custom functionality not feasible in standard Oracle cloud applications
Options are presented if Oracle Cloud does not fully meet the requirements. To-be processes are documented to reflect the improvements required. An agile approach is used to demo standard best practices as part of the first demo and to show users the art of the possible. Additional design and build sprints are then undertaken to build on any changes required specific to the customer.
The key advantages of Agile4Fusion Implementation methodology are:
Progressive solution design and build verifies that core components are working before building on them. It promotes speed and prevents the risk of expensive rework.
Early Engagement of Customer business reduces the risk of business adoption and provides early training on the solution to facilitate ownership.
Earlier end-to-end testing builds confidence in integration solution and exception handling.
Tests solution scalability confirms the solution can meet future needs through regular interaction with key stakeholders.
Agile4Fusion methodology is inbuilt with various accelerators which differentiates us from our competitors. Some of these accelerators are:

Project documents template repository
Discovery questionnaire
Process Flows
Pre-packaged use cases
Pre-configuration (best practices)
Data Migration toolkit
Cutover plan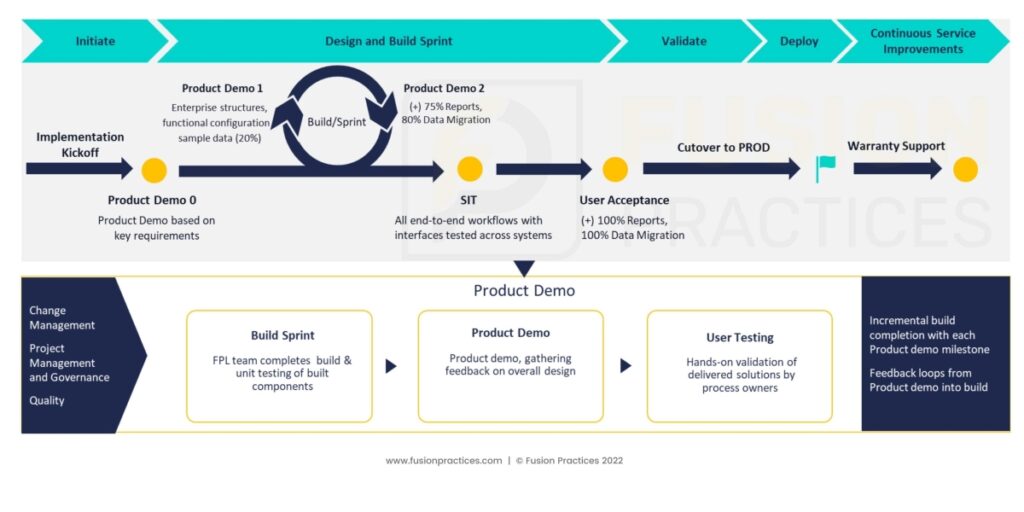 The requirement of the customer is driven through a product demo session via a requirement traceability matrix (RTM). Our approach envisions 3 iterations (Cloud Map, Product Demonstration-1, Product Demonstration-2) to converge, refine and finalize business decisions through end-to-end walkthrough workshops. Business decisions are made by reviewing the scenarios in Oracle Cloud itself and not in theory on whiteboards. Each iteration further solidifies the solution to prove stability and performance in production environment. Each iteration has defined outputs and target achievements allowing the program to measure and track the maturity and stability of the solution.
Strong risk mitigation is crucial for the program's success. Our iterative approach with early business involvement, progressive design and build philosophy, multiple testing cycles, along with our in-built program governance, stage-gate review and quality check process regularly confirm that the program stays "on course" while moving at an aggressive pace. The user adoption is also measured and tracked to ensure stability in production – a solution is of no use without a strong, supportive user community. The go-live of release 1 serves as an iteration in the overall build of the enterprise solution. The process models and RTM are updated through each iteration. The models and RTM continue to track the existing and future functionality through the lifecycle of the solution. Using an agile approach backed by a governance model that emphasises design, standardisation and business outcomes is what Fusion Practices delivers.
Want to know how an annual report can be linked to an Oracle Cloud ERP implementation to make the implementation smoother and more effective? Click here to read