Oracle Revenue Management and Billing (ORMB)
Helping insurers adopt dynamic, customer-centric pricing strategies
Insurance companies can no longer follow a one-size-fits-all pricing for its customers. In order to survive and grow exponentially, ORMB helps insurers adopt dynamic pricing strategies that revolve around the customers' buying patterns.
The financial services sector, comprising the banking, insurance, healthcare, and capital markets, has advanced over the last few decades. Their business models have undergone a change and strategies are developed in a manner which leads to market success. Due to immense competition and customer being at the centre, insurance companies have shifted their focus from a pure product approach to multi-product and multi-channel strategies. There is a shift from single product/service to bundled products/services or a mix of both. The billing processes and systems presently used by most of these businesses were designed at a time when one product sale led to one bill and one customer.
To know more about Fusion Practices' Oracle Implementation Services
Pricing and billing challenges in insurance companies
Complex business distribution relationship
Bundling and cross-selling insurance products
Legacy system's inability to easily adapt to technological advancements
Configuring system to implement changes is time-consuming and expensive
What is ORMB?
Oracle Revenue Management and Billing (ORMB) for insurance is a robust, flexible solution that meets today's pricing and billing challenges. It is a one-stop solution that helps businesses to:
Ensure better revenue management (captures all the revenue opportunities)
Formulate better/smart pricing strategies
Maximise efficiency of the billing process with the inclusion of a robust billing calculation engine
Every organisation aims to utilise its potential effectively and generate maximum possible revenue.
However, poor pricing strategies and an inefficient billing system are two major factors that contribute to revenue leakages by as much as 3 – 8% of their income. It has been reported by McKinsey that a smart pricing strategy can boost revenues by 6 – 15% and avoid leaving any money on the table.
The need of the hour is to capitalise on every revenue opportunity with smarter pricing and billing. Pricing is a process whereby a business sets the price at which it will sell its goods/products and services to the customers. A one-size-fits-all pricing and revenue management strategy calculates fees and charges and prepares invoices by treating all customers similarly. However, in reality, neither are the customers similar nor are their buying patterns and circumstances the same.
ORMB enables insurance companies to adopt a pricing and revenue management strategy built around the customer's buying pattern. The buying pattern can either be a click-buy-buy pattern (continuous purchase) or a click-buy-bye pattern (one-time purchase).
There is a growing importance of pricing in the insurance industry!
Today's business market is complex, competitive, and customer-centric. The spotlight is always on the customer. In order to achieve the desired profits and be able to compete in the market, insurers' pricing strategies must be dynamic. Pricing no longer revolves around the cost-plus profit concept. There are multiple factors impacting insurers' pricing strategies and here is why: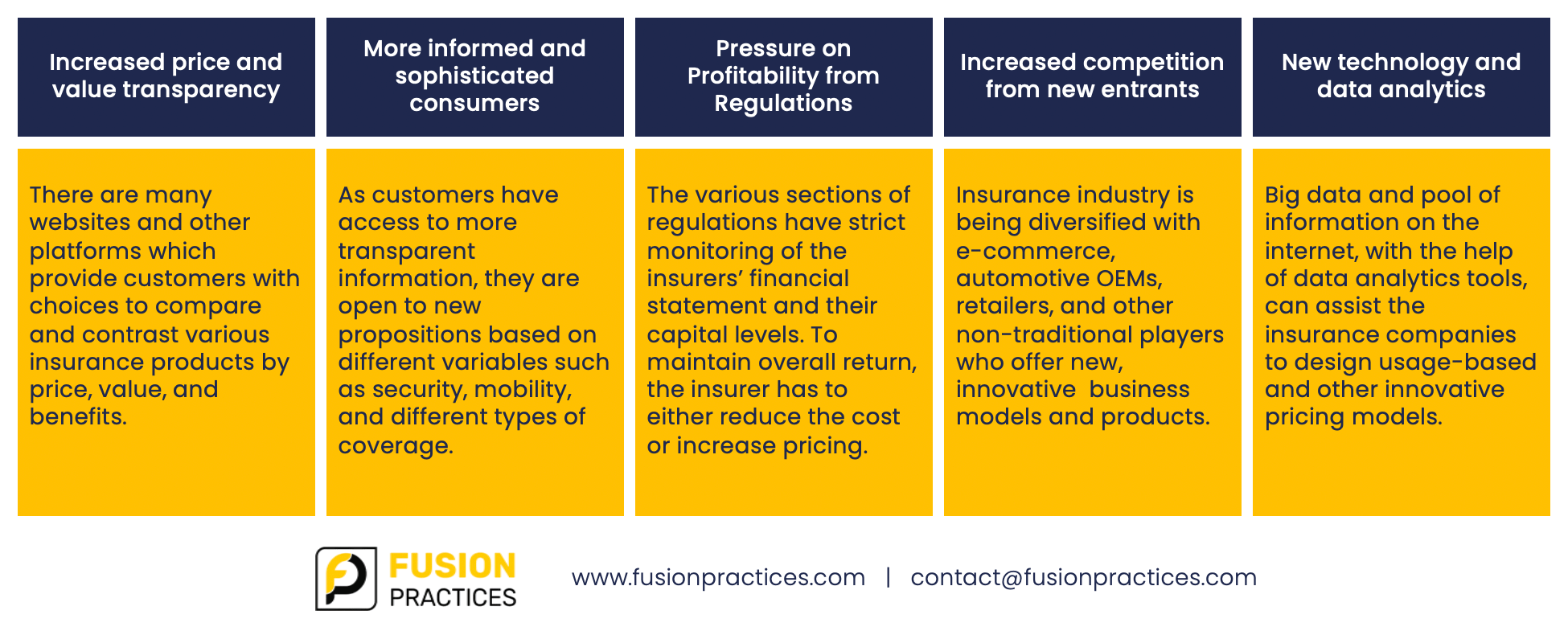 How can ORMB help insurance companies overcome the above challenges?
Cloud is the answer to all the pricing and billing challenges!
Oracle describes its Oracle Financial Services Revenue Management and Billing Cloud services as a suite of pre-configured and pre-integrated cloud services that is designed to drive incremental revenue and profitability for today's insurance companies.
ORMB allows the user to define prices for premiums, various fees, credits, discounts, and taxes. Price for such items may vary based on various attributes which can either be transaction attributes (for example, for calculating claim-based fees for a self-funded customer, pricing may vary based on claim transaction's health coverage class) or based on characteristic (for example, for calculating premium, pricing may vary based on member person's characteristic – whether a smoker or non-smoker). ORMB also supports deriving the pricing attributes through an algorithm, thereby enabling the custom derivation based on requirements.
It further facilitates defining standard pricing which can be common for multiple customers and customer-specific pricing. Additionally, the system enables the user to define pricing at various levels in a customer hierarchy.
ORMB has provided an out-of-the-box pricing solution to the fully insured and self-funded customers through various distinct pricing rules. There are certain methodologies used for pricing the customers.
Premium – Age-banded premium pricing and tiered premium pricing is used for setting up price for premium amount. These are in case of fully insured customers.
Claim Amount Processing – Allows to calculate final claim amount to be charged.
Retention fee – Retention fees can be claim-based or enrollment-based.
Flat and Recurring fees – Any one-time ad-hoc charges or recurring premium fees can be defined in ORMB.
Ancillary fees, Specific Stop Loss (SSL), Aggregated Stop Loss (ASL), Discount arrangement fees are various other pricing types which can be defined in ORMB.
ORMB – Benefits at a glance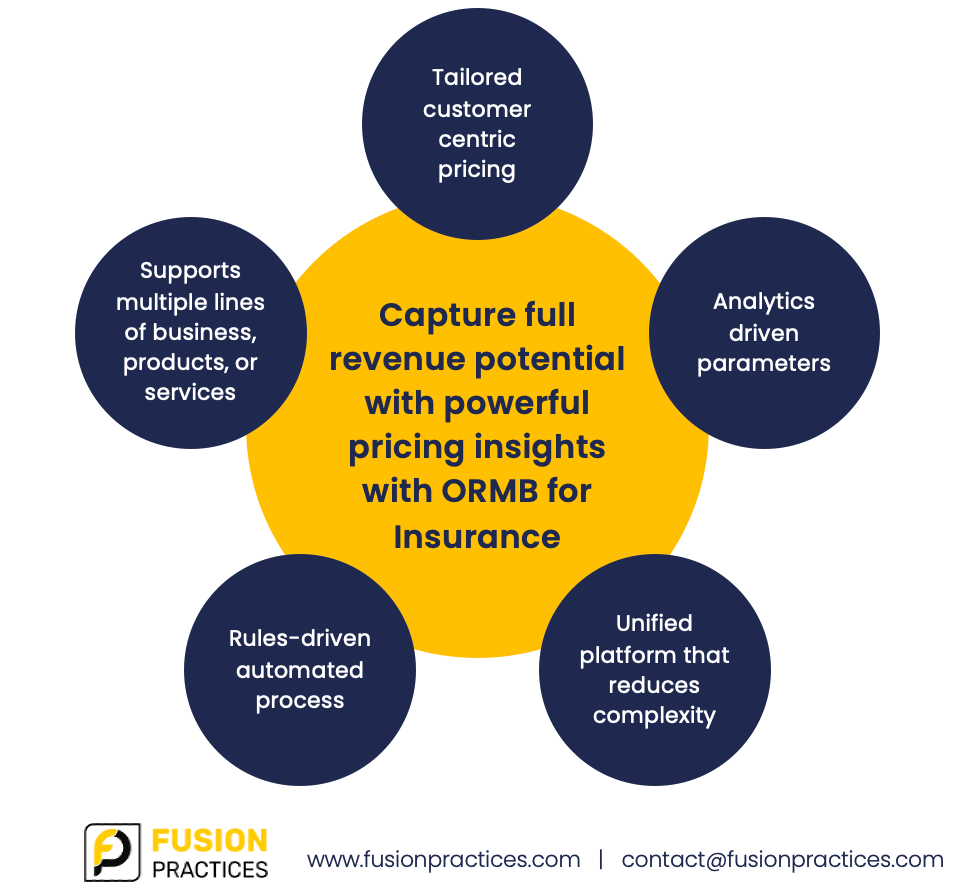 We can rightly conclude that it is all about the right price for the right person at the right time, which results in exploring the untapped revenue potential in each transaction.
Author: Priyal Jain is a Consultant at Fusion Practices