How Oracle Digital Assistant can enhance the work experience of your employees 
Conversational bots enabled by smart technologies are still in their maturing stage. However, Oracle Digital Assistant (ODA) is considered as the strongest bot platform for ERP, SCM, and customer service automation; it also maintains a pool of information for data analysis and customer behaviour prediction. With ODA, the Oracle Cloud Platform is now perceived as a large-scale AI platform that has the capability and resources to automate each aspect from customer point of view to predictive analysis.
What are Digital Assistants?
Digital Assistants, designed using a computer programming language, enable humans to have a conversation experience on an internet platform. These have various advantages over traditional mobile apps. With a Digital Assistant, a query can be instantly answered through a messaging app already installed on the user's mobile phone. Unlike a simple chatbot, a Digital Assistant can be built with multiple skills covering a wider set of areas and topics—all from one conversational UI.
What is Oracle Digital Assistant?
Oracle Digital Assistants (ODAs) are more like a natural conversational user interface wherein a user can get additional benefits by adding skills to the assistants via either a written format for chats, or audio, or speech to a system. Artificial Intelligence (AI) and Natural Language Processing (NLP) delivered by neural networks and machine learning helps the Oracle Digital Assistant to respond to the queries and deliver the information requested in an appropriate manner. It delivers the data for required transaction via API connections to any back-end app and various information sources.
To know more about Fusion Practices' Oracle Implementation Services
Why Oracle Digital Assistant?
Multiple applications Integrations
Across multiple applications, Digital Assistants help its users to have a seamless and enhanced work experience while using any finance or operations process. Similar to how individual bots are focused on specific tasks, ODA is built using skills which allow Oracle Cloud ERP and SCM users to get started with it right away. It enables users to have self-service and functionality related to submissions and approvals, allows easy to access data and reports, enabling them to get information on time.
Artificial Intelligence-based voice commands
ODAs make use of natural language processing (NLP) and AI, to understand, learn, and interpret what users have requested. It understands industry-specific terminology, including abbreviations and related words such as EBITDA, frequently used by finance and operations teams. AI-powered Digital Assistant provides recommendations and suggestions when it listens and learns users' requirements.
Integration with team
Oracle DA runs on your device of choice and across messaging platforms such as Facebook Messenger, Slack, and Microsoft Teams. Using Oracle Digital Assistant along with these collaboration tools, finance teams can get conversational access to contextual data and insights or even drive relevant actions.
Automation of manual tasks
Oracle Digital Assistant being AI-driven helps finance teams to easily go through bulk of the data and helps in preventing human errors. One can easily go through all the workflows and enforce policies immediately. Users can also upload receipts anytime and anywhere. ODA makes it easier for finance teams to utilise their limited resources for more sustainable, efficient, and strategic initiatives.
Up-to-date Integration with real-time intelligence
With ODA, SCM employees/users can update the real time status to their colleagues and customers, enhancing smooth integration. Sharing of information, resources, data, tasks, responsibilities, reports, and analytics ease the supply chain's work and satisfies the demands of customers and clients. A key functionality offered by ODA is self-service, wherein it seamlessly monitors volatile supply chain activities such as orders and shipments. SCM users thus can regularise access to data, which in turn empowers organisations to streamline collaboration.
Multi-lingual audio and text support
SCM teams can improve their productivity using ODA's multi-lingual support. For example, if a user in France uses French on her assistant, her colleagues in some other country can use the same assistant using a different language, thereby enhancing the supply chain's effectiveness.
SWOT Analysis – ODA
Customer information, if well-maintained and appropriate, works as the most important factor for decision-making in organisations. These days, many enterprises hold their data models for future predictive analysis. Conversational AI, however, is capable of converting data pools on two ends: enhancing the AI through user input and expanding the dump of information on one end, while simultaneously developing learning-enabled intelligence that makes precise future predictive analysis with very less or no user interference.
Strengths and Weakness of ODA
Most impressive feature is that it requires users to code their own bots with Oracle Bot Markup Language (BotML). Commonly known as: BotML which is the strength and the weakness of the ODA.
Large enterprises typically have large yearly targets, and data security is utmost priority. Oracle's data security features are proven and exceptional.
Moreover, if an enterprise has an agreement with Oracle and its engineers are familiar with the platform, conduct time can be reduced easily. It is very likely for the ODA to amalgamate with the existing system in no time and with ease.
What does a Digital Assistant do?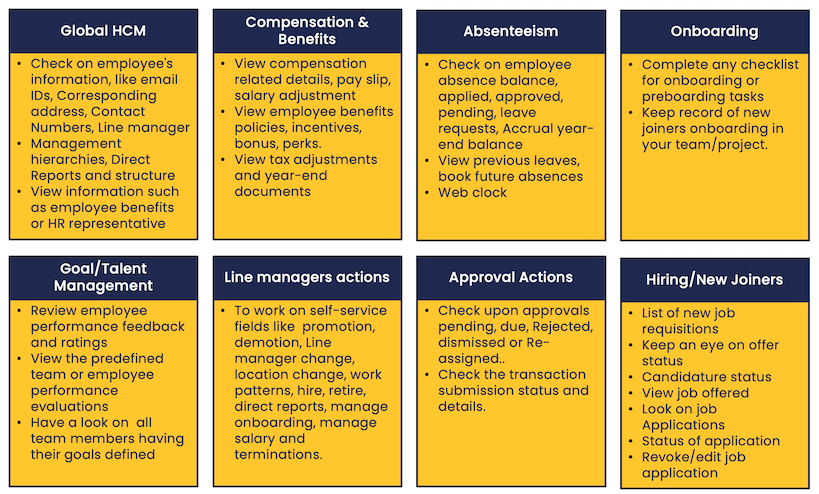 ODA delivers multiple skills that can be tapped by the users with a unified UI functionality.
ODA performs the following functions:
Addresses the user on opening of the landing page.
As per the user's need, displays how it can help them and shows relevant information.
It directs the user's request to relevant skill sets.
Makes workflow interventions free.
For example, if a user requests something that shows different content or which needs a different skill, then the digital assistant asks the user to confirm a transaction to the respective flow. Once the required flow is completed, it asks the user to return to the earlier flow.
Takes care to pin down the requests
For example, if a user types 'cancels', it may ask the user whether they wish to cancel a previously requested item or completely cancel the present flow, or to close the bot entirely.
Manage requests to exit the bot.
To augment the behaviour of an ODA (to have more clarity and better summarisation for it to respond as per user demand and intent), user may need to configure the system and the skills to be registered with ODA.
Benefits of using ODA
Quick problem solver – ODA provides a no-code 'design-by-example' protocol tool to non-developer users and administrative approach to develop, train, check, integrate, and look over large-size bots across different channels.
Organisation friendly- Oracle offers a safe and user-friendly platform on its cloud, with 'government cage' data centers specifically for the use of public sector. It can combine with the existing system, processes, routing rules, and contact center mediators. Oracle also offers a large list of already built bots that supports an organisation's functioning, including sales, purchase, customer service, HR, ERP, supply chain, transportation, and finance accounting. These bots are monitored by Oracle.
Explicitly supported by NLP- Enhanced linguistic and deep learning-based language processing models integrate to perform advanced intent problem solving and understanding.
ODA allows users to have an experience with many different platforms with no effort and using the webhooks combination any platform could theoretically get connected to ODA bot. Oracle has developed its own JavaScript chat icon SDK, which is free to use and can be easily opened in any browser.
In my view, constant integration with these deep learning systems can make an enterprise have an edge over the competition in the market in the years to come.
Author: Muskan Dhingra is an Oracle HCM Functional Consultant at Fusion Practices.