Enterprise Resource Planning (ERP) systems such as Oracle Cloud ERP, SAP, Workday etc. are powerful tools that can help organisations streamline their business processes and improve productivity. However, ERP implementation projects can be complex and challenging, and failure rates are high. According to research reports, nearly 75%1 of ERP implementation projects fail to meet expectations. This can result in significant monetary and productivity losses for organisations. While success is not a rare occurrence, it requires careful planning and consideration of several factors. In this article, we will discuss the key reasons why ERP implementation projects fail and how organisations can avoid these pitfalls to increase their chances of success.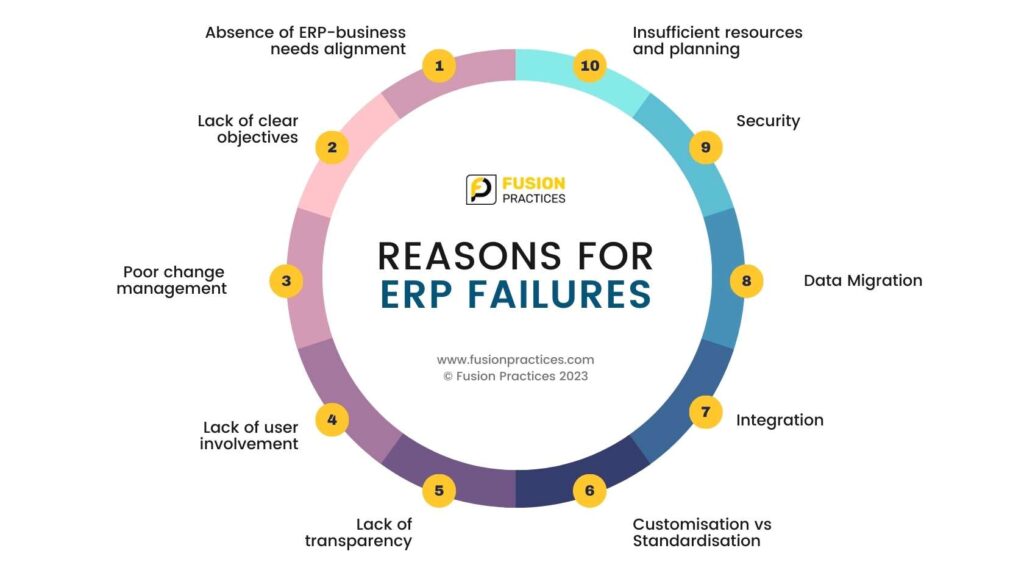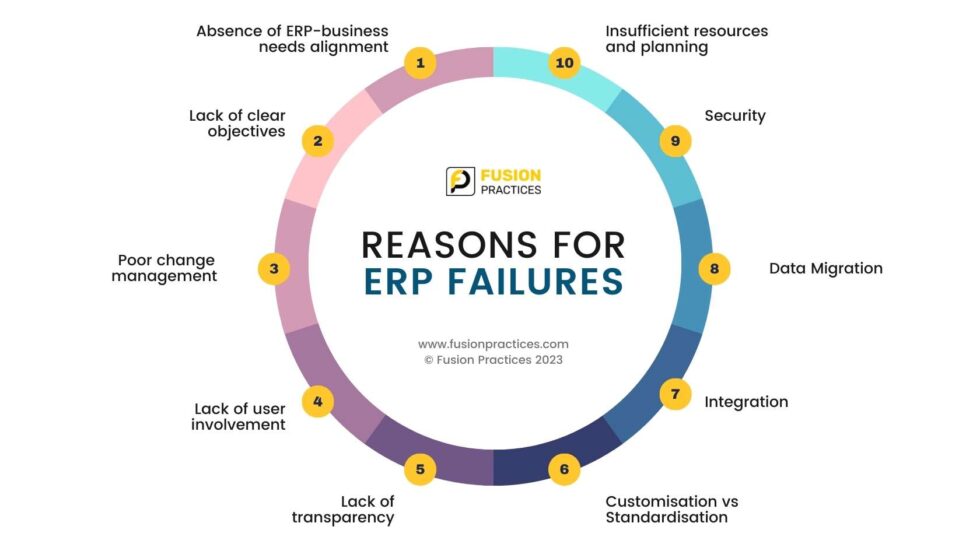 A quick search throws up several high-profile ERP implementation failures that resulted in monetary and productivity losses —Hershey's, Nike, and Revlon are some often cited case studies. Such data-backed analysis could be quite compelling for any decision-maker to reconsider their ERP decisions. While ERP implementations are complex and can pose several challenges, success is not a rare occurrence. A study by Mint Jutras on the success of ERP implementations2 revealed that 67% rated their implementations as successful. The key to a successful implementation lies in careful planning and factoring the reasons listed below to avoid failures.
Absence of ERP-business needs alignment
The ERP product a business chooses should align with its growth goals and mission. Choosing the right ERP is a complex process as there are different options available. Often, many just rely on Gartner papers that at best can help one draw up a shortlist. We must be cognizant of the fact that each organisation has unique needs and requirements. Therefore, businesses must define their requirements and outline the organisation's needs and objectives and the core requirements that the ERP software should meet whilst also considering scalability, security, and integration with other systems.  
It would also be prudent to test ERP software options before making a final decision. This could help identify issues or challenges that may arise and gives an idea of how the software will integrate with the existing processes and systems. The most important thing is to involve internal stakeholders to gather feedback on the ERP software and its features and to ensure that the solution will meet the needs of all departments and users.
Take for instance, the well-known case of Lidl, an international grocery chain. In his paper Mission Failure at LIDL–But Actually, What was the Mission? Oliver Lehmann writes: One reason for project failure, according to German Handelsblatt magazine, was incompatibilities between the software and the business processes in place at Lidl. It is generally easier to adapt an organisation to software than vice versa, but Lidl rejected such changes. This made it necessary to adapt the standard software, which is time-consuming and comes with negative effects on the performance of the software3. 
ERPs have a specific purpose and need the right surrounding architecture to be successful. The key to success lies in the hands of enterprise architects who must guarantee an end-to-end verification of the intended processes and the deployment of the proper tools for each area of work
Lack of clear objectives
It can be difficult to measure the success of an ERP project and determine if it is meeting the needs of the organisation if clear objectives have not been understood and agreed upon. For example, one of the objectives could be to reduce the manual journal counts by 90% and another could be to ensure invoices are captured accurately within one working day, or that reconciliation breaks are triaged and addressed within two working days, etc. Such well-defined objectives that can be quantified will help track the progress and success of the project.
Failure to define and earmark expectations during the ERP consideration phase is another major aspect. This will lead to problems getting deferred to the implementation phase; as a result, one would be compelled to bring in change in the processes or introduce manual workarounds or develop customisations. Changing processes to align with what ERP can offer as an industry standard solution could be the right thing provided, we are not compromising processes that give our customers an edge over their competing peers in the industry.
Poor change management
ERP systems often require significant changes to business processes and can have a significant impact on the way an organisation operates. Failure to properly manage and communicate these changes can lead to resistance and user adoption issues. Most often, C-suite executives who sign off on ERP implementations lack a ring-side view of the end-user experience and adoption challenges. Simply, thrusting a new system without proper change management communication and buy-in can prove disastrous. Leaders and decision-makers should walk the talk— stakeholder sponsorship is important for new ERP because it helps to ensure that the processes align with the needs and goals of the organisation.
Lack of user involvement
ERP systems are intended to streamline business processes, and as such, it is important to involve end-users in the planning and implementation stages to ensure that the system meets their needs. If the users who will be using the system are not involved in the implementation process, they may not understand how the system works or how it can help them. As a result, they may resist using the system, leading to low adoption rates and a failure to achieve the desired benefits. 
Given below are some of the end-user challenges from an IT and a business perspective.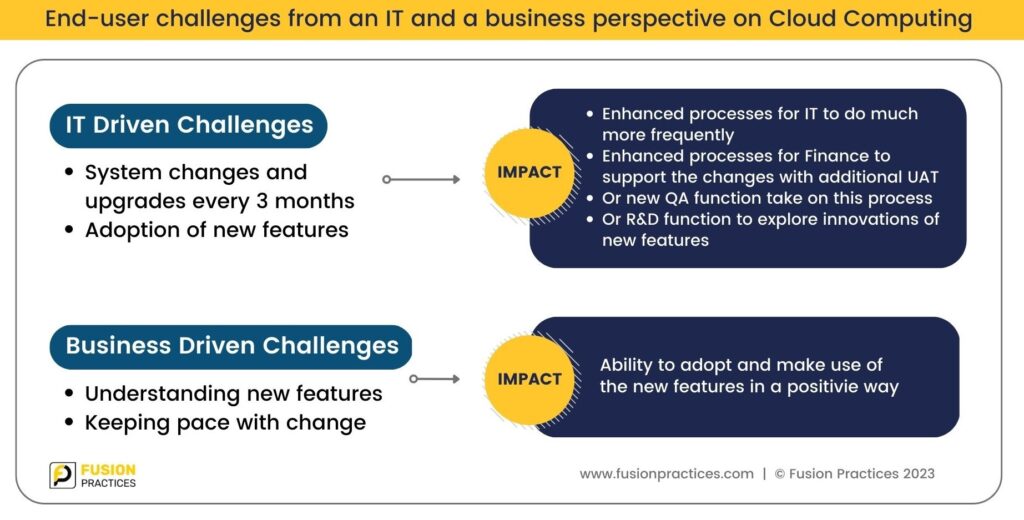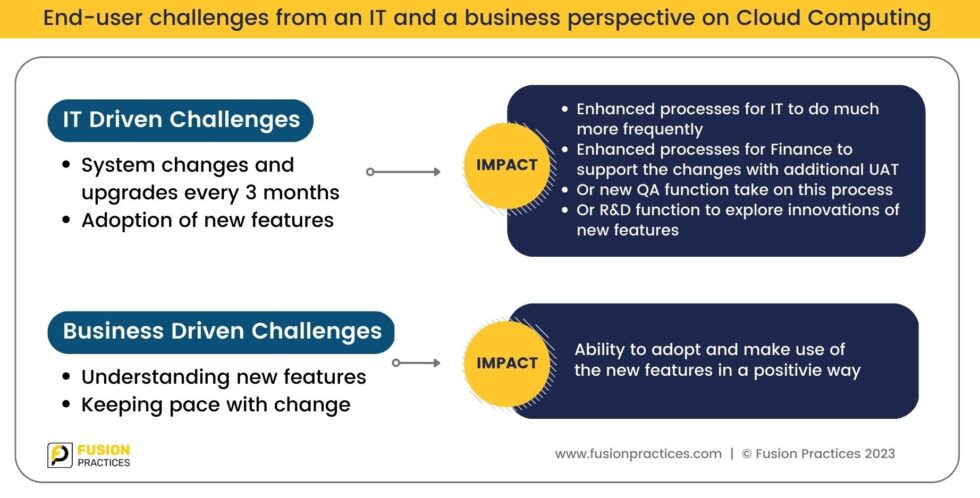 Any gaps in addressing these issues or challenges can derail your project from go-live delays to efficiency issues post go live.
Further, it is important to provide them with training and support, and communicate the benefits of the new processes. Sometimes it can be helpful to phase in the new ERP starting with core modules first such as General Ledger (GL), P2P, Core HR and absences and then gradually roll out other modules allowing users to become familiar with it before fully implementing the entire ERP suite.
Lack of transparency 
Transparency is required in both the client requirements and product capability demonstration which needs to be carried out efficiently by both client and implementer company. The brief should be precise on the requirements and aspects that are feasible and not feasible should be agreed upon. Timelines especially are crucial. It is widely understood that an unrealistic timeframe and a rushed go-live for the new ERP derailed Nike's capability to distribute its flagship product Air Jordan resulting in a loss of almost $500 million dollars4. 
Customisation vs. Standardisation
ERP systems are designed to be flexible and adaptable to the specific needs of different organisations. With PAAS being available across Oracle, Azure, AWS, GCP etc, customers can therefore find a way of building custom processes even on the Cloud but in a manner that is upgrade-safe for ERP. For example, quarterly upgrades are applied to Oracle Cloud ERP without impacting the functionality of Oracle PAAS. Customisation can be costly and time-consuming, but standardisation can lead to a lack of flexibility. However, excessive customisation can make the system complex and difficult to maintain. This can lead to technical issues, performance problems, and a failure to meet the original goals. Striking a balance between the two is crucial for a successful implementation.
System integration 
Integrating the ERP system with existing or new systems can be complex and time-consuming, and if not done correctly, can lead to data integrity issues and process inefficiencies. In his interview with ComputerWorld5, Gilles Bouchard, the then executive vice president of global operations at Hewlett-Packard Co when asked about the cause of ERP implementation failure said, "… Secondly, there were a lot of data-integrity [problems]. Orders fell out between the legacy front-end system and SAP on the back end, which required a lot of manual intervention. …". A well-designed integration strategy will help deliver a unified solution that streamlines work by eliminating manual efforts commonly performed on excel spreadsheets and fostering harmony between corporate systems. 
Data migration
Migrating data from existing systems to the new ERP system can be a complex and time-consuming task. If not done correctly, it can lead to data integrity issues and process inefficiencies. Data mapping, extraction criteria from legacy and oracle configurations and post conversions data reconciliation processes are important. Performance issues hit the system when they must process huge volume data loads. Coming back to the HP example cited earlier, in the same interview the CIO says, "The third element was increased demand. This migration had to do with our Intel-based server business. The demand really increased for those products… But it put even more pressure on the whole system."
Security
ERP systems store and process sensitive data, so it is important to ensure that the system is secure and compliant with relevant regulations. Implementing an ERP system involves testing new systems with existing data. Companies often do this to weed out data inconsistencies post go-live. So, data security must be maintained at all times across all processes. Else, as it happened with Pacific Gas and Electric's6 asset management system's ERP rollout, there can be a data breach that could put your data integrity at stake. 
Insufficient resources and planning
ERP projects require significant resources allocation including personnel, time, and budget. Insufficient resources can lead to delays and increased costs. Poor planning can result in unrealistic timelines, insufficient testing, and a lack of proper training for users.
In conclusion, the success of an ERP implementation depends on careful planning, stakeholder buy-in and involvement, adequate training, and effective project management. If these factors are not taken into consideration, the implementation is likely to fail, leading to wasted resources, low adoption rates, and a failure to achieve the desired benefits.
If you are seeking to implement a new ERP system, rollout new functionalities on an existing ERP, or expand the footprint of your current ERP to additional regions, we encourage you to contact us at Fusion Practices without delay. Our team has a proven track record of delivering successful ERP change management, system integration, implementation, and post-implementation support for numerous satisfied customers. Each of our customer sites is fully referenceable, attesting to our commitment to excellence. Please feel free to reach out to us via the "Contact Us" page on our website at https://fusionpractices.com/contact. We look forward to the opportunity to work with you and help you achieve your business goals.
References and sources:
https://www.knarrtek.com/WhitePapers/ERPOrganiationalConflicts.php
https://www.qad.com/documents/3488095//194557835//mint-jutras-report.pdf
https://www.academia.edu/38205830/Mission_Failure_at_LIDL_But_Actually_What_was_the_Mission
https://whatfix.com/blog/failed-erp-implementation/#nike
https://www.computerworld.com/article/2565928/hp-s-cio-points-to-internal-issues-in-erp-project-snafus.html
https://www.cio.com/article/278677/enterprise-resource-planning-10-famous-erp-disasters-dustups-and-disappointments.html