Oracle Revenue Management and Billing (ORMB) in Healthcare Services
ORMB can help healthcare services to reduce operational cost and maximise profit.
A centralised billing system is essential for efficient revenue generation, a key objective of any business. The major difference between expected and the actual income received is unintentional loss of revenue — revenue leakage.
The major causes of revenue leakage are
Unbilled services
Unaccounted discount or concessions given to customers
System constraints
Onboarding delays
Benefits of Oracle Revenue Management and Billing (ORMB) in reducing revenue leakages
In order to overcome the revenue shortfall, Oracle provides a Revenue Management and Billing System to help companies draw up more predictable and profitable outcomes.
Some of the features of ORMB are
Price models that are based on the customer's profile
'What if' analysis to reach goals for profit maximisation
Provides optimum solution commitments or arrives at optimum price points that will increase the profitability of the company
Seamless flow of work at different levels, different hierarchies with the creation of workflows
Easy monitoring of deals
"Plugging leakage"
End-to-End Revenue Management
"Direct consumption of raw transactional data elements"
To know more about Fusion Practices' Oracle Implementation Services
ORMB in healthcare services
Given the above benefits, including ORMB in healthcare services will help practitioners not only reduce the risk of revenue leakage and billing infrastructure but also optimise their customer service and profitability.
The rapidly changing business environment is forcing healthcare services to reduce their operating costs.
The healthcare revenue cycle is depicted below: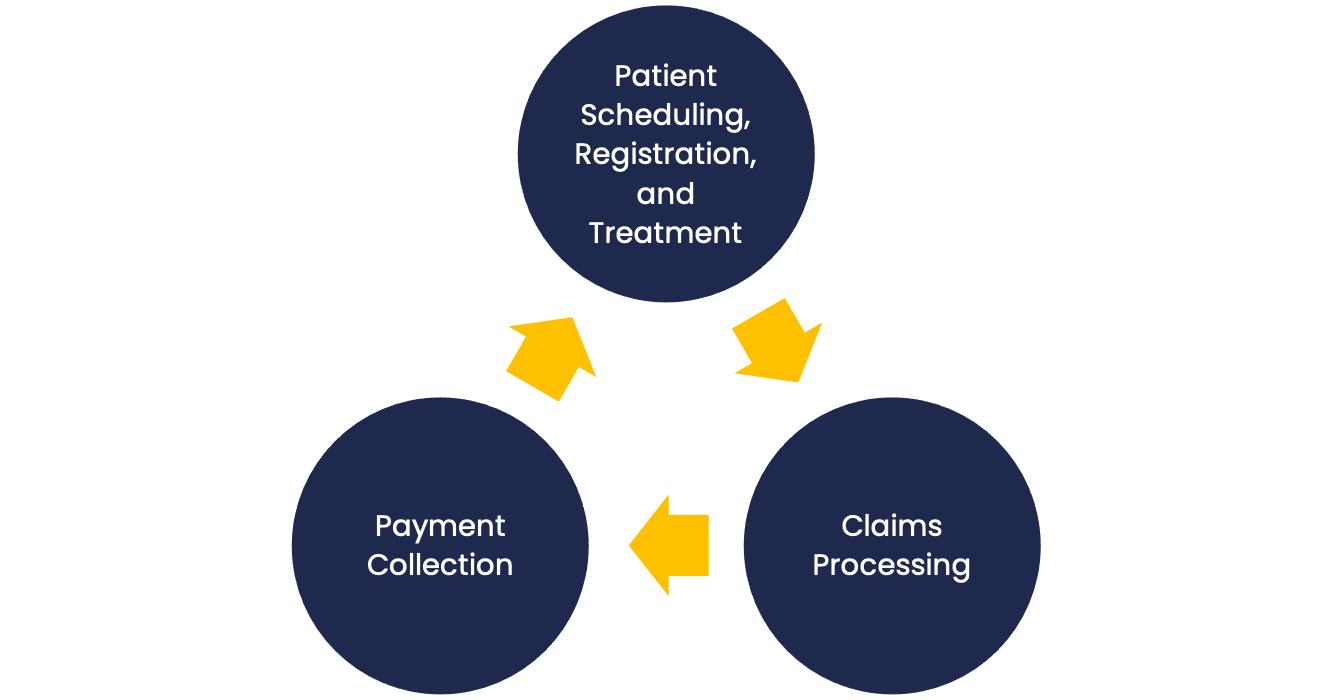 ORMB allows healthcare players to provide better and faster services to their customers by leveraging latest technology to provide better quality cost-effective services.
Healthcare companies across the world, typically, face the following challenges
Unavailability of accurate customer details
Lack of organised systems that can ascertain customers' financial capabilities rendering them unable to recover costs in full for the services provided by healthcare professionals
Absence of claim management systems leading to increased account receivable days.
Given this scenario, introducing Oracle Revenue Management and Billing can help healthcare providers by offering them an all-inclusive and centralised billing management capability that enables multi-channeling of various strategies and increased cross-selling opportunities across the same sector.
How does ORMB benefit healthcare services?
Includes multiple lines on a single business platform.
Provides timely, accurate billing and transparency in consumer transactions and helps create customer satisfaction.
Meets demands of large volumes.
Calculation of administration fees, stop loss, level funding arrangements (in case of self-funded health insurance, which is also called administrative services).
Re-calculation of premium and fees in case of member addition, or terminations based on federal rules.
Automating prices for personal lines of business at a comparatively lower cost of ownership.
For enterprises, it provides details such as multicurrency, simultaneous updates on events, batches on a real time basis.
Accurate billing details on flexible billing cycles.
Helps maintain records of complex billing hierarchies that includes data for larger groups and also national accounts pertaining to various groups.
Creates a proper interface for revenue recognition and also a proper approach to enable true business agility.
Provides and improves efficiency with unified processing and monitoring.
The productivity and customer service of the institution is supported with visibility of the entire customer relationship.
Reduces operational cost and improves straight-through processing.
Supports real-time payment settlement and seamless processing.
Improves customer experience and helps achieve faster reconciliation.
Built in AR/AP and Subledger capability for avoiding risks related to discrepancies of the same.
Insights about the structural hierarchy of the organisation, by defining who is in charge of whom
Enables timely information collection and also provides out-of-the-box analysis, metrics, charts, and reports.
Creates a multidimensional customer, group hierarchy and applies pricing and billing preferences.
Enhances predictive decision-making and more visibility into billing date.
Pay-as-you-go, unit-based, transaction-based, and subscription-based pricing models various flexible paying structures being included.
Product pricing is based on the customer's buying patterns.
Margin goals are achieved by having a what-if analysis.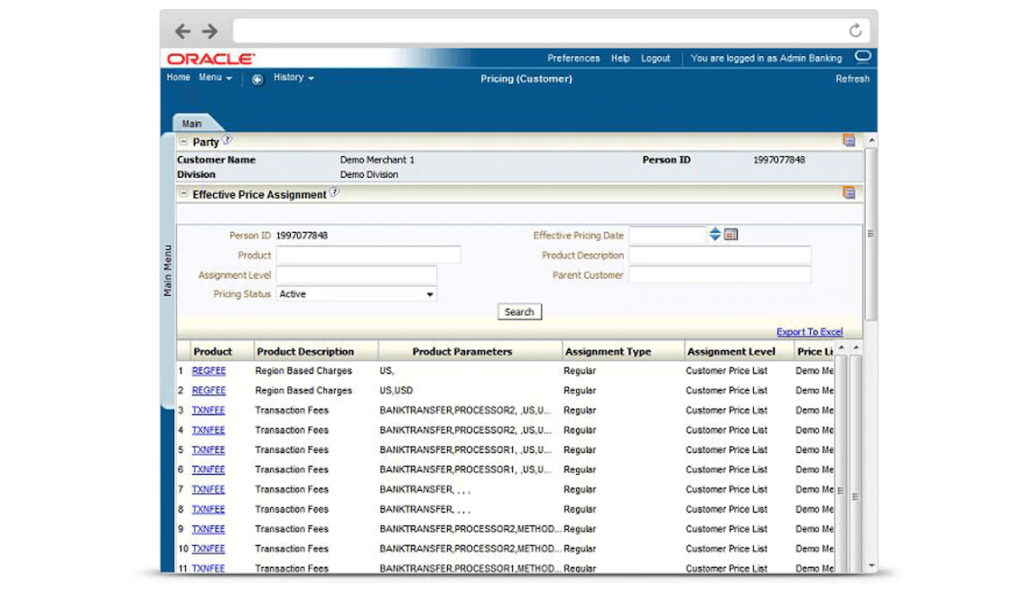 In addition to the above benefits, ORMB also helps organisations in
Calculating premiums for fully-insured premium pricing methods for both individual as well as group.
Managing the operational costs as well as the administration costs of self-funded groups by pricing their highly complex products such as stoploss, discount arrangements and level funded program these products require a pricing engine for each level.
Maintaining data and a procedure for the life cycle of the product.
Provides a criterion for billing of transaction which is based on multiple variables such as the geographical locations, tobacco use etc.
Provides insights about actual time prices that includes the recalculation of premiums and the transactions.
Author: Vidhya Venugopal is a Functional Consultant with Fusion Practices