Introduction 
Oracle EPM Cloud offers an organisation-wide budgeting and forecasting solution that facilitates both central and departmental level planning processes by providing Web-based, Excel-like as well as Excel-based modelling, planning, and approval capabilities within one collaborative scalable solution. 
It provides sophisticated modelling and predictive analytical capabilities that allow users to create and keep multi-year budgets, multiple what-if versions, and slice and dice data based on various what-if assumptions. It also has a rolling forecast wizard which makes it simple to implement a driver-based rolling forecast process in which the forecasting time horizon rolls forward across years over time. 
Some of the key benefits of Using Oracle Planning and Budgeting Cloud Service are: 
It offers out-of-the-box integration with Oracle Cloud General Ledger for importing actuals 
Multiple ways to enter and view data i.e., using application UI and/or through MS Excel using SmartView 
Task Manager functionality helps you define, execute, and report on the interdependent activities of a business process. It provides centralized monitoring of all tasks and provides a visible, automated, repeatable system of record for running a business process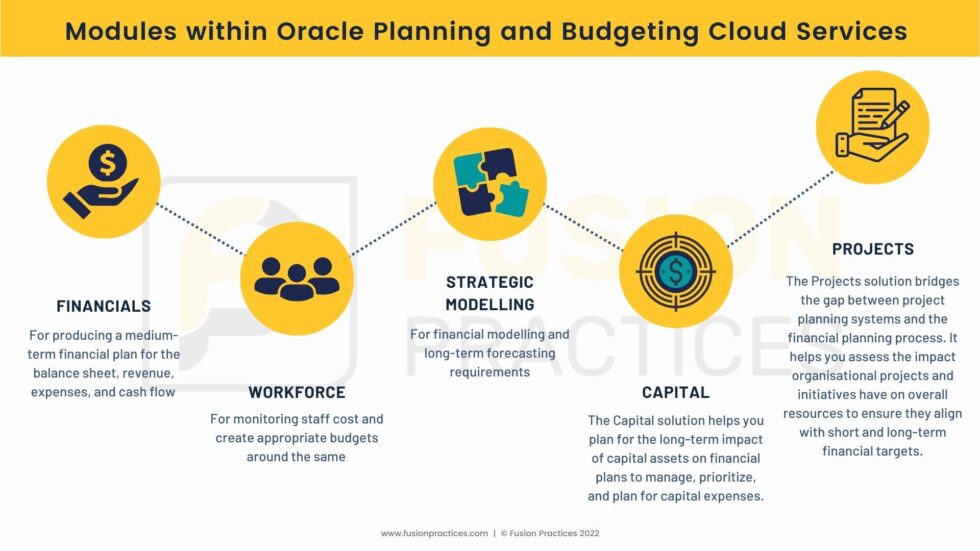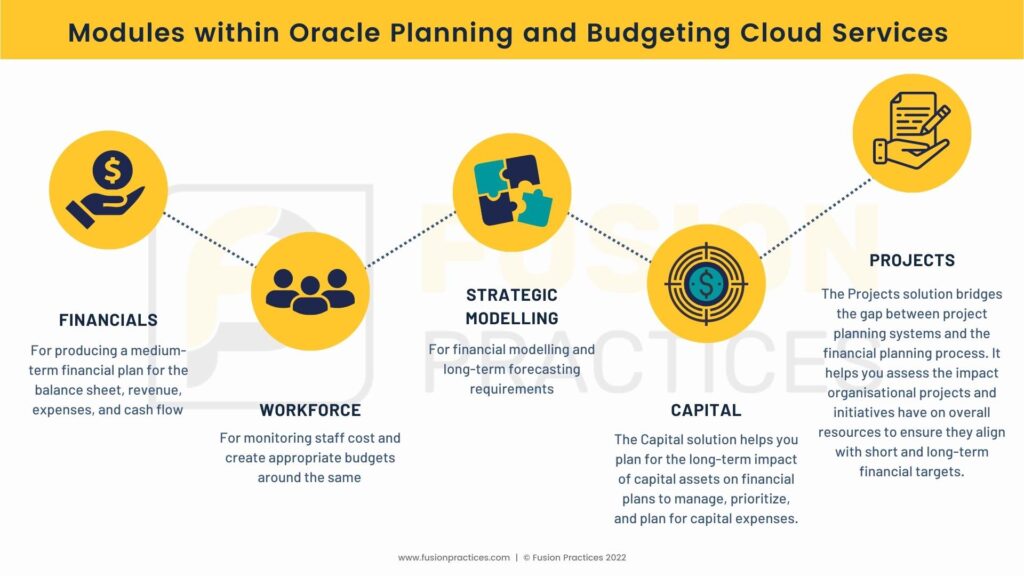 Production of Medium-Term Financial Plan using PBCS 
Medium-term financial plans can be prepared using the Financial Statement Planning offered under Oracle Planning and Budgeting Cloud Service (PBCS). This allows for Financial Plans for Balance sheet, revenue, expenses, and cash flow to be prepared. Out-of-the-box tools offered such as KPIs, Drivers and accounts help us prepare the required reports much faster and helps in key decision-making process. The solution allows What-if analysis that help to aid the users foresee the effect of making a change in forecast drivers and its impact on the forecast. Hierarchies can be designed to help top-down/bottom-up approaches for forecasting and reporting. With the bottom-up approach, forecasts can be prepared at a granular level and they can get consolidated at the parent level. Whereas with top-down approach forecast can be made parent level and each child within parent can get an appropriate share of forecast 
 Following are the Key functionalities that PBCS provide its users with:
Forecast Costs – Within the Financials module of PBCS, all the requirements around forecasting costs can be achieved by the user.
Dimensions like cost centres, services, etc. can be created with PBCS which can help the user forecast costs by cost centres or various services it provides to its community. 
Define Budgets and ability to apply Uplifts and Reductions – Budgets can be defined and maintained using different options available as standard within PBCS like using Excel SmartView and Mobile Access / Data Entry into UI. Budgets can be constantly monitored and required uplifts or reductions can be made at the account/cost centre/program level as required by the user.
"Actuals can be easily imported from Oracle Cloud General Ledger and required variance analysis reports can also be produced"
Produce Financial Models - Financials Modelling and long-term forecasting can be achieved in full using the Strategic Modelling module of Oracle PBCS. 
Long-term modelling can be integrated with the user's short-term and medium-term financial plans.
Monitor Staff Costs - PBCS over Workforce module which can easily meet the user's requirement to monitor and budget staff costs, Required cost data can be easily sourced into PBCS, Required headcounts and their compensation by employee or job code or both can be easily budgeted for. The workforce module is fully integrated to the Financials module within PBCS and hence the budgeted staff cost with the workforce module can integrate itself with the overall cost budget for the user's reporting and decision making. The User can also Analyse, calculate, and report on headcount, salary, bonuses, taxes, and health care expenses
Keep Audit Trial - As a standard functionality, PBCS maintains required audit trials for all the entries or updates made by the user along with a time stamp. Hence, any changes or updates are created and be easily traced in terms of by whom and when the records were created or last updated.
PBCS comes with inbuilt workflow functionality which can be configured as per the users' requirements. Budget / Forecast creation or updates can be controlled by way of appropriate levels of approvals. Oracle Cloud comes with an out-of-the-box approvals dashboard, which enables users to view a graphical representation of approvals and thus better visualize approvals status information. This enables users to quickly identify problems in the review process, view status information, identify ownership of plans and change plan status.
Add Contextual Data - Apart from storing numbers against dimensions, PBCS comes with the standard functionality of storing contextual data as well. It can easily hold required KPIs and drivers such as full-time equivalent, footage, unit costing, etc. for quick and easy budgeting and forecasting process.
Interactive Reporting - As standard, all information available in the planning application, at any level of detail, can be presented on custom reports and dashboards via the supplied reporting tools. Reporting tools available with PBCS are self-service tools, meaning an end-user can also build their reports with PBCS with minimum training and no programming knowledge. Reporting tool with PBCS has the capability to produce required charts and graphics including pie charts, bars, waterfall, etc. 
Below are some sample screenshots showing how the system interface looks:
 - Variance Analysis: 

  – Strategic Modelling 

  – Workflow: 

  To know more about how Oracle Cloud can help you deliver statements of accounts, get in touch with us here