HESA is a specialist in UK higher education data. Higher education (HE) Organizations in UK are mandated to submit data on Staff, students, institutions and financial information to HESA, the Higher Education Statistics Agency, which is part of Jisc. HESA disseminates the collected data on behalf of statutory customers in UK.
This article explains how at Fusion Practices we have automated the HESA (Higher Education Statistics Agency) submission process using Oracle HCM. The implementation of Oracle Cloud HCM for higher education in UK takes into consideration the HESA requirements and we have developed a solution offering to accelerate and automate implementation of Oracle Cloud HCM for HESA Staff submission process. Our solution ensures that customers can submit their HESA returns without manual processes whilst retaining full audit of the information held within the system. Our implementation approach ensures that all the necessary design and configuration needs along with necessary data migration are presented from the start of the project initiation for Oracle Cloud HCM rollout.
600+ Higher education providers submit their data to HESA annually.
HESA has provided a detailed process for data preparation and submission to HE. Below diagram provides the various tasks that are performed as part of HESA data collection process.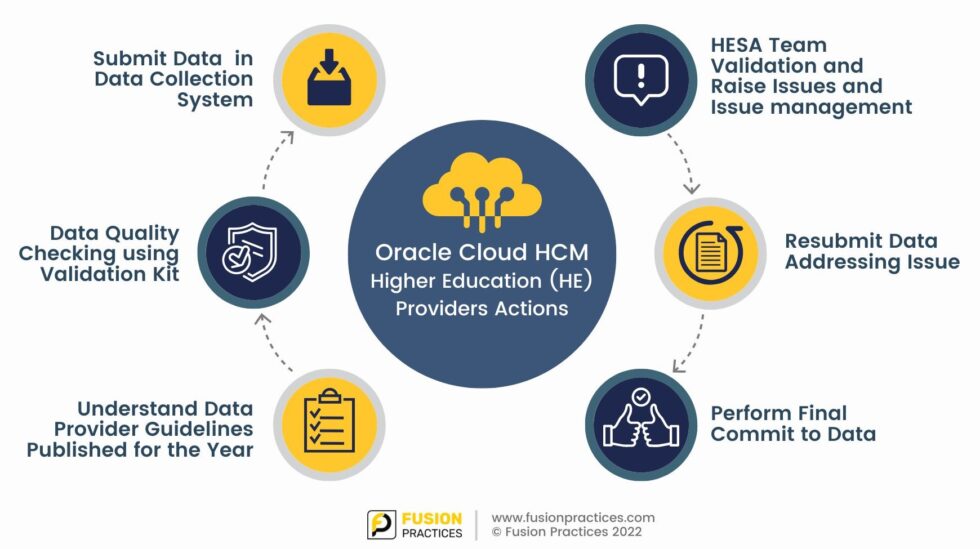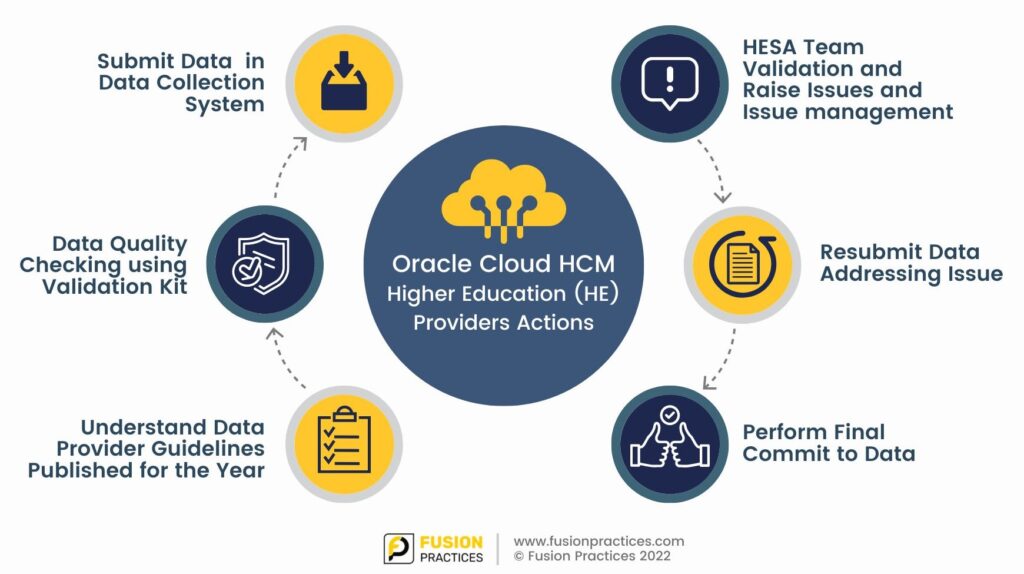 Typical challenges in HESA Data collection
HESA data submission requires staff data collection with information on person, contract, Governor and activity. This data submission requires tasks to extract, transform and format the data as per the HESA format. The standard HR data model requires some challenging configurations to identify and extract HE specific information. Hence the below design considerations required.
Data modelling challenges:
Oracle HCM is highly extensible and has extensive data model however some of the requirements on data needs are unique to UK higher education that needs configurable extension to Oracle Cloud HR data model
Data extraction challenges:
Oracle reporting tools leverage report option to extract HCM records specific to HESA data collection and output the data collection as per HESA guideline.
Few records extraction need to capture the extensible records configured in Oracle cloud HR data model.
Data transformation challenges:
HESA has given a standard code for all data items in staff collection and Oracle Cloud HR data model requires mapping of Oracle Cloud HCM records to HESA code format.
Data Maintenance challenges:
Oracle cloud HR data model requires data mapping configuration changes periodically as per the HESA guideline changes.
Oracle Cloud HR data model may require configuration re-structure as per the Oracle cloud HR data structure changes during upgrade releases.
Extending the Oracle configuration for HESA data collection
Oracle Cloud HCM can be configured to automate the data management, extraction and reporting for HESA using Cloud extension framework. Extract the data collection by configuring the HESA data items in Oracle Cloud HCM records as per the HESA guideline. This extraction included data validation and quality checks.
Below are the configuration steps:
Extract the available Oracle Cloud HR data model information (person, organization, Salary and employment record) from Oracle Cloud HCM.
Configure extension records like academic qualification, teaching medium, British Sign Language users by leveraging the Cloud extension framework
Extract the configurable extension records from Oracle cloud HCM configuration setup.
Transform the HESA data collection item as per the code using the data mapping framework given by HESA configured in Oracle Cloud HCM
Leverage HCM reports option to collect data items in HESA defined output format.
Oracle cloud HCM supports customers in the extraction of HESA data collection as per HESA schedule. Also helps in maintenance of data extraction process as per the guidelines released by HESA annually.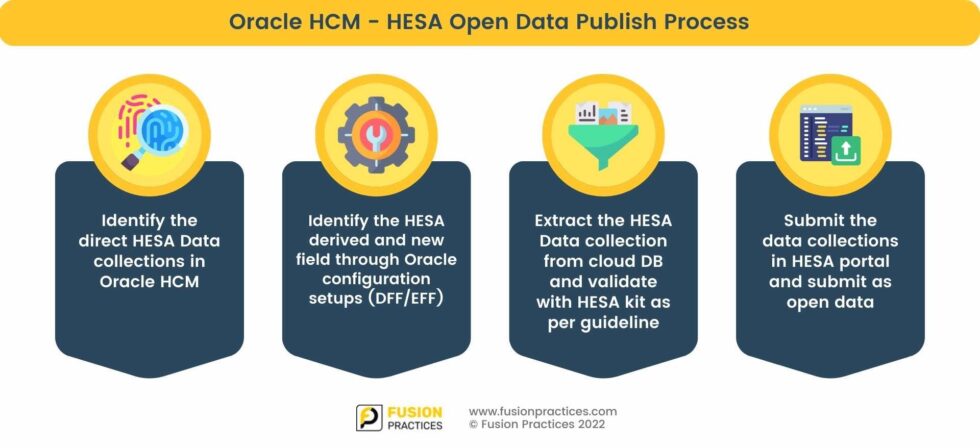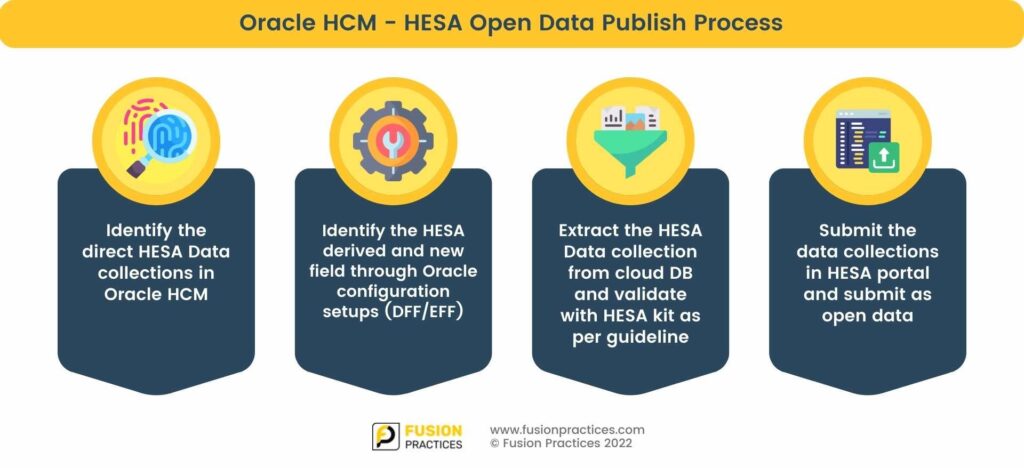 Benefits
One time configuration of HESA data items during implementation of Oracle Cloud HCM system.
Easy extraction of HESA data collection from Oracle Cloud HCM system.
Reduce the period and effort to extract the HESA data collection from Oracle Cloud HCM system.
Simplify the HESA data publishing and maintenance as per the guidelines.
Addon solution during Oracle Cloud HCM implementation for UK HE customers.