As organisations aspire to implement an Oracle Cloud ERP solution for their global operations, they must consider the methodologies to roll out the solution across their subsidiaries, or divisions or regions. Organisations these days typically use their global cloud platforms to standardise global processes. Although using a global solution, global template is a great idea and has benefits however a global ERP template roll out can become complex and challenging specially when local requirements are significantly influenced by their respective legislations. There are many factors to consider when choosing a global ERP rollout, from the template readiness to training approaches. 
Most of the bigger organisations with global presence try to move towards a single template driven roll out across geographies for several reasons. The main advantage is that they can import the centralised template to all the subsidiaries inline to their business objectives and still retain the flexibility for making changes only to the country specific regulations & standards.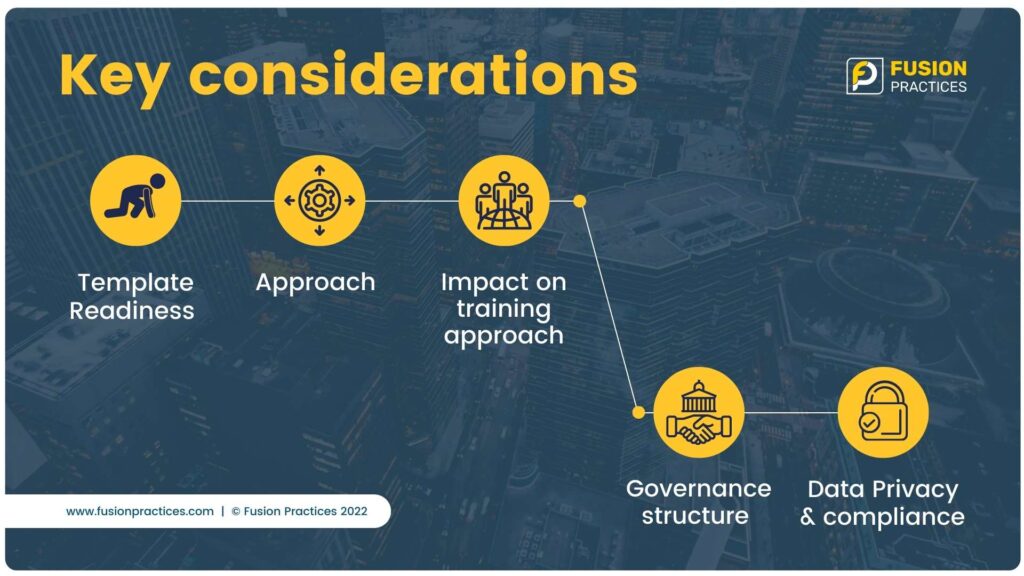 Global Template Readiness:
This is one of the key factors to think before we kick start the global roll out to check the template is aligned with the business strategy and operations.
The global template is designed to be flexible and can be altered to meet the specific local needs of each implementation.
It should be easily updated as new features are added to the cloud ERP solution.
The global design template for your ERP is designed to be used by all the implementation team members, including the Project managers, Business Analysts, Developers and available for end users, who can use it to create their own customisations.
Also, make sure the global design template is compatible with the local constraints such as credit card companies, or banks having branches in those locations, nature of payments, local escrow requirements on payments/bills etc
Approach to the Global ERP Template
There are different approaches possible when it comes to making a global design template and each have their own advantages and disadvantages.
Pre-defined baseline template offer a starting position for the design of the implementation and can be used as-is or can be changed to fit the specific needs of the local organisation. However, the downside is that they can be more difficult to implement as governance is required for every change suggested as the rollout progresses across territories
Considerations:
Adhering to the local legal and fiscal requirements
Change governance authority to be setup
Ensure shared service possibilities are not adversely impacted by variance in design decisions per territory.
Fixed templates on the other hand, offer a more streamlined approach to cloud ERP implementation. This approach will make them quicker and easier to set up, as there is less changes allowed. However, the trade-off is that they can be less flexible in terms of accommodating specific organisational needs.
Considerations
Clear guidance to be published on what can or can not change
This template can allow limited modifications within the ambit after having rounds of discussion with the local entities as required for the roll out.
These templates allow the organisations to choose the combination of these templates as per their Scope of work, timeline, and budget towards cloud ERP implementations.
Impact on training approach for global design variances
The training approach will also play a vital role in determining which template approach is best.  The approach to training will vary depending on the size and complexity of the organisation, but it is important to double check all the users are properly trained on how to use the system. Identify the gaps in the Knowledge transfer within the teams through a feedback session.
Will all users be trained on the same template?
Or will there be different templates for different user groups?
If users are going to be trained on the use of the system before it is implemented, then a fixed template may be the best option.
However, if users are going to be trained after the system is implemented then pre-defined template may be the suitable option to proceed with the roll out.
Governance structure
As you progress with the global template roll out for Oracle Cloud ERP implementation, there are several considerations to make sure the cloud ERP implementation is successful. Another key area is governance that ensures clear and consistent framework for decision making and oversight can help avoid disruptions and delays. The global team and the local entities should have a well-planned strategy to make a decision that will strengthen the business processes globally. By following the Oracle global template roll out strategy, organisations can validate that their governance structure are up to par, and they are able to take advantage of the opportunities that a globalised world offers for example self service capabilities.
Finally, it is important to check on additional considerations for cloud ERP global template roll out such as Data Privacy and Compliance.
Data Privacy & compliance
Primarily, Oracle cloud-based ERP may have various 3rd party systems integrated, it is important to make sure that data is being managed and accessed securely. In a cloud environment it is important to ensure that all the data is encrypted at both rest and also in-transit, access is properly controlled and compliant with any relevant regulations. Additionally, it is important to consider the security implications of a cloud-based ERP system as we move towards transition plan.
Conclusion
A global template roll out can offer a baseline foundation for any organisation to standardise the ERP implementation and business processes. Some organisations use 75% of the business process needs to be addressed directly from these templates using the global roll out strategy. By considering all the above factors, you can develop a successful plan with Oracle global ERP template roll out.