An accounts payable is one of crucial department of an organisation which has many responsibilities to achieve which includes from managing supplier relationships, vendor invoices to partner payments. When company purchases any services or items from a supplier, that is tracked within accounts payable.
In Oracle Cloud ERP, Accounts Payable has been segregated into two parts as shown below

Invoicing Process:
Accounts payable teams need to identify and complete the unsettled payments on timely basis. It receives invoices and records liabilities along with assets or expenses. The team will match vouchers with invoices and purchase orders.
Payment Process:
Payments are initiated once the team matches purchase order receipts and invoices. Several factors are considered before payment is made to suppliers such as the pending amount, due date and discounts if applicable.
Accounts Payable Integrations:
Accounts payable is integrated with General Accounting, Procurement, Capital Asset Management, Fixed Assets, Expense Management, Contract Service Billing, Payroll, Project Costing, Real Estate Management, Trade Planning.
It also has multinational features which enable building a global supplier network to optimise the price, terms, and availability of goods. The multinational features include currency processing which allows paying using any currency in the world.
Steps for Invoicing Setup in Oracle Cloud: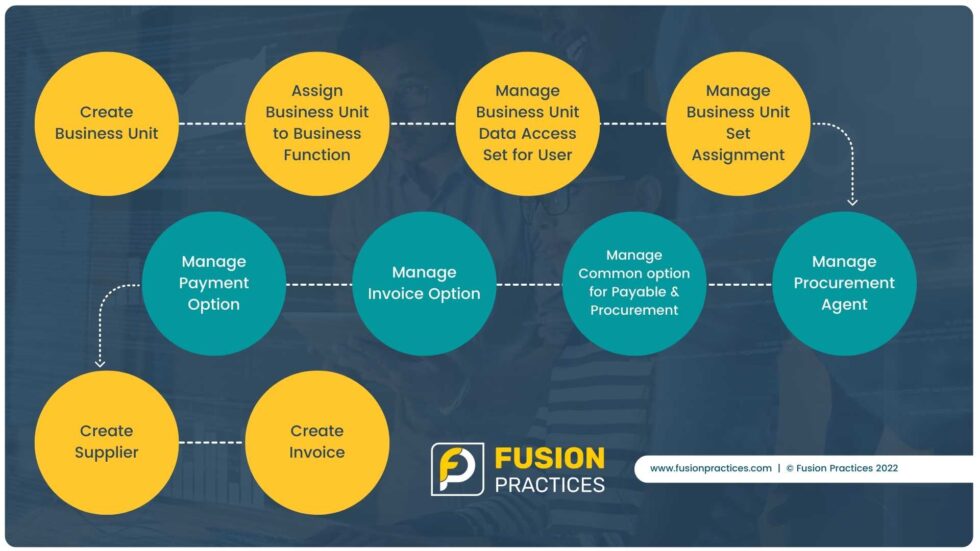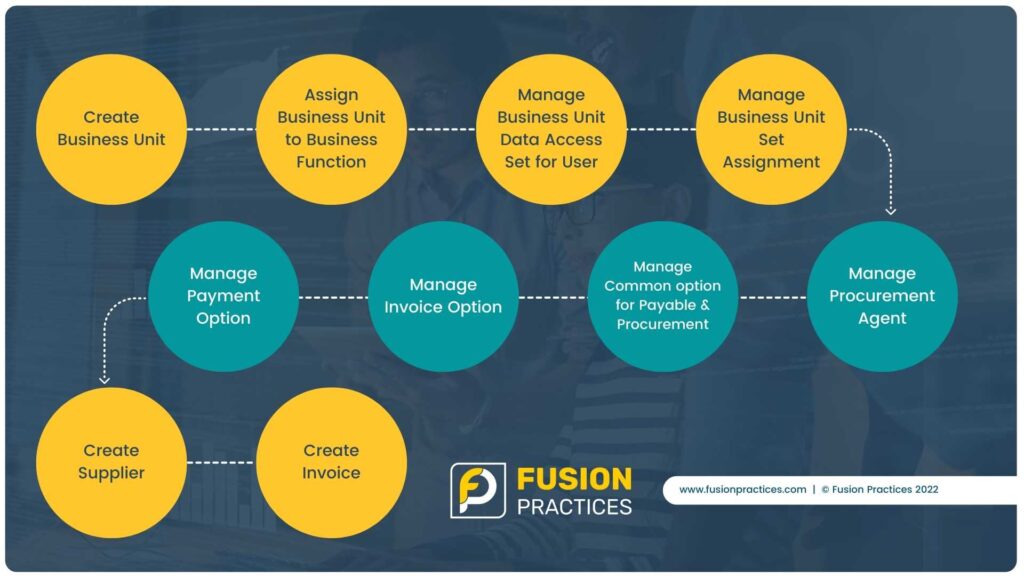 Types of Invoices:
Standard: It is a general invoice from a supplier stating an amount due for goods or services purchased. Standard invoices can be either matched to a purchase order or can be created without a purchase order.
Debit Memo: An Invoice you enter to capture credit for a supplier who does not share a credit memo.
Credit Memo: A document received from a supplier that provides a credit for goods or services.
Pre-payment: An invoice is generated for advance payment for expenses to a supplier or an employee.
Invoice Structure
Invoice has two parts Invoice Header and Invoice Lines.
Invoice Header consists of the general information about the invoice which includes invoice number, date, payment term, term date, supplier related information including supplier site, invoice amount and currency, invoice type etc. After entering the required information in the invoice header, Invoice lines can be entered
Invoice Lines consists of the information related to goods and services, freight, taxes. It contains all information required for accounting purpose such as accounts, distribution sets etc. Each invoice header can have multiple lines which can be entered manually or automatically generated by matching with purchase order shipment, receipt.
Validation of Invoices
Before any payments are made or any accounting entries are created of invoices one must validate them. This can be performed under the Invoice Actions tab. Validation process checks that matching variances fall within specified tolerance limits, also place holds for exception conditions, calculate tax.
After validating invoice, many options can be exercised under the invoice action tab such as post to ledger, account in draft, apply or withdraw pre-payments, pay in full.