The process of implementing ERP involves several steps and as per the sources, nearly 75% of ERP implementations fail. In this article, I would like to highlight some of the reasons why ERP Implementations fail based on my experience. 
Why does an ERP Implementation fail?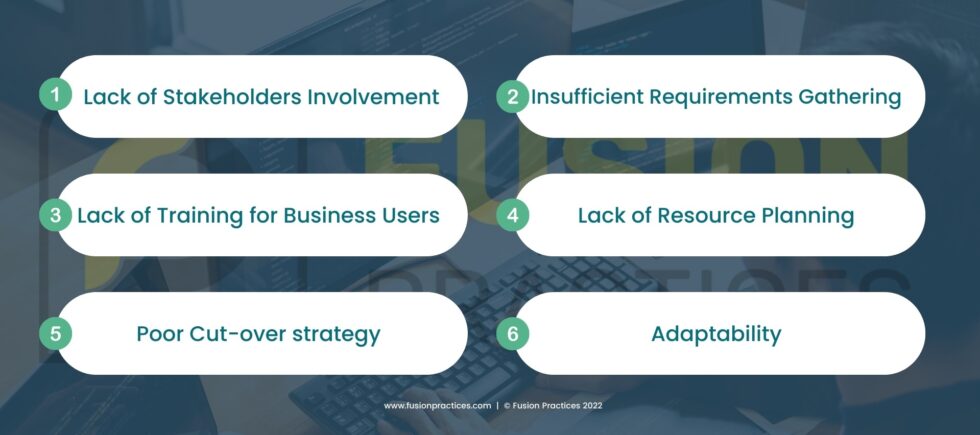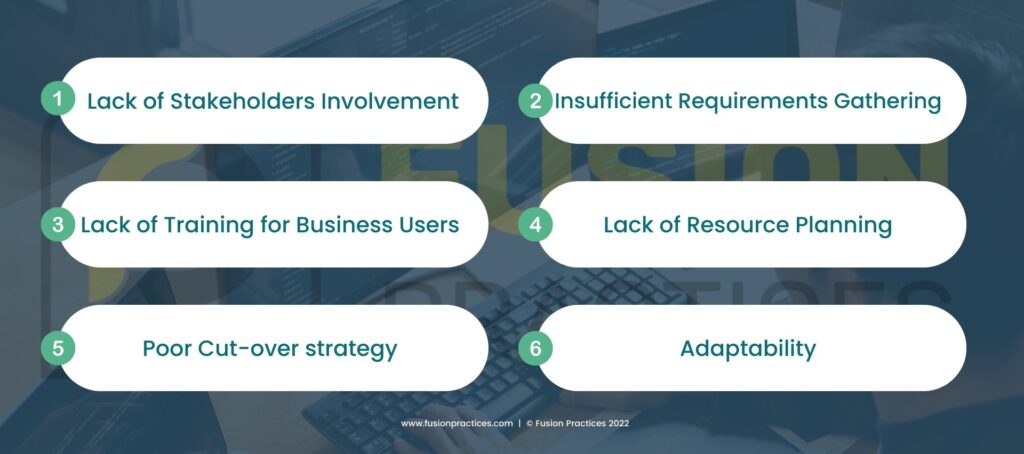 Stakeholders Involvement:
One of the Key Success Factors of ERP Implementation is the availability of Business Stakeholders. Therefore, when there is a deficiency in the involvement of Stakeholders in the Implementation, the Project would be failed. Hence, the commitment and knowledge of stakeholders are predominant throughout the ERP Implementation. Stakeholders' time & efforts are greatly appreciated for the successful implementation of an ERP system. 
Insufficient Requirements Gathering:
Requirements are the major elements of a successful ERP Implementation. An Implementation Consultants should possess good experience in dealing with Business stakeholders and how to gather requirements efficiently. Know their pain points dealing with the existing system, forecast where similar problems might occur in the new system, and find out possible ways to avoid them in the new system. 
Lack of Training for Business Users:
Though there is an innovative strategy in doing the ERP implementation, training for Business Users is another Key important factor. If Users are not properly trained on the Application in advance, they can not actually contribute much in different Implementation phases like explaining the Requirements, Testing the system, etc. Whereby it increases Business Users' dependency on the Consultants during the Implementation and even after the Go-live & Post Production Support.
Lack of Resource Planning:
Resource planning can be of different types, it could be the Consultants required for the successful delivery of the Project or the lack of IT planning like Software, Hardware & logistics. It could be providing the right resources from each department in the organization, who can contribute to the Project without affecting their day-to-day operations.
Poor Cut-over strategy:
Another important factor is having a smooth transition. Having the right cut-over strategy prepared considering all the elements of Data Migration activity including the closing of accounting books on time in the Legacy system, data cleansing activity, data transfer into the required formats, assistance from the IT, migration to the new system, and finally data verification – checking the accuracy of data between the Legacy system and the new ERP system. 
Adaptability:
No matter how good is your new ERP system, Business Users do not wish to come out of their comfort zone and adopt the new system and new processes. They always insist to see the new ERP system as similar as possible to their Legacy system. It is, therefore, the responsibility of Consultants, Project Managers to educate Business Users about the benefits that come with the new system, and how it is going to minimize their efforts and brings more efficiency to their work style. 
Apart from the above mentioned, there are a few more reasons like Change Management, Budget Constraints, Turn-around time in decision making, Management Involvement in the Project, etc. 
Looking to transform your business processes with the power of Oracle ERP Cloud? Get in touch