Oracle Fusion Accounting Hub
Most companies have numerous ERP systems both purchased and built in house. Studies have shown that companies have about 5-100 different applications depending upon the size and nature of the business. Banks will have custom billing system, insurance companies will have billing systems for premiums, claims system and reinsurance systems. Multiple systems not only affects the IT structure but also trying to integrate the accounting from these diverse systems can be very challenging.
Challenges with Integrating accounting from disparate systems?
Redundant logic– Most companies are likely to duplicate the logic for each source system because as source systems are added, it's easier and less risky to simply duplicate the logic rather than modify existing logic, also for some companies, their systems are so old that they don't even have the ability to make changes to source systems
Error-prone processes- When companies manually correct the feeds or use spreadsheets to upload data, like any manual process, it's error prone.
Lack of visibility- In most cases there's no visibility of accounting rules because they are  hidden in source systems, interface programs, or in spreadsheets.
No control- Compliance-related issues can pop up as there's no control because many times companies have different departments in different countries that own the remote systems and interface programs.
Incomplete audit trail– If something changes in the source accounting system, companies may not know why or who made the change so they have no audit trail.
Manual reconciliation– Reconciling between the two systems is difficult especially if your company is trying to reconcile various accounting methods, such as IFRS and Local GAAP.
Accounting by Excel- Companies end up calculating thousands of accounting adjustments in spreadsheets which are uploaded as manual adjustments without audit trail, justification or link to the source system which lead to uncertainties about if the adjustments are accurate/reflect corporate accounting policies.
Change in Accounting rules- The process gets complicated when there are changes to accounting rules, or new finance regulations are added.
Global expansion of company- If your company expands globally, you need to worry about local systems and complying with local accounting standards.
Mergers and Acquisitions- Finally, if your company is in an industry experiencing many mergers and acquisitions, it means there arises even more feeder systems to integrate with.
To know more about Fusion Practices' Oracle Implementation Services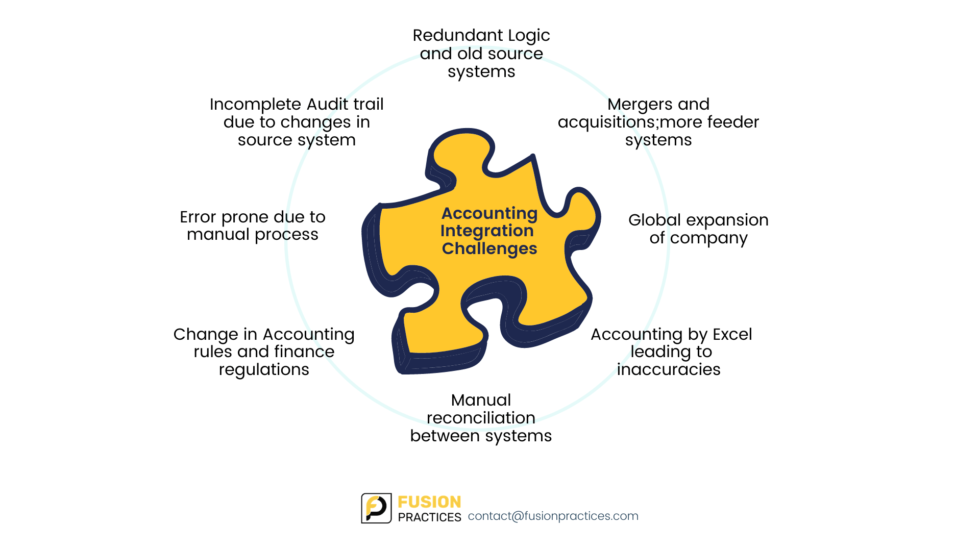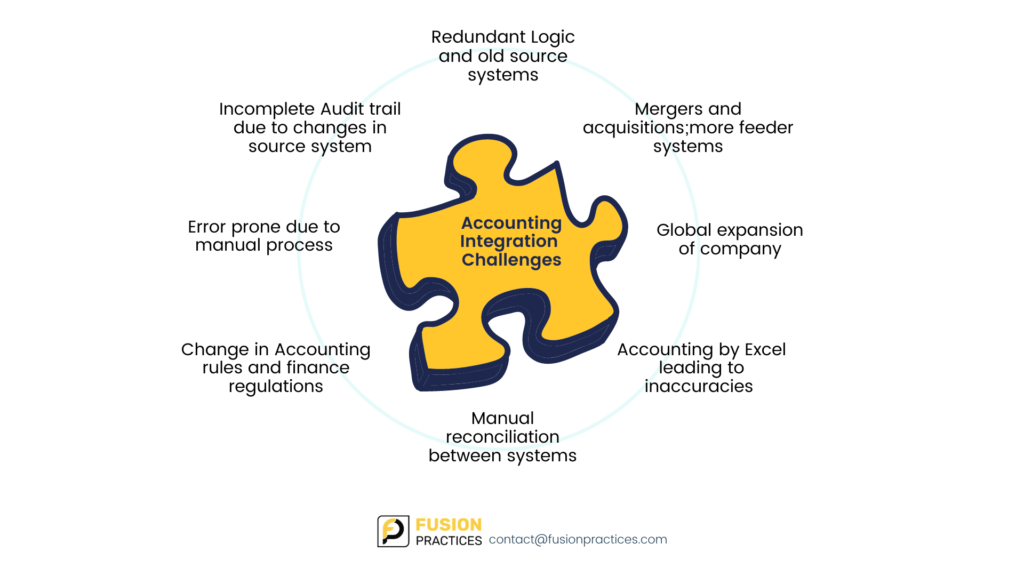 Let's look at the reporting challenges faced by your company:
Multiple reporting tools– Today, companies have multiple reporting tools that each look at different data sources. You may have some users that have reports saved in spreadsheets or on their hard drive. Other users need to wait for the data mart or data warehouse to refresh to get the latest numbers, others are waiting for IT to create their ad hoc report. Thus, no one is getting real time reporting.
Dependence on IT- Users want to overcome their dependence on IT. Companies are moving towards the "democratization" of reporting: empowering business users build their own reports with business user friendly tools on properly secured data. That's when Fusion Accounting Hub comes to play.
Large volume of Information– People and organizations cannot keep up with the volume of information produced by technological innovation these days. Management in particular are having great difficulty navigating a rapidly expanding sea of information, and the situation is only getting worse.
Limited Desktop Integration– Many of the reporting tools today have limited desktop integration, such as integration with MS Office products, such as Word or Powerpoint which are important for analysis by the senior officials.
Outdated Tech and reliance on IT- Additionally, many of today's report writers use outdated technologies that are hard to use, inflexible, or geared towards programmers. If users have ad hoc requests or need custom reports, it often requires IT help that could take weeks or months.
Lengthy Batch Programs- Generating these reports might require long-running batch programs.
Need for multiple data warehouse- If users need to perform sophisticated analytics, it requires the use of a separate data warehouse.
Managing high volume reports- And lastly, they have weak distribution capabilities for high volume report distribution.
How can you fix these Integration and Reporting limitations?
Option 1: Do accounting hub on Fusion Cloud end to end
One of the solutions is to upgrade to fusion financials as it's an integrated suite offering an umbrella of modules ranging from General ledger for journal entries and allocations, payables for creating invoices, receivables, asset management, cash management.
It has centralised Subledger Accounting, centralised tax payments and intercompany.
Option 2: Coexistence with Fusion
If your company is not ready to take up the full suite of Fusion Financials, the best way to go about with it is to leverage their existing financials investments with coexistence with Fusion Accounting Hub.
You can retain your current GL system and have them co-exist with fusion financials. Accounting can still be done in their existing GL.
So your next question would be why should my company adopt Fusion in a co-existence manner, without disrupting our current Financials investment?
It is the best fit for you if your company has grown by acquisition or have let subsidiaries make their own ERPs selections. They have multiple ERPs (multiple EBS, PSFT, JDE and perhaps even SAP).
Typically your company data is fed from the ERPs into a consolidation system and data-warehouses are used for reporting, but facing a number of issues.
Your existing ERPs are entrenched: it is too difficult, expensive and risky to replace them and might impact the ROI.
There is a pressing need for Finance transformation, better, more accurate and timely reporting
Management reporting and financial reporting do not reconcile
Data is of questionable quality and there is no drilldown to the source ERPs
How co-existence with Fusion Accounting Hub solves your above-mentioned problems?
Fusion Accounting Hub provides consistent validation of accounting using corporate rules (accounting domains, cross-validation rules)
Will provide you with a full stack of financial data from the most highly summarized to journal level detail
Full drill-down from the top to the bottom
It is corporation-wide, consistent reporting and analytics platform that guarantees consistency across source ERPs; and across Finance and analytics.
We provide a rapid implementation (less than a year)
Doesn't rely on ripping out existing ERPs.
How can we use Fusion Accounting Hub as a reporting and Analysis Platform?
Configurable, role-based dashboards bring information from a variety of sources so users know exactly what they need to do, what actions they need to take, and who to ask for help— all from a single location.
All data in one place– Fusion Accounting Hub proactively monitor processes, raise exceptions that occur during processing, and push work to users. Instead of running multiple queries or searching for data, the data is all in one place. Users simply need to log into their dashboards and work areas to see what they need to do that day.
Ease of use– for GL Accountants and other users that have a need to perform ad hoc ledger queries can use GL's Account Inspector to query balances and perform multi-dimensional analysis, slicing and dicing of information, and pivoting– all within a web page. This works off the same analytic cube with pre-aggregated  balances at every level so all queries are lightning fast.
Different locations, one General Ledger Report– Reporting Consolidation is made easy for companies with the same Chart of Account / Calendar is made easier as the accounting data for these companies is all within the same Essbase cube, rather than being transferred to a data warehouse, so consolidated reporting is always up-to-date based on the latest live General Ledger balances.
Centralized Report Center- CFOs and Controllers who need professional, board quality financial statements traditionally have to ask someone for a report. In Fusion, reports can be accessed from a centralized report center which provides a single point of entry to securely distribute reports. Users have self-service access to any report they are authorized to see.
Real time Data- You can export results to MS Office, such as Word and PPT, and dynamically refresh results within those office products. So if you're giving a PPT presentation to your Board of Directors, you can instantly update your financial results within PPT.
Excellent Drill down– You can export results to Excel for further analysis and perform multi-dimensional analysis and drill down to live transactions.
How can we use Fusion Accounting Hub as an Accounting Integration Platform?
As shown in this image, the accounting rules are applied to the accounting events from source systems. After the accounting process is complete, the journal entries are transferred and posted to the Fusion Cloud General Ledger.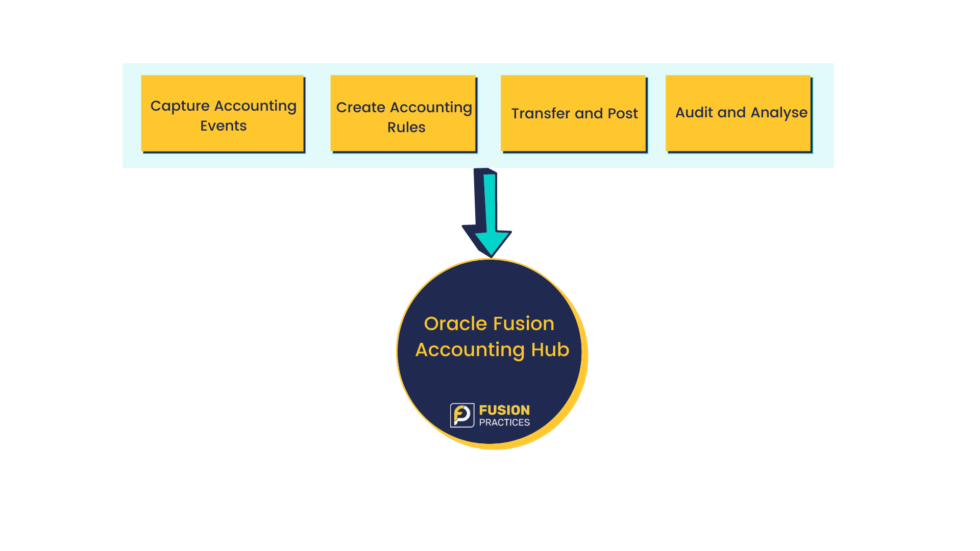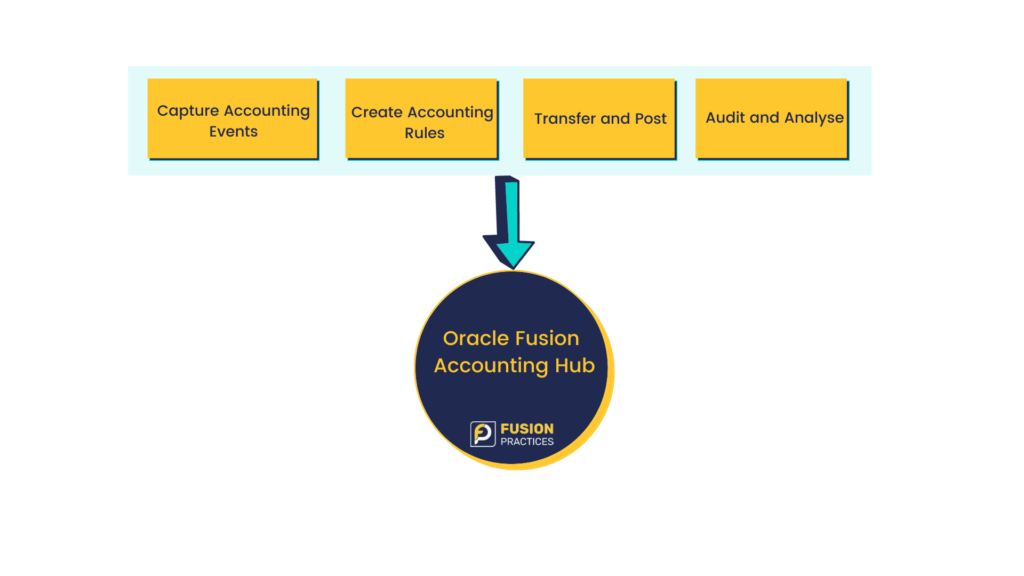 When Fusion Accounting Hub is the accounting integration platform, it acts as the 3rd party source system subledger, enabling your customer to:
Capture accounting events:
We can use fusion accounting hub to capture transaction and reference information used to create accounting using
Analytic dimensions and attributes
Open interface for multiple data sources
Scalable to accommodate high volume of data
Has 3x faster accounting transactions
Fusion Accounting Hub can generate accounting, journal import, journal post with a speed of 225 million transactions /hr
Creating Accounting Rules:
Accountants can build and maintain accounting rules with easy purpose build UI
It has centralized controls and validations to manage and enforce accounting policies
Transfer and post:
Business users can use draft accounting if new to Fusion Accounting Hub
It automatically transfers accounting entries to Fusion Accounting Hub GL automatically
Audit and Analyse:
Since Fusion Accounting Hub is the bridge between source system and GL it is very easy to audit and analyse the data.
The summarised GL balance can be drilled down for more reference data coming from your source system.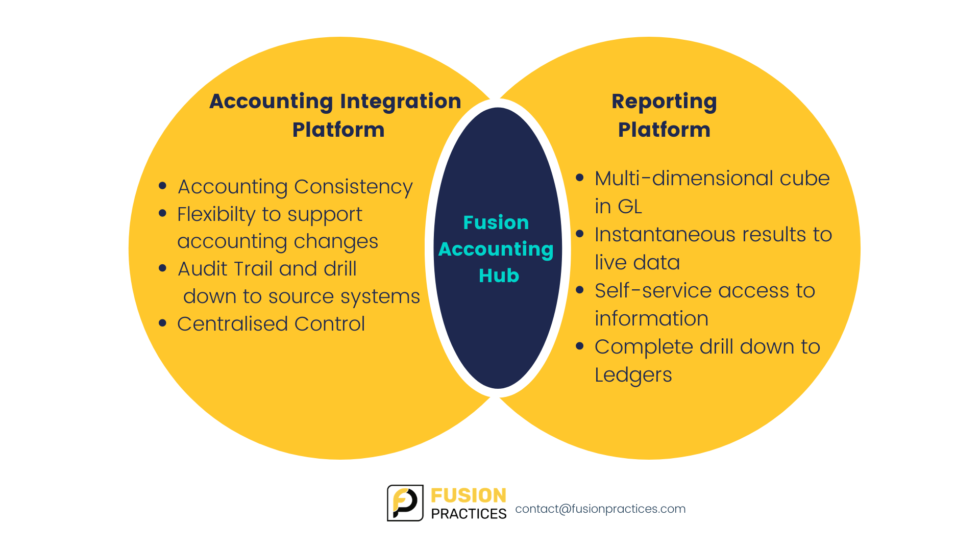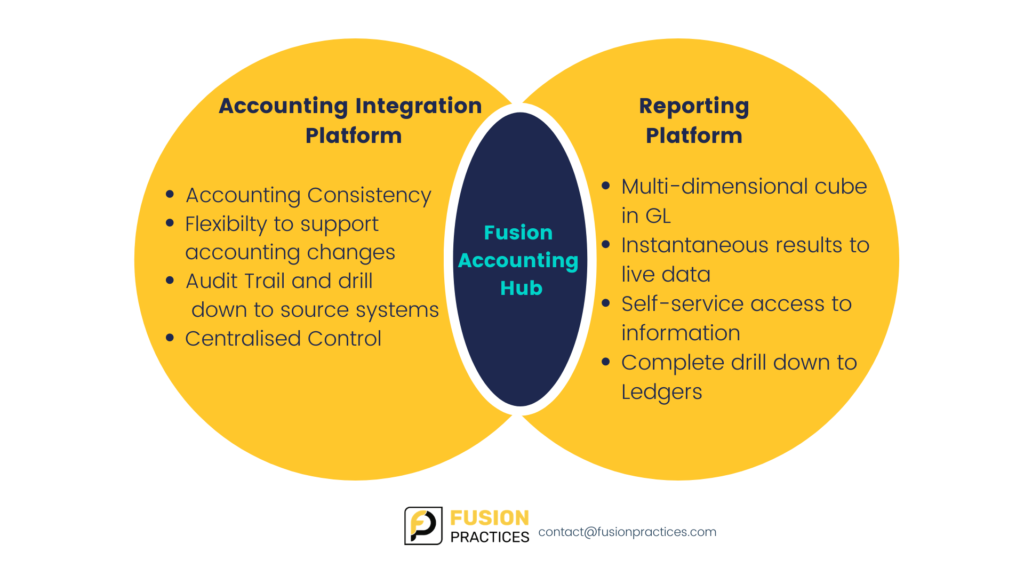 Fusion accounting hub v. EBS financial accounting hub
It is an improved version of the EBS Financials accounting hub in terms of improvement in functionality and user experience
It gives the benefits of an accounting integration platform and a reporting and analysis platform.
Enables you to leverage the latest technology in fusion middleware.
Sets you on a migration path to Fusion Financials when the time is right.
Now let's take a look at some use cases:
Use Case #1: Fusion Accounting Hub Accounting Integration
Goal: To replace custom development that generates and integrates accounting for industry systems.
So Why Fusion Accounting Hub:  Expensive, high risk project to build in house solution that lacks key capabilities.
Key Capabilities:
Accounting consistency for source systems managed by accountants, not IT
Flexibly supports changes and accommodates multiple accounting (Multi-GAAP, IFRS, etc)
Complete audit and drill down including tracking balances too detailed for GL.
Provides configurable and scalable accounting rules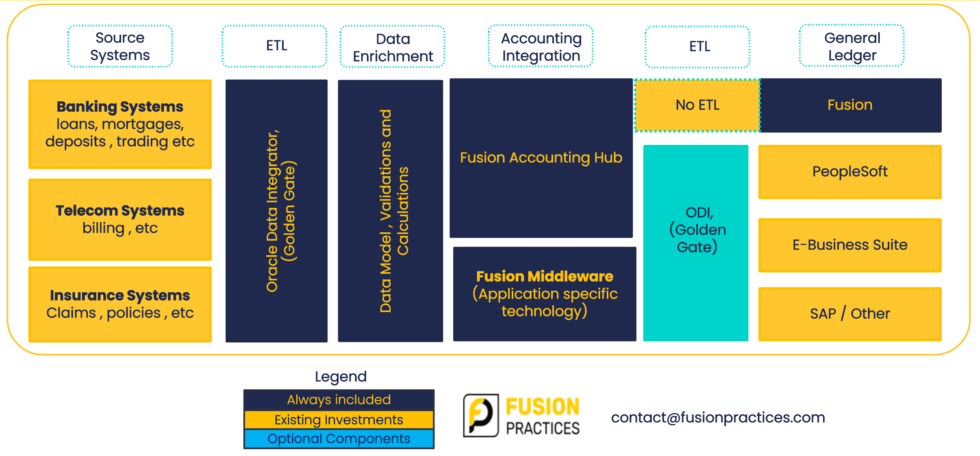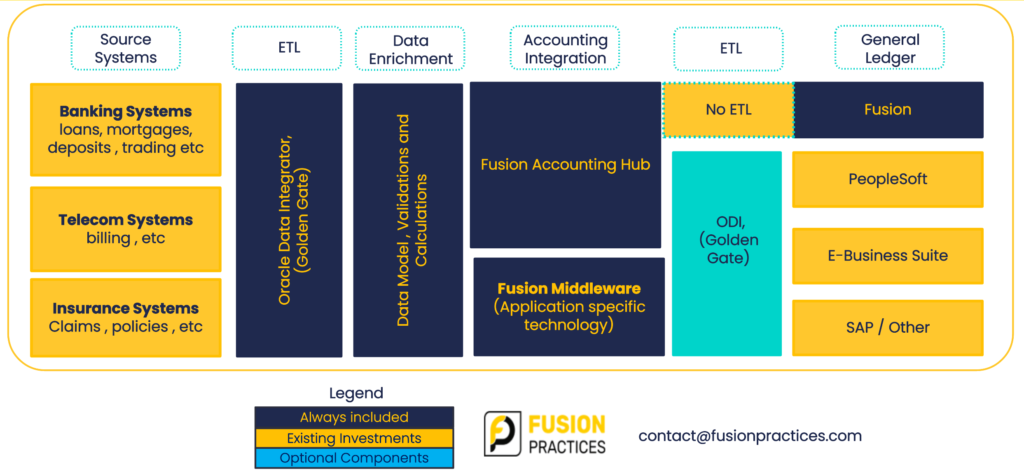 Let's understand this case in detail:
In this use case, Fusion Accounting Hub is positioned as an accounting integration platform, to replace custom developed solutions for the integration and generation of accounting entries from 3rd party source systems.
A goal of using the Fusion Accounting Hub as an integration platform is to provide your company the visibility, transparency, and audit-ability of 3rd party source system transactions into the General Ledger, keeping the General Ledger "general", and holding the necessary detail in the Fusion Accounting Hub subledger.
When used as an accounting integration platform, Fusion Accounting Hub enables companies to easily create accurate accounting from disparate and legacy source systems.
In this process flow, companies have existing investments in source of legacy systems that need to create accounting entries to the General Ledger. These source systems are often industry-specific, operational systems.
As part of our process flow, business events that create accounting entries, or need to create accounting entries are extracted from the source systems with extract, transform, and load tools, such as Oracle Data Integrator. Optionally, the data may be enriched with calculations from Oracle Policy Automation, or with specific calculations from industry solutions, such as Oracle Financial Services Analytics Applications, or Insurance Insight.
The extracted and enriched business events are then captured in the Fusion Accounting Hub, where we apply accounting rules, and create and store detailed accounting entries.
Finally, detailed accounting entries are extracted from the Fusion Accounting Hub subledger, into the General Ledger.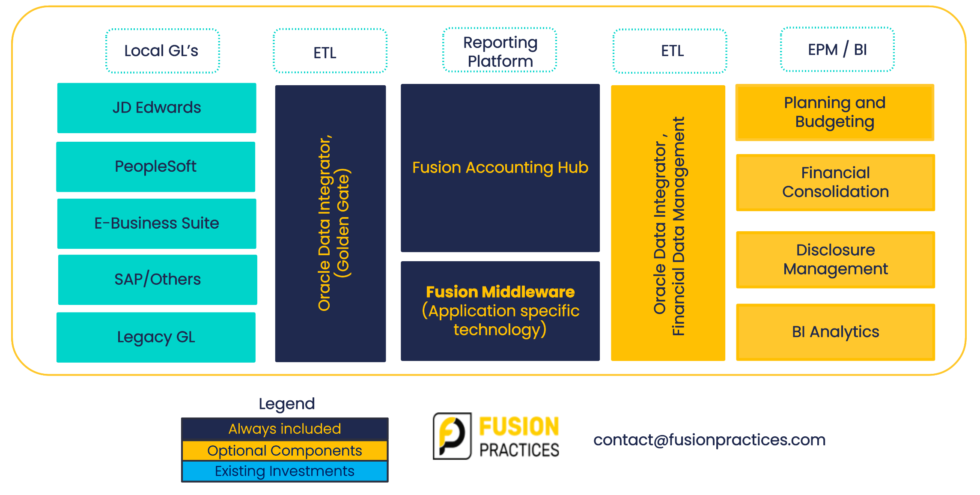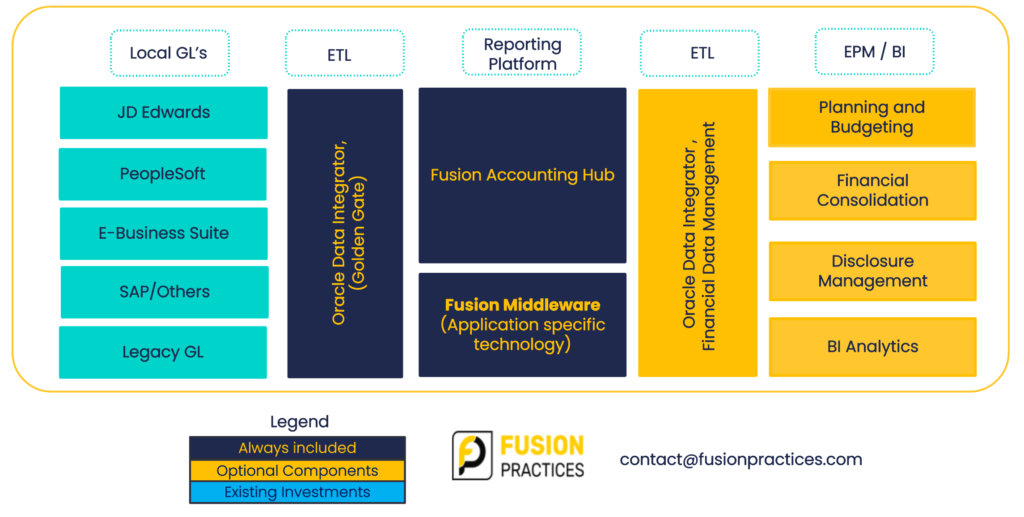 Goal: To Demonstrate vastly improved operational reporting across multiple general ledger instances
So why Fusion Accounting Hub: Many companies lack consistency and visibility of GL reporting for their subsidiaries and enterprise-wide. For example, Oracle experienced 11% faster close, eliminated 90 consolidation ledgers, and had near-real time reporting.
Key Capabilities:
Provides users centralized view across multiple ERP instances for daily, detailed operational reporting
Embedded multi-dimensional reporting cube (Essbase)
Secure, self-service access to live reports and accounting dashboards
Users have access to full general ledger functionality (journals, allocations, translation, revaluation, etc)
Let's understand this use case in detail:
In this use case, Fusion Accounting Hub is positioned as a reporting and integration platform, to provide a common, corporate general ledger, with vastly improved reporting capabilities.
A goal of using the Fusion Accounting Hub as a reporting and analysis platform is to provide companies with a common, multi-dimensional, corporate reporting general ledger, with self-service dashboards and live reports.
When used as a reporting and analysis platform, Fusion Accounting Hub enables your customer to centralize their daily operational reporting across multiple General Ledgers.
Companies can leverage their investments in their existing General Ledger applications.
General Ledger balances are extracted and loaded into the Fusion Accounting Hub using Oracle tools, such as Oracle Data Integrator (E-Business Suite and PeopleSoft, for example), and Goldengate (specifically for use with E-Business Suite).
Optionally Oracle Data Integrator and Financial Data Management can be used to integrate Fusion Accounting Hub with Oracle Enterprise Performance Management applications, such as Planning and Budgeting, or Financial Management for complex consolidations.
Optionally, Data Relationship Management can be used to centrally maintain and manage chart of accounts values and hierarchies.