Financial Reporting Compliance Cloud
Compliance made easy with Oracle Financial Reporting Compliance Cloud
According to a CFO.com  Survey, Risk analysis is ranked as the highest priority, higher than conventional priorities like cash flow. In today's age we see a trend wherein companies are looking forward to digitising risk and compliance activities, for greater accountability, evaluation, and management of potential threats to the business, also keeping resources and costs in check, since finance and other teams are facing issues with the manual and labor-intensive nature of compliance related activities.
An OCEG(Open Compliance and Ethics Group) Survey states that, 70% of Finance managers use spreadsheets and emails to manage risk and control enforcement. Here's where Oracle Financial Reporting Compliance Cloud Service is designed to simplify and automate compliance tasks and to provide reliable and responsive compliance oversight and thereby reducing the compliance costs.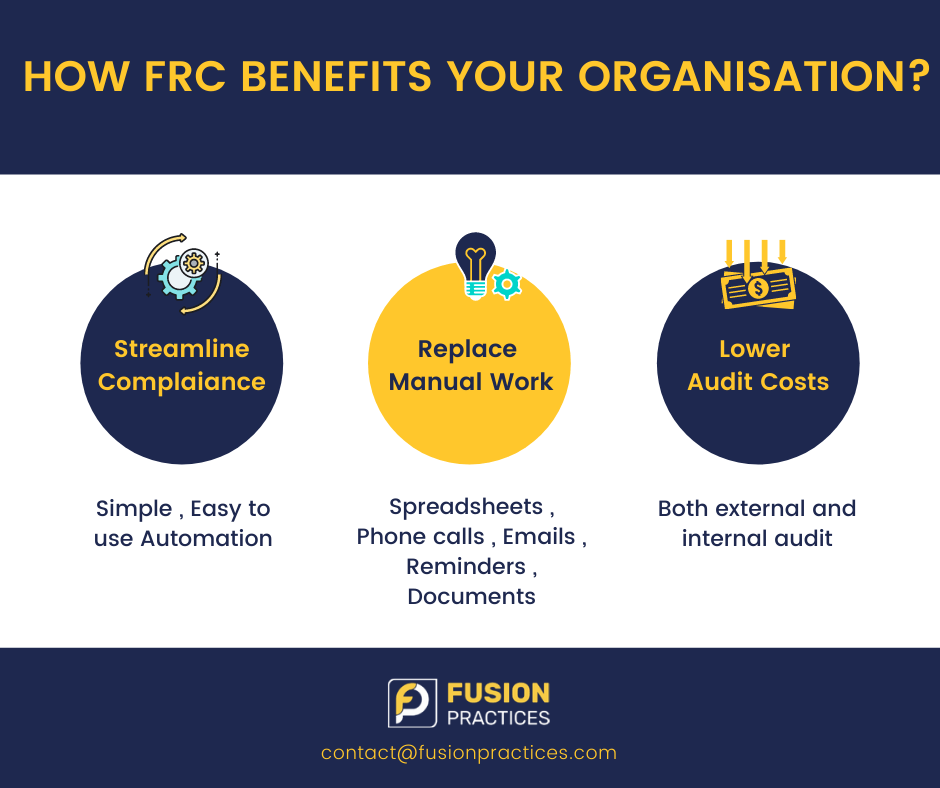 To know more about Fusion Practices' Oracle Implementation Services
As adverse internal control audit opinions increase, organizations feel they are putting their internal controls at risk. To comply with external mandates most companies use spreadsheets, emails, and documents to manage internal control compliance. This current process is manual and unstructured and it might jeopardize CFO's internal controls certifications. With the help of Fusion Reporting Compliance Cloud, risks and controls are now documented in a centralized and secured repository greatly streamlining maintenance.
Business Challenges faced by many organizations:
Disclosure of financial restatements

For example: revenue recognition and misclassification
It's Impact: lower investor confidence, stock price and market capitalization

Cost and complexity of meeting global financial reporting regulations

For example: Sarbanes-Oxley 302, 404; regional/vertical equivalents (J-SOX, etc.)

Opaque, fragile processes based on spreadsheets, emails and file sharing

No workflow automation or enforcement
Difficult and confusing to organize and drive activities
Unwanted actions must be found and corrected manually
Difficult to track the progress of actions
Poor separation of duties or data – users can see and do almost anything
No audit trail of action
Difficult to provide an executive overview
What activities/corrective actions can help face these challenges?
Business Process- It is very important for every organization to understand and document their organizations risks and map them to the business process they would impact. We define these business processes so that risks that affect them can be tracked along with the controls that mitigate these risks.
Control- Once the business process is defined, the next step would be to document your organizations control infrastructure and relate these controls to the risks they are associated to. Creating a test plan will help assessors determine if the controls are effective or any additional treatment is required. Each control can mitigate many risks and link test plans provide evidence that the controls are independently tested.
Assessment Activities- It is of utmost importance for business stakeholders, internal and external auditors and other users to assess processes, risks and controls. This is to ensure that the objects are defined and implemented correctly at the time they are created and remain valid as time passes.
The Best Fix- The ideal way to deal with this is to perform model based evaluation in order to determine whether to accept, monitor or treat each risk and moreover this model based analysis will enable to determine the threat level of each risk before control or treatment plans are in place.
Automate- the formal certification process for financial reporting controls
Control Repository- It is an Enterprise-wide repository of controls, including documentation of processes, risks, tests and results.
Risk-based selection- FRC enables risk-based selection of controls, assessments and test activities.
Issue Resolution- Our experts at Fusion, we use FRC to streamline issue resolution for audit findings and control failures.
Expected Outcomes of these activities:
Enforces Controls

Enterprise-scope solution- Secure what users can see and do
Store and interrelate risks, processes, controls, tests and issues
Automate periodic reviews, approvals, assessments and follow-throughs
Offer stakeholders the information they need to make the best decisions
E.g., Executives, Line of Business owners, Auditors

Lowers Cost

Efficient, repeatable, reliable day-to-day use and administration
Information when it's needed
Expected outcomes of using FRC: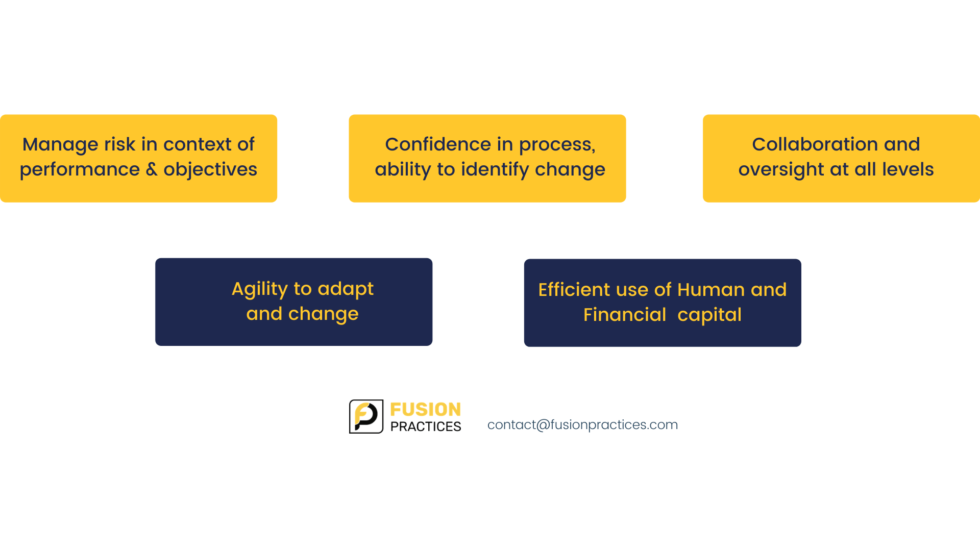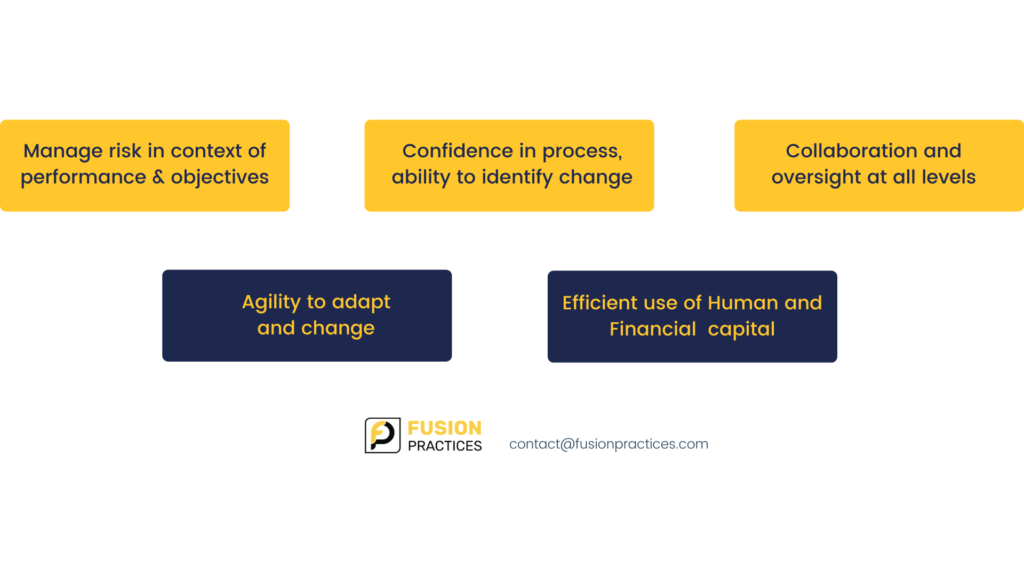 How does Fusion Practices optimise these functionalities to benefit your organisation?
Managing Risk and Control
Automating Assessments
Resolving Issues
Certifying Compliance
Let's see how our experts can use Financial Reporting Compliance cloud to improve your current process?
Reduces Compliance Costs: It significantly reduces the compliance costs of the organisation by eliminating time-consuming, laborious and intensive tasks.
Optimising controls: It efficiently optimises your controls in your ERP cloud implementation by deploying Financial Reporting Compliance (FRC) concurrently.
Improved Security: It increases security and collaboration by replacing unsecure spreadsheets, emails and documents.
Better Internal Controls: Strengthens internal controls by delegating to process owners. The control assessments are automatically scheduled to ensure complete coverage. Companies use the Manage Assessment Page to check if control tests are completed on time.
Control Risks: Demonstrated controls are enforced, known risks are controlled and emerging risks are mitigated. When a control fails during testing an issue can be created and routed for resolution via the configurable workflow. Process owners then remediate the exceptions before year end certifications.
Informative Reports: The BI tools let users create infolets, which are objects made by the embedded business Intelligence tool that allows you to extract application data for analysis and distribution. For example financial controls and assessments based on the needs of your business and roles.
Let's see phase wise what are the best practices for the various activities: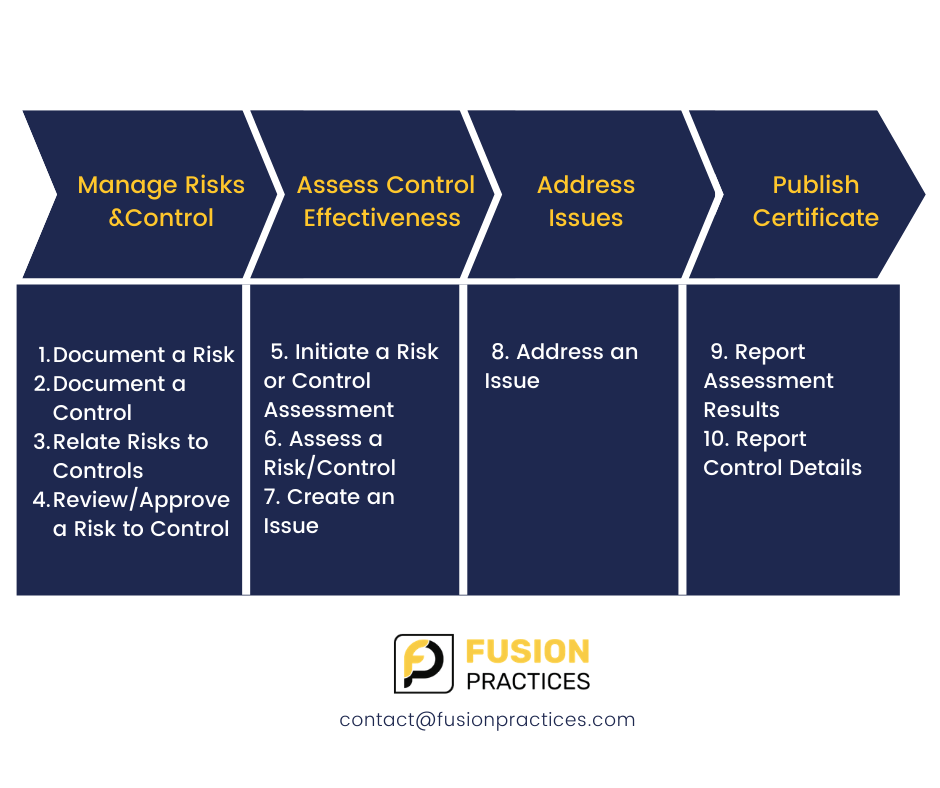 Financial Reporting Compliance cloud when implemented along with ERP cloud, optimises control procedures within and outside financial processes. It not only lowers your IT implementation costs but also enables a more robust ERP implementation as well as a faster, more cost effective SOX process for the long term. Through automation, this service delivers immediate benefits to your finance control owners, compliance, audit and IT staff.
So let's go through Oracle FRC Best Practice Process Cycle: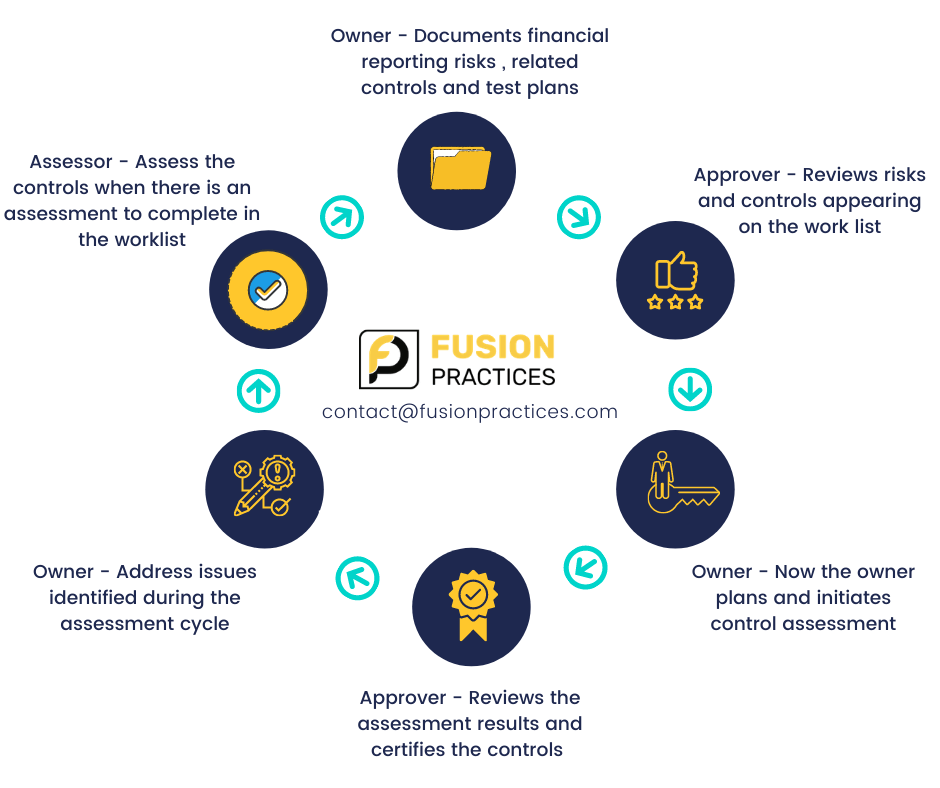 Our team of experts configure the below Essential Functionalities of Fusion Reporting Compliance Cloud
Worklists: Complete tasks (review or approve risks/controls, complete assessments etc) in worklist.
Email Notifications: You can configure Financial reporting compliance to send email notifications to users and the notifications can include all the current worklists tasks or the new tasks generated since the previous notification.
Security: We configure FRC to make sure that the users have Robust access and security. It ensures that the sensitive information that has been accumulated and judged is seen only by people who are supposed to see it. You can define by individual, by group who can see what an what actions they can perform in the system. It offers users,

Fine-grain security
Protects sensitive information
Manages Access
Process and control owners are assigned appropriate access so that they are ensured the companies internal controls are complete and accurately reflect how the controls operate.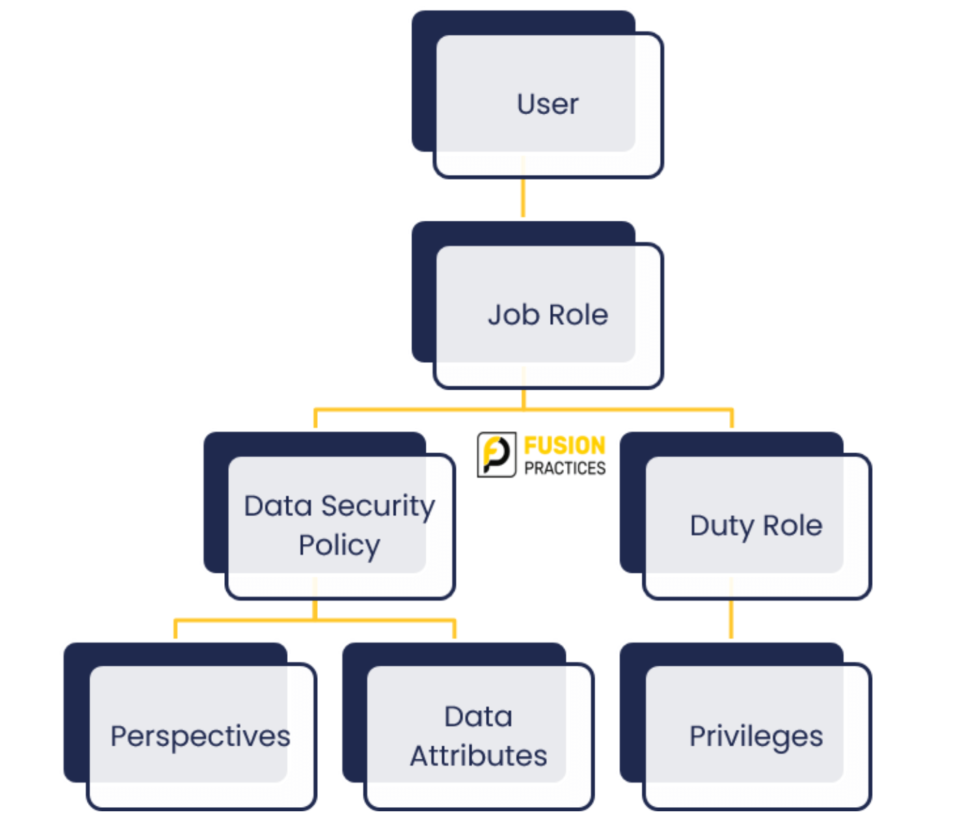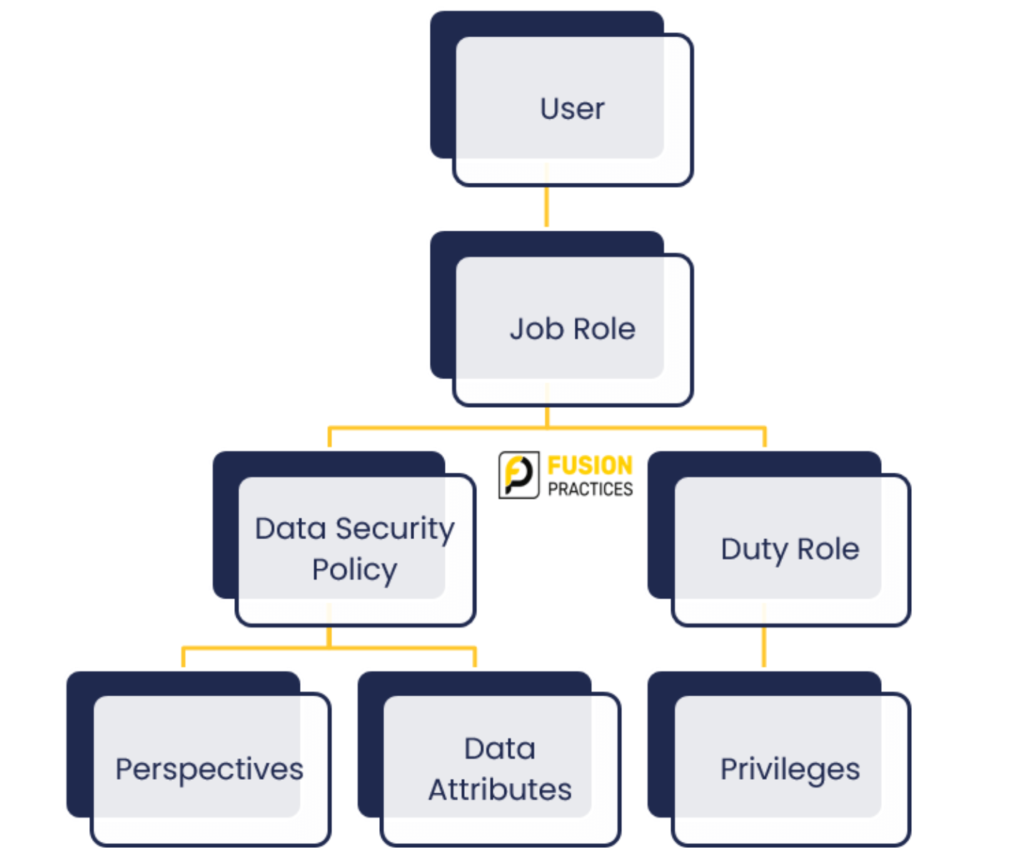 Perspectives: Perspectives are used to link controls to various compliance initiatives, streamlining the compliance process. Perspectives are hierarchies or trees with branches in these that you create to organise risk controls and to help control users access data, it could be Business process, organization/region, compliance framework or regulatory code. Once you create perspectives then you associate risk or controls with those leaves or even to the entire branch.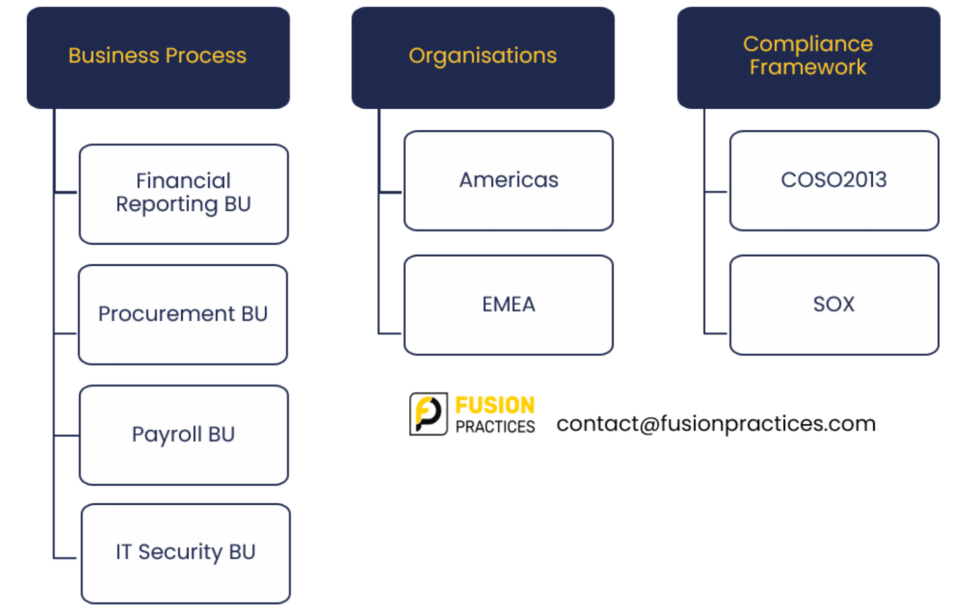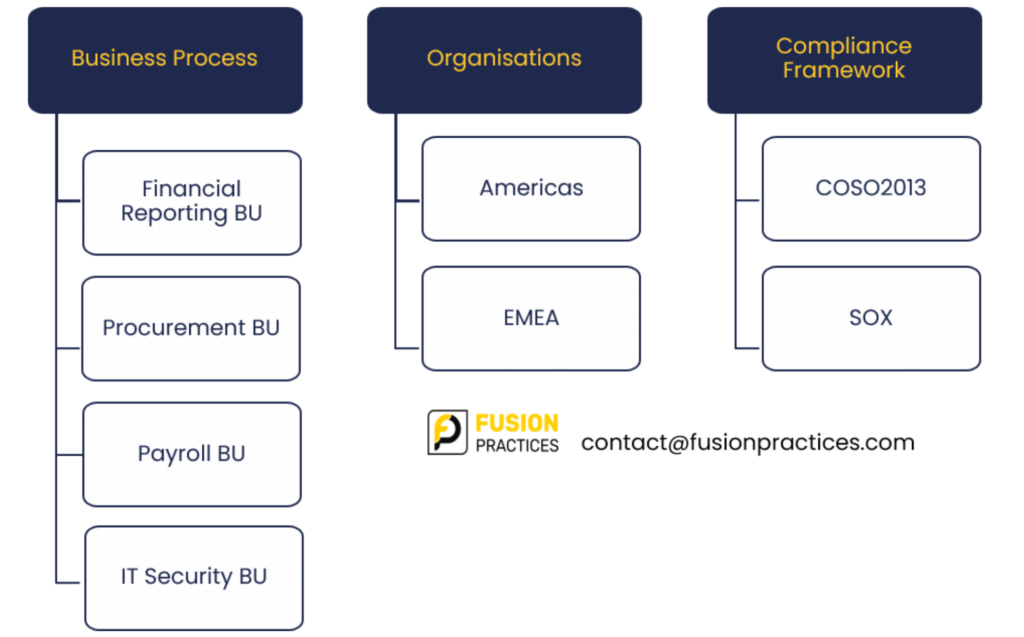 Let's have a look at our Solution template to configure Financial Reporting Compliance cloud
Let's have a look at the methodology and specification used by our experts at Fusion practices. This methodology encompasses both the implementation and everyday use of financial reporting compliance.
It is also a specification of planning, configuration and operational activities that yield the streamlined best business process.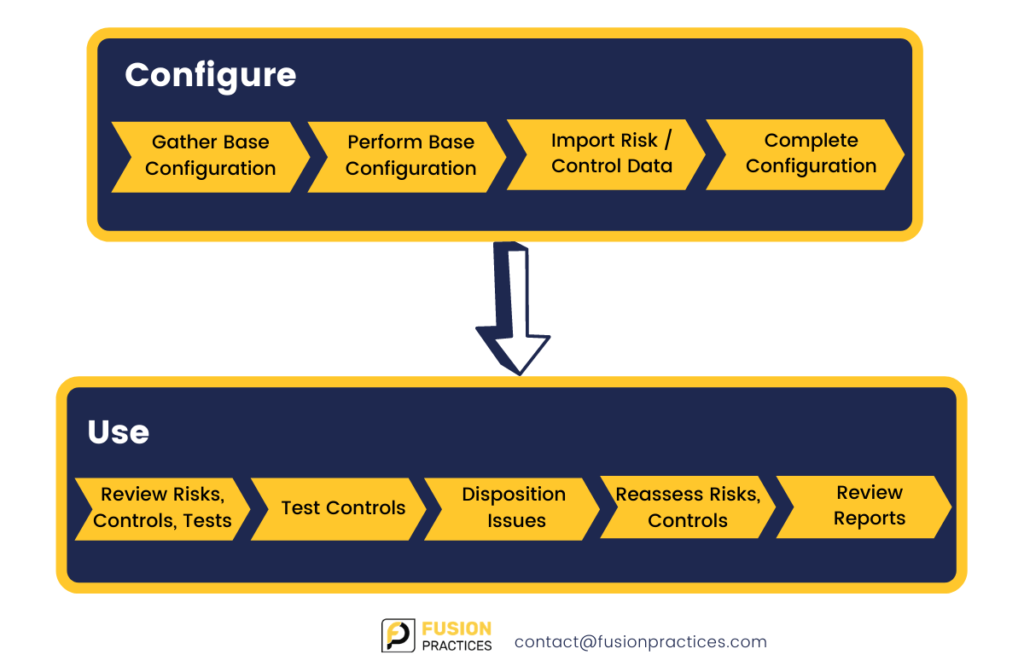 Using the above solution template Fusion Practices offers value to our clients by-
Maximises clients ROI
Minimises project risk and effort
Minimises ongoing cost of operation
Our team of Oracle ERP experts at Fusion Practices are helping companies are increasingly using Financial Reporting Compliance cloud to manage a) self assessment and b) Independent test of controls.
Optimising the functionalities with the help of our experts your company will have an enterprise-wide coverage and the CFO can certify internal controls compliance with confidence.
Using this tool we will help your organization keep its audit fees down by granting secure exposure to the auditors and is accessible from mobile devices ensuring all compliance activities are completed in a timely manner.
Financial reporting compliance cloud fosters a culture of accountability because management and internal auditors have complete visibility to control owners and audit trails. It helps your company take control of compliance, to make risk-aware decisions, provide effective accountability and promote financial oversight.
Fusion Practices offers complete end to end configuration and testing at all levels for Financial reporting compliance cloud.