Governance Structure
Oracle Managed Support services require a clearly defined governance structure because there are several parties involved in the support process. There are end users raising the requests or incidents, there is a level 1 support team that receives the request and triages the same, then there is a managed support team that investigates the issue. If changes are required then there are change approval boards, and if the change is a major enhancement, then the architecture team may get involved as well. In addition to the aforementioned, there are release management teams, Oracle's own team for supporting the core product functionality. Therefore, it is important to have a strong governance structure when running managed support services.
We understand an effective governance model with clearly defined roles and responsibilities is essential. The Governance structure set below is the model we use and has proven to be extremely effective. Key roles and responsibilities are elaborated below: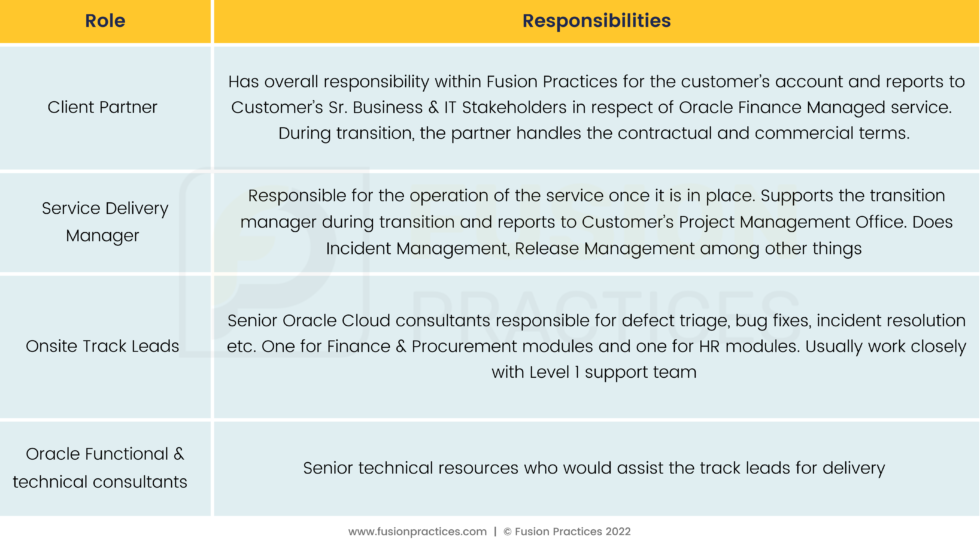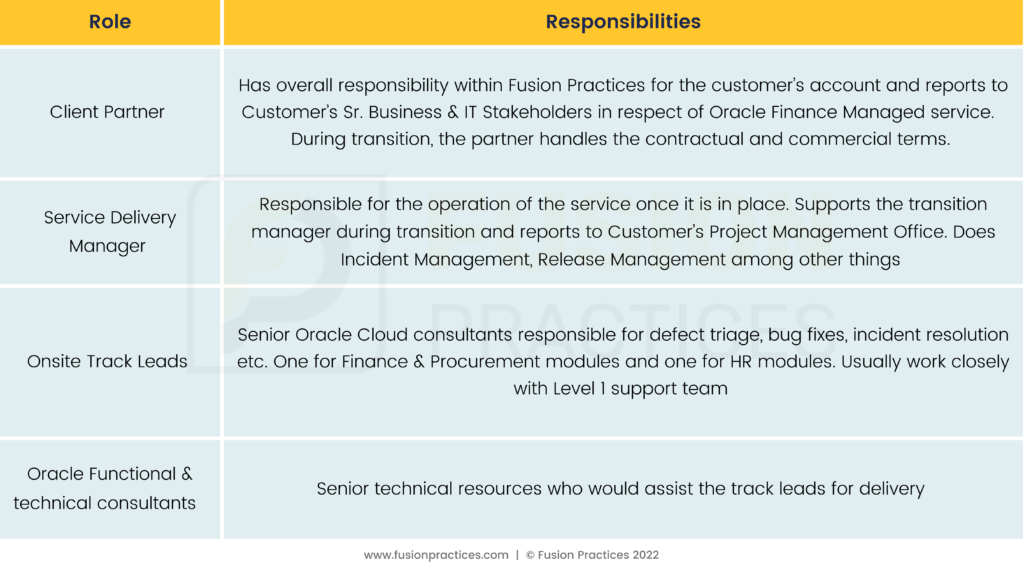 Governance and Reporting Structure: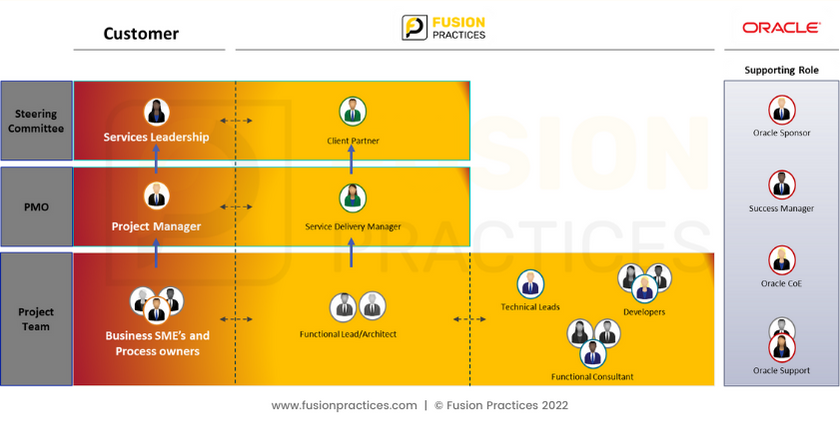 Escalation Matrix
In case of any issues coming up during support, the structure allows the problem to be escalated for its resolution:
Team members can escalate the problem to the service delivery manager. 
The project manager can escalate the problem to project management team. 
The project management team can escalate the problem to the project steering committee or Oracle. 
Time frame for escalation of minor issues is usually 3 business days. 
Time frame for escalation of major issues is 2 business days. 
Time frame for escalation of issues, by which the project progress comes to a standstill is 3 hours. 
Our incident and ticketing process 
Fusion Practices uses an incident model complying with the Information Technology Infrastructure Library (ITIL) Framework. The model effectively streamlines the process and reduces risk with a formal ticketing process with prioritisation, categorisation, and service-level agreement (SLA) requirements. Incident management supports in limiting risks and mitigating problems as all incidents are documented and detailed regularly and updates are communicated to the customer along with accompanying tickets.  
This service includes:  
Root cause analysis (RCA) – through analysis of incidents.
Workaround solutions – avoiding business disruption.
Permanent fix – to ensure processes remain efficient.
Ensuring the Incident Management process focuses on restoring degraded or disrupted services to users as quickly as possible in order to minimise business impact.
Coordinate the initial triage of each Incident to help assignment to the correct resolver group.
The focus areas for incident management are as follows:
Respond and recover services in line with the Service Level Agreements (SLAs). 
Collaborate with and communicate to all stakeholders (Customer, Supplier and external third parties) in an effective and timely fashion using a pre-defined severity and outage communication template. 
Take end-to-end ownership in driving resolution in a multi-supplier, multi-vendor situation. 
Check for post incident impact and implement corrections. 
Update a central Knowledge Base to ensure Customer's Service Desk can resolve future similar incidents through first call resolution.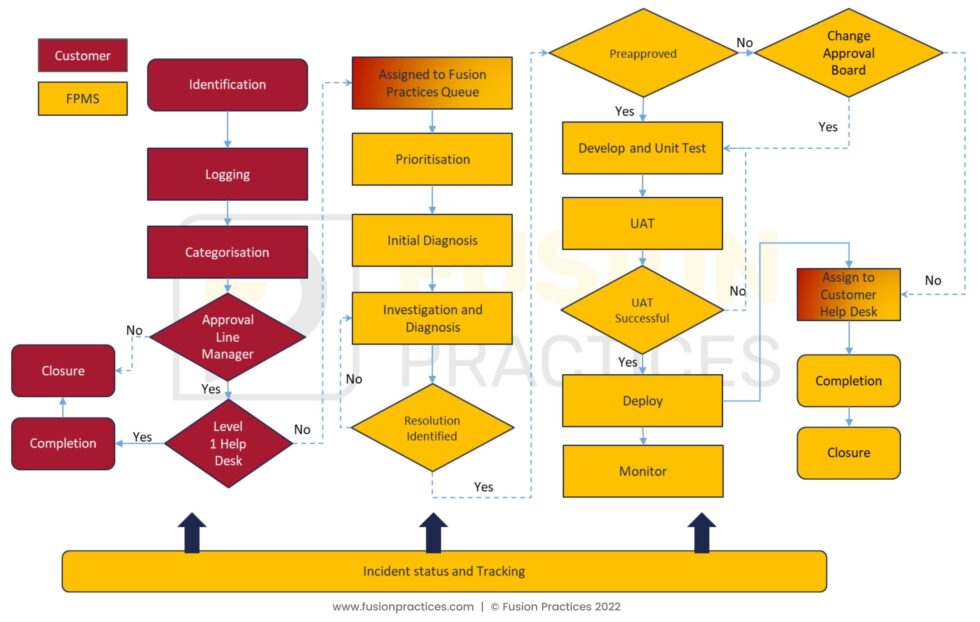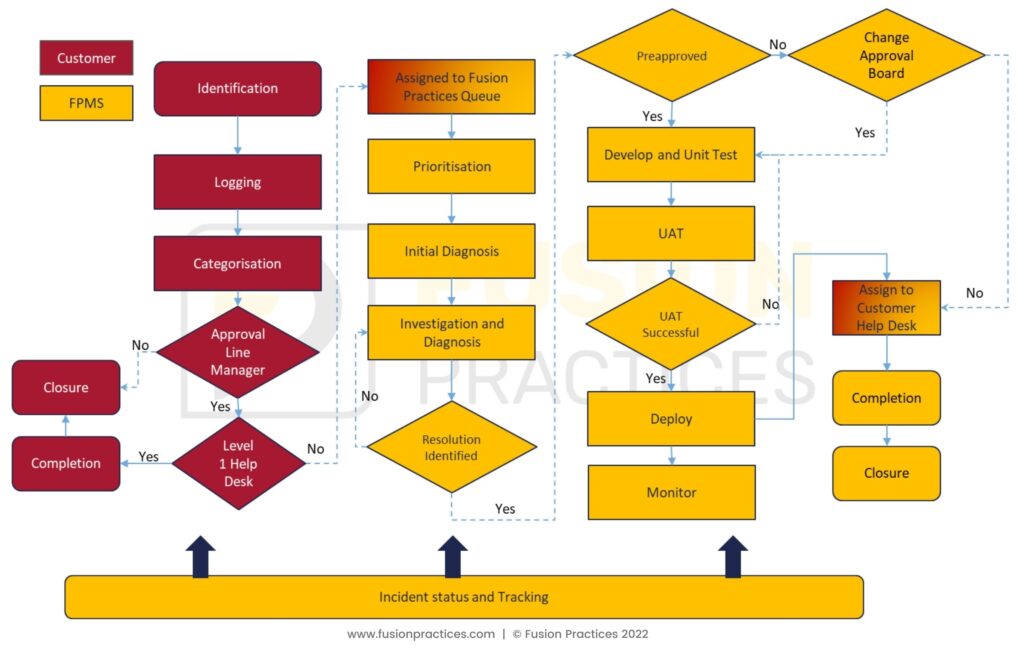 Along with having a strong governance structure in place, Fusion Practices realises the crucial need for maintaining an updated Knowledge repository for the mutual benefit of the customer as well as the organisation. This allows the customer to troubleshoot repetitive incidents on its own.
Click here to learn more about our Managed Support Services and approach