Fusion Practices uses an incident model streamlining the process in its implementation of Oracle Cloud ERP and reduces risk with a formal ticketing process with prioritisation, categorisation, and Service Level Agreement (SLA) requirements. Our support team collaborates with the customer's team and works with them in delivering fixes/changes across Oracle Cloud Financials, Oracle HCM, EPM, Oracle PAAS databases, Oracle Cloud Infrastructure.
The focus areas for incident management are as follows:
Responding and recovering services in line with the Service Level Agreements (SLAs).
Collaborating and communicating with all stakeholders (Customer, Supplier and external third parties) in an effective and timely fashion using a pre-defined severity and outage communication template.
Taking end-to-end ownership in driving resolution in a multi-supplier, multi-vendor situation.
Checking for post-incident impact and implementing corrections.
Updating a central Knowledge Base to ensure the Customer's Service Desk can resolve future similar incidents through first call resolution.


The key focus is "Left Shift". We aim to reduce run costs by training and equipping customers' resources with the right knowledge. The aforementioned chart is a practical example – through analysis of the incidents, we locate opportunities to identify and reduce our client's maintenance cost by nearly 40%. This is an ongoing activity performed by our service delivery team.
The percentages are real-life examples based on the volumes that we handled with our existing clients. Our support model has evolved over years to identify these quickly and put the solutions in place.
Fusion Practices ensures continuous service improvement is provided to the customer by proactively identifying and solving problems before any incidents have occurred.
Problem management to address repetitive incidents and major issues while implementing Oracle Cloud ERP
Fusion Practices applies the industry's best practices of Problem Management Framework, aligned with the Information Technology Infrastructure Library (ITIL) approach. Our primary goal in problem management is to provide permanent resolution and prevent these incidents from occurring again and subsequently implement continuous improvement. Thus, incidents that are repetitive or require a substantial change in either configuration or code result in the creation of a Problem ticket in the Incident Management Process while implementing Oracle Cloud ERP.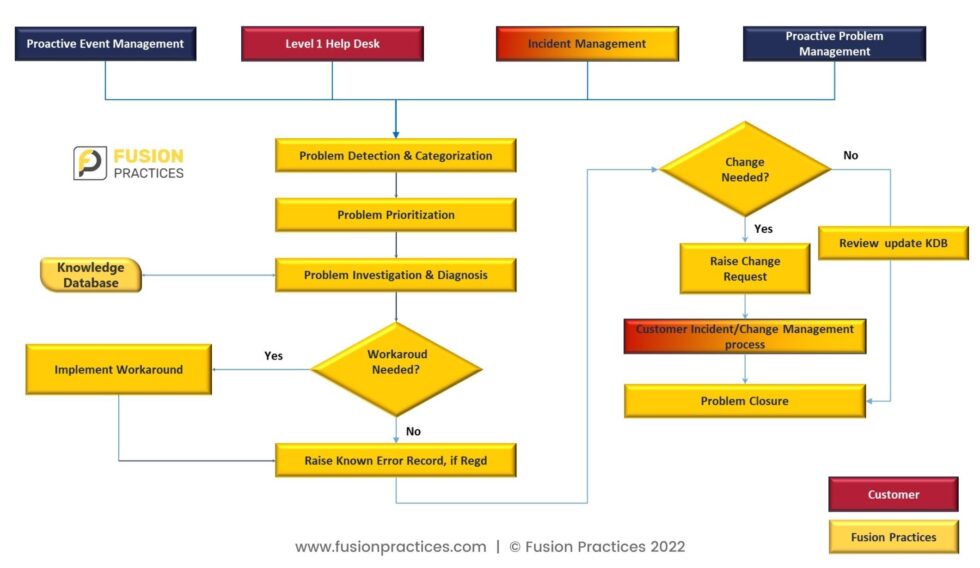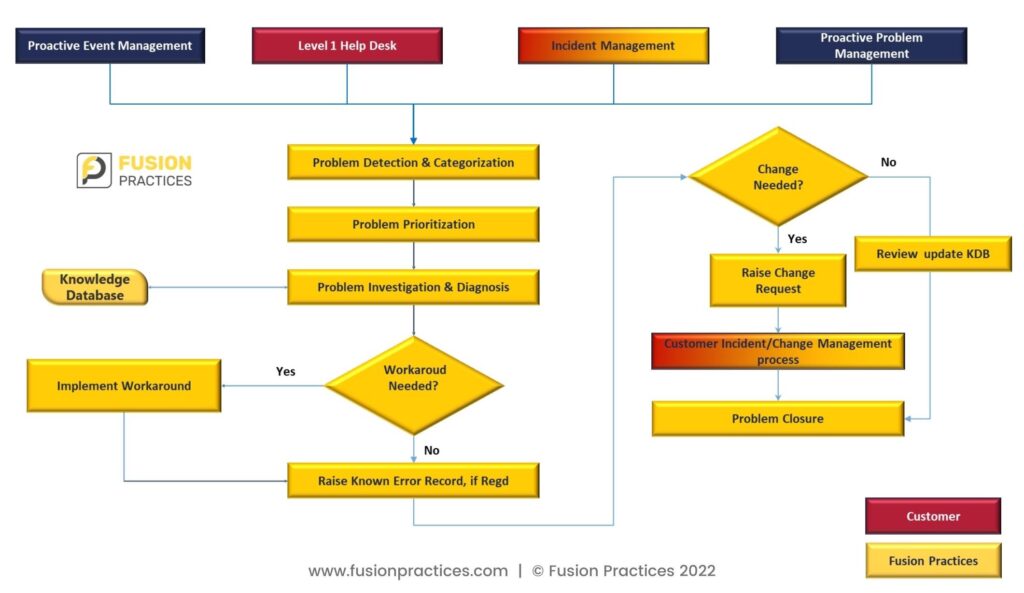 Fusion Practices' problem management service within Oracle Incident Management Process includes the collection of incident data to carry out diagnostic responsibilities accounting for the full life cycle of a problem e.g., defect fixing, break fixes and restoring failing applications to perform to the specifications and desired service levels.
Our team analyses patterns and eliminates major incidents with data analysis by carrying out the following activities for the customer:
Problem Management is driven by the tickets raised in the customer's Incident Management system and triaged and logged into the Fusion Practices ticketing system as needed.
Major Incidents (of Severity 1 and 2) are handled by the Fusion Practices primary support personnel designated to handle Production incidents.
Every month an Incident report from the ticketing system is taken and analysed based on application, cause, business area and mapped with external events like project release, mark ups/downs, and seasonal events.
Conducting regular analysis of incidents, and correlating related Incidents, to identify recurring issues, and proactively creating Problem tickets and proposing solutions to resolve the root cause to prevent a recurrence.
Using check sheets to proactively collect data on service or operational quality issues that may help to detect underlying problems.
Problem logging – Identifying the root cause of repeated incidents.
Investigation and Diagnosis – Providing a workaround in short term to known problems
KEDB (Known error database) – Providing a permanent resolution to frequently occurring incidents.
Resolution – Delivering proactive service support.
If the incident is pushed to Level 3 Application Support team, then a Problem ticket is created for Root Cause Analysis (RCA) and permanent failures.
Further opportunities for Self-Help/Heal are explored for the incidents that are moved to Level 3 team (continuous improvements).
Fusion Practices ensures continuous service improvement is provided to the customer by proactively identifying and solving problems before any incidents have occurred. By providing uninterrupted service and reducing major incidents, we help the customer bring down subsequent costs. Identifying root cause analysis and fixing an issue permanently ensures seamless business operation which supports the customer's environment by mitigating any risks.
Read about how Fusion Practices provides Managed Support to its clients with a quality knowledge database to resolve problems quicker and efficiently – Click here