Automobile Industry is very agile for its need especially when dealing with spare parts. Imagine a company that does automobile servicing and repair that can receive cars that are 2 year old, 10 years old or even in some cases twenty years old. For a company that will provide repair services to such needs, will need to strike a right balance on how much of spare parts they would need to keep in their inventory vs how much of spare parts they can source on an ongoing basis. You do not want to keep an inventory of too many spare parts that may never get consumed or may get consumed after several years resulting in high cost of dead inventory. This situation gets more complex when the Automobile service company has to cater for servicing the needs for various car manufacturing brands.
When Automobile servicing companies use oracle cloud ERP (procurement and supply chain management i.e SCM) following scenarios need to be considered:
End-to-end automation of the procurement, material management and allocation to the SR for the spare parts and Consumables.
Ability to budget, tender, negotiate and procure equipment, capitalize the cost and account depreciation.
Automated cost allocation and relocation whenever the spares are issued to the vehicle or SR.
Automated invoice matching to the goods received before payment.
Automatic reorder of consumables when the inventory is below the safety stock levels.
Automatic costing and allocation of resource cost (Labour & equipment) based on utilisation.
Tracking of Labour resource utilisation by service/task.
To achieve the above goals with maximum automation, Fusion Practices provides a full-fledged integrated Supply Chain System using Oracle Cloud ERP Platform as illustrated below: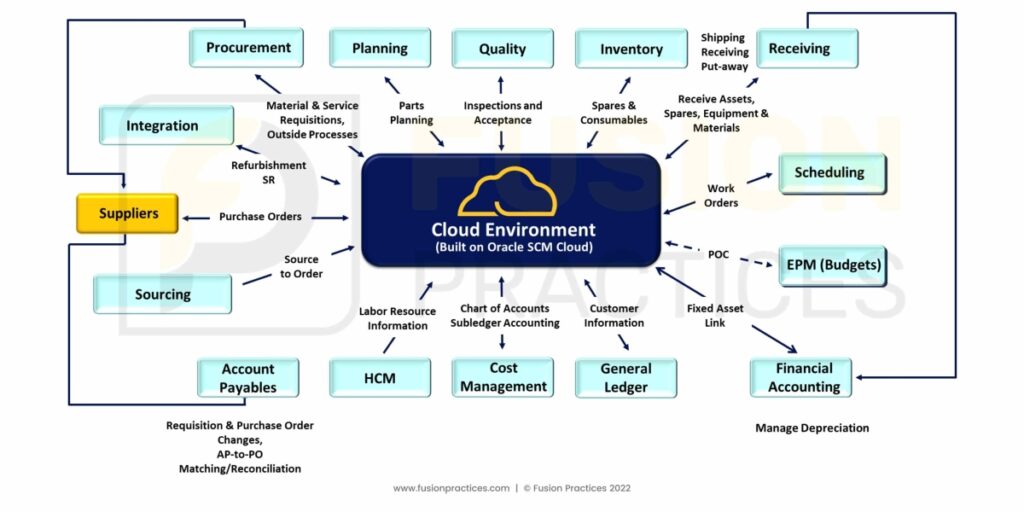 Given the landscape of the functionalities to be implemented, we implement the project as a multi-phase rollout with functionalities being delivered in each phase based on business priorities and technical dependencies across systems.
Here's a strawman representation of the various phases that we use for delivering such solutions:


Phase 1 focuses on creating a solid foundation for procurement and inventory management for newly commenced initial production centres on priority. This approach ensures newly commissioned production centres get the minimum required core procurement and inventory functionalities promptly and Customer is ready with these core foundation functionalities for additional new facilities planned to be commissioned. Further, this approach provides a continuous path to improve and adopt new system capabilities for business users. Page Break
Phase 1 of the project targets to automate the below key business flows marked as high priority (category A) in the business requirements shared:
Business process flow to procure and manage Spare parts.
Business process flow to procure and manage Consumables.
Ability to track and manage materials (Spares & Consumables) in Inventory.
Ability to issue materials to mechanics for performing refurbishment of vehicles.
The Oracle Fusion Cloud Procurement and Inventory management Solution will achieve the below business benefits for the customer:
Enhanced benefits by increased global inventory visibility and easy integration with existing systems.
Streamlined processes by:
Reduced costs, inventory levels, and cycle times.
Reduced cost of on-time fulfilment using partner capabilities.
Better insight into product costs and margins.
Greater flexibility in managing the trade between internal parties.
Optimized flow of goods with configurable supply orchestration.
Improved warehouse efficiency and control cost with consistent fulfilment processes.
Reduced individual team efforts by:
Increased adoption with business users like user experiences.
Ensuring contract compliance by directing purchases to approved suppliers.
Ensuring policy compliance with multilevel approval workflows.
Creation of a solid procure-to-pay foundation by:
Reduced support costs and maintenance.
Quick identification and resolution of user problems.
Click here to know more about Fusion Practices Oracle Cloud ERP Implementation