Workday HCM vs Oracle HCM
A Comparison of Technical Capabilities
A developer's perspective of why Oracle HCM Cloud is popular among his cohorts when compared to Workday HCM.
As of today, while there are multiple Human Capital Management (HCM) Cloud providers, there is a significant preference towards Oracle HCM Cloud and Workday HCM Cloud.
Businesses who seek seamless integration with their finance module embrace Oracle HCM Cloud, while some choose Workday HCM to meet their needs. Both these products offer many out-of-the-box features, and customers can either customise minimally or use the standard solution. While much can be written about this, we will discuss and compare the technical features of the HCM module.
General Requirements
| | | |
| --- | --- | --- |
| Feature | Oracle | Workday |
| Inbound Interface (Integrations) | HCM Data Loader (HDL), Spreadsheet Loader (HSDL), ADFDI | EIB, Workday Studio |
| Outbound Interface (Integrations) | BIP/ OTBI/ HCM Extracts | EIB Integrations / Workday Studio |
| Reports | BIP / OTBI | RAAS |
| Functionality Customisation | Fast Formula | Declarative (No Coding) |
| Workflow / Notifications | BPM Worklist | WBP |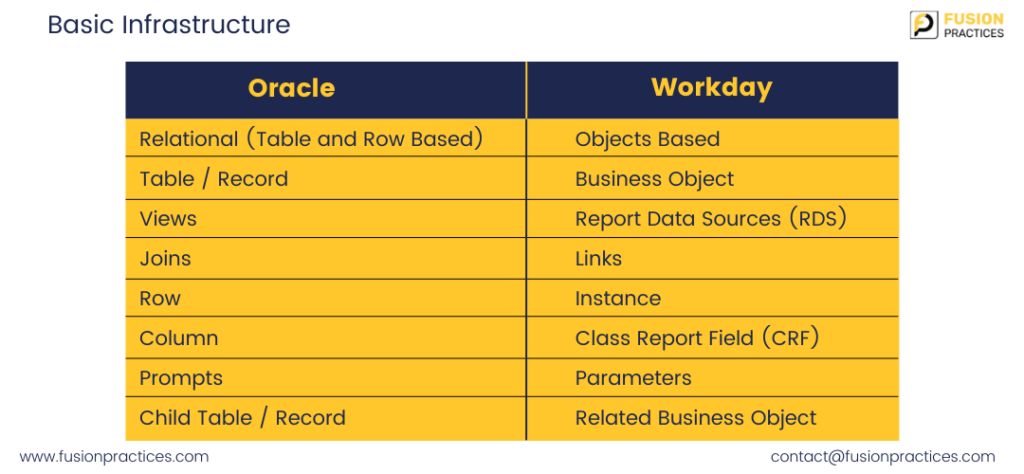 Experienced HCM technical developers will be familiar with the aspects shown above, irrespective of the ERP background they come from. The key lies in knowing the tables and views in Oracle and Data Sources in Workday. The drill down approach feature offered by Workday is best-in-class. Every single field that appears on the screen can be mapped to the backend objects, i.e. the data sources. However, finding out the correct data source for a particular column or a field can get cumbersome at times.
Oracle, on the other hand, comes up with a different approach of creating subject areas and user entities. It also offers drag and drop facilities to create reports and get the data as expected. One has to constantly refer to the documentation provided though. However, when compared with Workday, joining the tables and getting date effective data is simpler here.
To know more about Fusion Practices' Oracle Implementation Services
Oracle does not provide screen to backend mapping, however, it provides a lot of delivered reports and functionalities, which can be easily and accurately extended to meet the requirements.
Though Workday provides a lot of easy-to-use functionalities, trying to make things declarative turns out to be more difficult than writing a line of code. Oracle HCM wins in this case as its functionalities allow developers to do things declaratively as well as write code.  
Localisations seem to be much easier in Oracle with many out-of-the-box features which have evolved over the time, thanks to Oracle's past presence in multiple countries. Workday seems to be more focussed for US localisation, with many such integrations available out-of-the-box. Oracle has already announced its support for countries such as the US, Canada, UK, and many Gulf countries. This offers several advantages—developers will not have to build the integrations from scratch as it comes out-of-the-box for many legislations, it is bug free, up-to-date, and also supported.
In conclusion, from a developer's perspective, though Workday gives a lot of easy-to-use development prospects, one still has to make efforts to accommodate the change in existing framework than scripting it directly. On other hand, Oracle HCM cloud not only pleases business analysts with drag and drop facilities, but also provides multiple possibilities and myriad of options to the developers to achieve their requirements.
Views expressed in the article are the author's personal opinions.
Author : Rahul More is a Principal Consultant at Fusion Practices.