Is technical debt hindering your enterprise growth?
Quick wins, fast-track to success, overnight implementation—phrases often used to present IT solutions for rapidly evolving business challenges. Many organisations do pick up these quick fixes not realising that these create negative long-term impact in the form a burgeoning technical debt that not only increases support costs but also hampers business agility.
In an era where technological advancements come in leaps, organizations must take those leaps as quickly as they can to stay relevant and competitive. This compelled organizations to acquire several 'latest' technologies. Customizations and integrations done at a rapid pace over the years created unwieldy and complex systems. Systems that guzzled maintenance resources—both talent and capital. Often referred to as technical debt, these systems stifle innovation and collaboration— aspects that drive growth in a fast-changing market.
Forrester Research claims that retail companies have been known to spend about 80% of their budget simply supporting their existing systems.

In another survey done by Accenture, "In the Blink of an I.T.," 2018,  70% organisations say that technical debt severely limits their IT function's ability to innovate.
But what exactly is technical debt?
Technical debt describes the additional development work, which results when an organisation uses code that is easy to implement in the short term, instead of building a holistic solution. This term, invented by Ward Cunningham, today poses a tough challenge to CIOs, CTOs and CFOs trying to build agile systems that optimise support costs.
Way back in 2009, Martin Fowler, an authority on software development, proposed the quadrant of technical debt, which still applies today: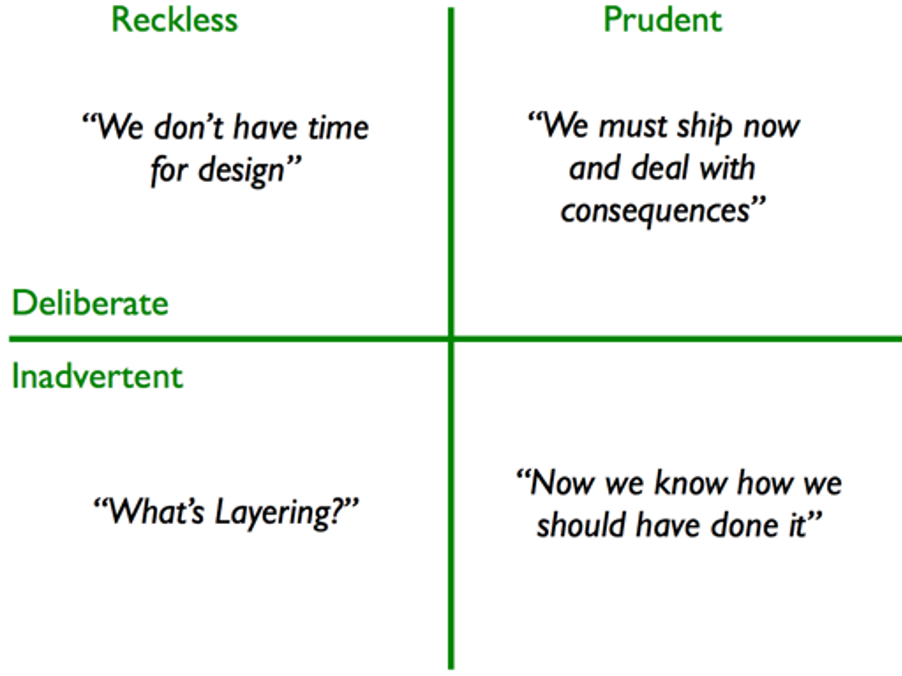 So, how can companies assess and reduce technical debt?
Transitioning to the cloud is one of the easiest and hassle-free methods of shedding this debt. But the key question for any CIO or a decision-maker, is "How much to shift?" The built up legacy systems and stacks are a vital part of any organisation, and it is imperative to know how much of it you need to shift to cloud.
Some of the benefits of the transition to cloud, apart from vastly reducing technical debt, are:
Ability to scale on demand
Low maintenance cost
Increased business agility
Speedy deployment and implementation
Added functionality and features
At Fusion Practices, we work with many companies to help them shift from on premise, legacy systems to Oracle Cloud. One of our crucial objectives is to help them in deciding this split. To know exactly what all you need to shift to cloud, is the first step in this transition.
Watch out this space for a tool we are designing, that will help you understand how much technical debt your organisation is carrying.