Expedite internal material transfer flow using purchase requisition
Routine procurement flows such as negotiation, tracking the supplier to deliver the goods on time are time-consuming processes. Using Oracle Fusion Supply Chain Material Management for internal material transfer helps meet ad-hoc inventory demand swiftly. 
Internal Material Transfer is a transfer request of material within or between the inventory organisation/warehouse.  This is controlled through a Transfer Order, which fulfils the request and is equivalent to IR/ISO flow in Oracle E-Business Suite (Oracle EBS) where an internal sales order is created for delivering goods.
Transfer Order is a single document to manage source and destination details for material movement. It can also be created automatically from various sources such as planning, back-to-back sales order request, min-max planning, manage item quantity, requisition line, and supply order web service.
Transfer Orders transfer inventory for inter-organisation, intra-organisation, and inter-company flows. You can transfer material either to an inventory destination (inventory incremented at destination and decremented at source location) or to an expense destination (inventory not incremented at destination).
Status can be monitored at various stages for line orders as:
Order Line Status
Fulfilment Status
Interface Status
Manual creation of Transfer Order using requisition lines (SSP)
Following modules will be used for this flow:
Oracle Procurement Cloud
Oracle Inventory Management Cloud
Oracle Order Management Cloud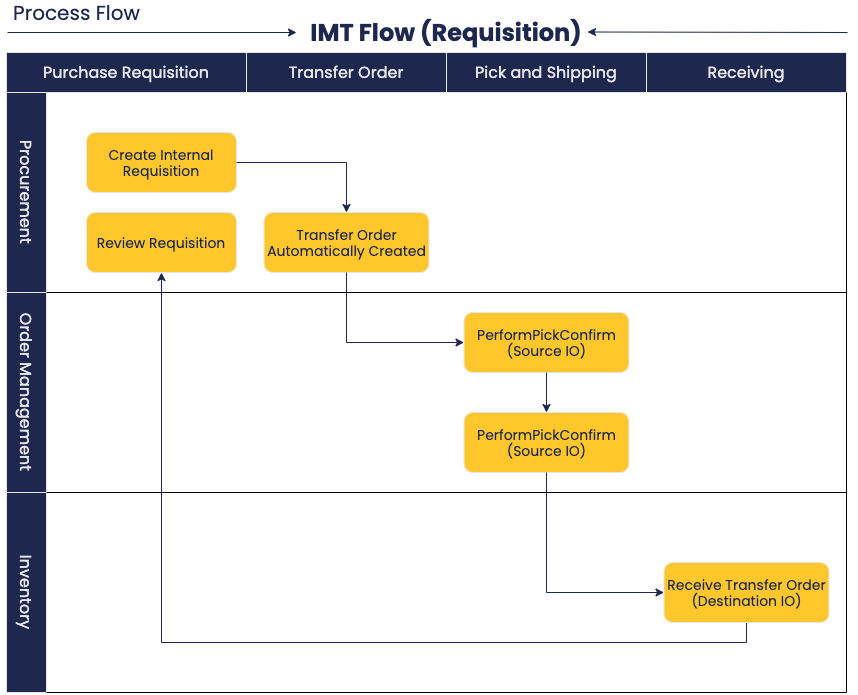 Create internal requisition with an inventory item and source as inventory

Select the source organisation and initiate the PR approval

Transfer Order will be automatically created once PR is approved and the details can be found in the PR line

Perform pick confirmation in source organisation against transfer order

Perform ship confirmation in source organisation for same transfer order

Complete inventory receiving transaction in destination organisation

Review the requisition and transfer order statuses using report and orchestration process
Configuration Steps
Select opt-in feature to enable IMT from the Self-Service Procurement page.

2. Select the field value 'Enable Supply Availability Details for Internal Transfer' in configure requisitioning business function task.

3. Ensure that the inter-organisation parameter has been set up between source and destination organisations and 'Transfer Order Required' is enabled for the same.

4. Item used for creating PR should be assigned to both source and destination organisations with attribute Transfer Order enabled flag as Yes.

5. You need to have required roles in order to perform receiving and shipping related transaction.
6. You must select correct source organisation when creating purchase requisition

Seeded Report
You can execute the seeded report—'print transfer order status report—to review the Transfer Order status detail that displays the data in HTML only. (Tools > Schedule Process)
You must enter either a requisition business unit, source organisation, or destination organisation while initiating the report to get the output.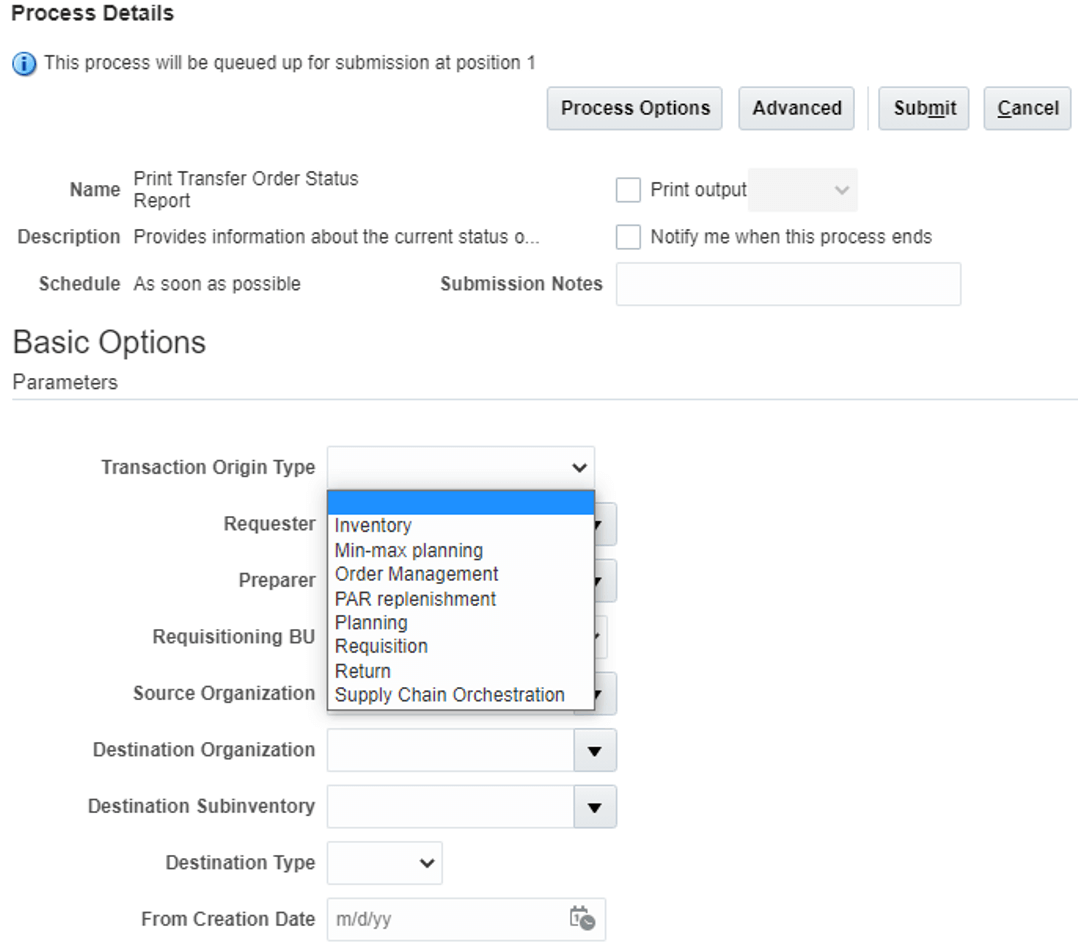 Transfer Order Status Review – Supply Chain Orchestration Process (SCO)
This process is used to determine the creation of a supply order based on the supply request received from different sources such as Supply Planning, Inventory Management, Order Management and Order Promising. It comes with a pre-defined business rule that decides the action to be carried out based on the supply type. It can also be used to check the progress of supply order, identify errors, exceptions and jeopardy, and even resubmit a stuck order.
You need to assign the seeded roles given below and also data access related to inventory organisation, in order to access SCO.
Supply Chain Controller

Supply Chain Integration Specialist

Supply Chain Operations Manager

Supply Chain Application Administrator

Supply Chain Planning Application Administrator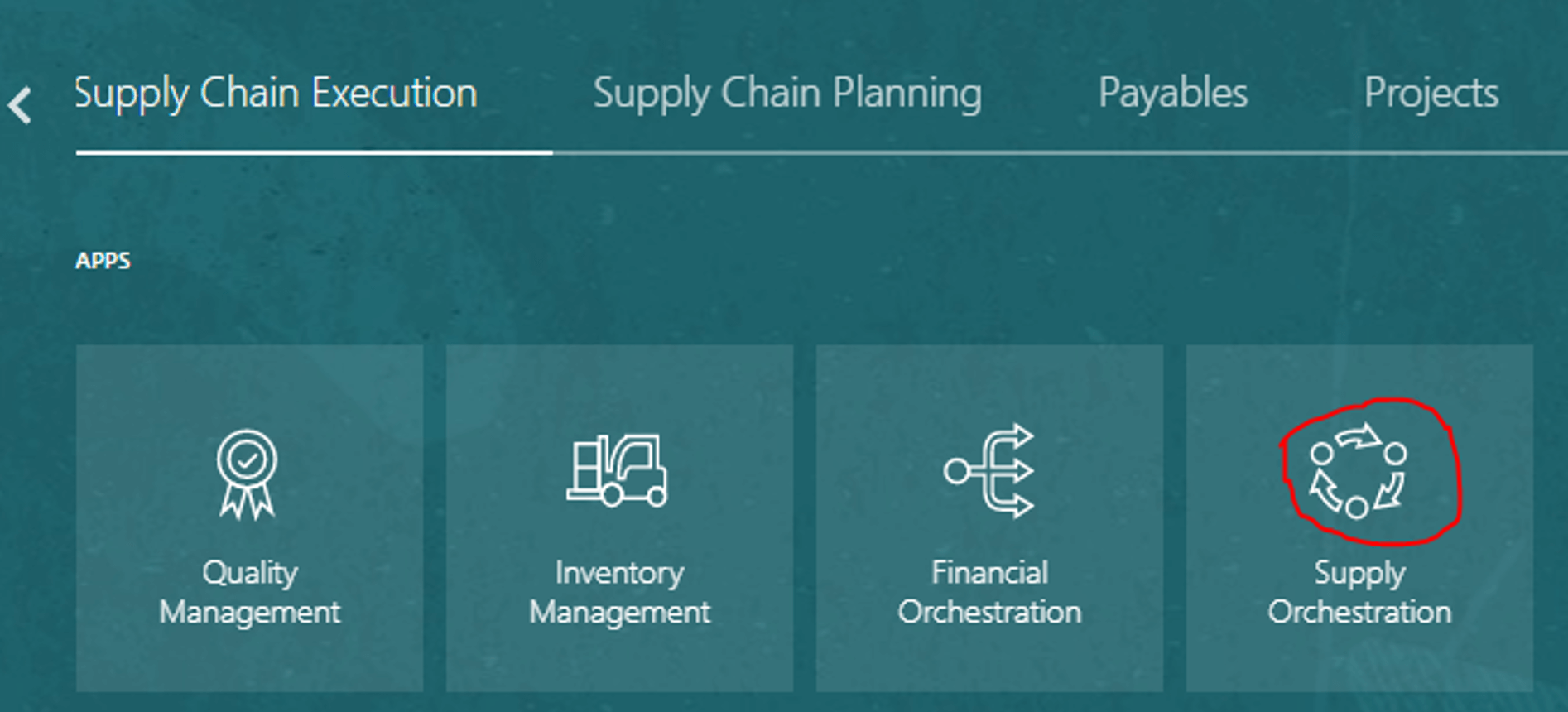 You can access the Manage Supply Line task from the task panel available in Supply Orchestration work area to review the progress of Supply Order. Get the data through these steps:
Query the Transfer Order

Click on Supply Order Number link to queried transfer order

Expand the Line in Supply Line Section and select each line to get 360-degree data.

The line detail will display tabs such as Orchestration Plan, Execution Document, Buy, Make and Transfer.
The execution detail will show all the documents which are relevant to the selected tracking line.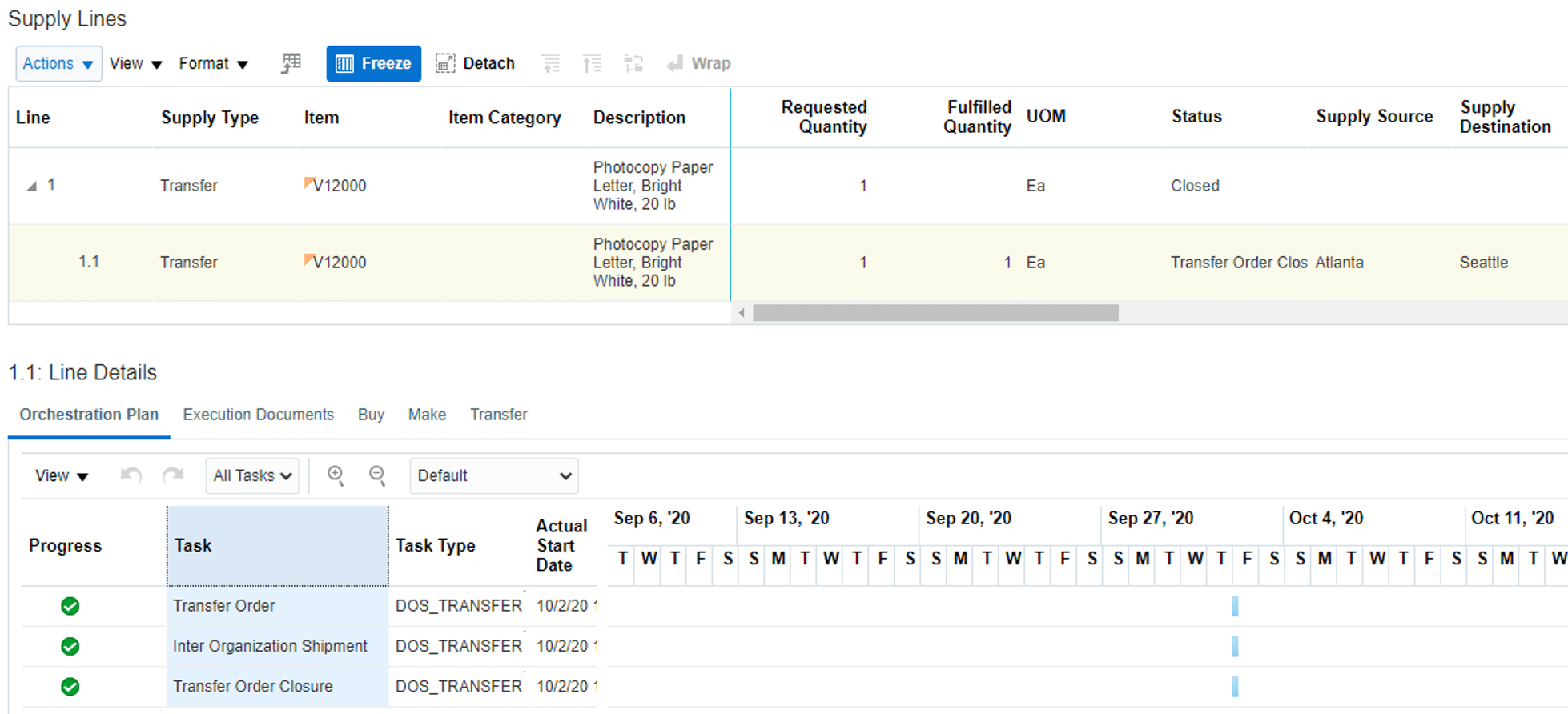 Benefits of using Internal Material Transfer flow using Purchase Requisition
Improves material sourcing efficiency

Expedites material transfer

Ad-hoc transfers

Easy tracking using system generated transfer order

Fast fulfilment to deliver customer order