Using ORMB to increase automation, transparency, controls, accuracy, and flexibility in asset management companies
Are you an investment management company with a variety of assets under management? 
Do you calculate customer fee charges in excel or via legacy platforms for your assets under management? 
Do you need the flexibility of changing your fee charges for some of the share classes?
If your answer to any of the above is a yes, then implementing ORMB would be a step in the right direction. 
At Fusion Practices, our customers are seeing the benefits of implementing Oracle Revenue Management and Billing (ORMB) for such challenges. We implement Oracle Fusion Cloud ERP for financial services customers in the UK, and many of our customers regularly seek Oracle Cloud Accounts Receivables (Oracle AR) to do all kinds of billing.  It is worth noting that while Oracle AR can bill what you ask it to bill, however, as a tool it does not have the rules engine that decides how much to bill and when. This is where ORMB capabilities come into the play.
Automation and Transparency
Today, across geographies, financial services companies are being asked by the regulators to be more transparent. Therefore, our goal is to give organisations with assets under management, the transparency that is needed for their billing operations. Simply put, if you cannot explain a charge in a bill to a client, it could put your relationship with them at risk. In either case, you end up rebating, refunding, or giving credit to the client when it may not be needed and hence cause revenue leakage.
We at Fusion Practices feel that should not be the way.
If your fee is a legitimate amount that is meant to be charged for services rendered, then you ought to be able to see that with full breakdown, share with both your client and your compliance teams. In this scenario, ORMB is an asset—it allows the addition of automation and improves efficiency while increasing transparency in the calculation of fee charges.
If you are interested in understanding how ORMB can be relevant to the various functionalities in your organisation
Controls
We realised—through our experience—that many financial services companies, including large asset management companies, predominantly use excel to calculate billing charges to the clients. This is fine and will work, if the excels are well-governed. However, using excel as a glue that holds systems together is not efficient and results in the introduction of manual processes. Further, excel also clearly lacks the controls.  For instance, excel will not track or inform who changed the rule and when, and by whom the billing rule was changed. Further, the spreadsheet at times is saved to the OneDrive, or on an individual's laptop in an offline folder, etc. This introduces control risks because excel does not govern who changed what and when.
As an asset management company, we suggest you look at an enterprise-grade billing system for your assets under management. The right system will come with workflows and approvals.
Centralised billing function
Billing systems typically have all kinds of information, which includes clients, investment funds, accounts of accounts, and related charges. Therefore, these systems present a great wealth of data for reporting. It is quite common that we integrate ORMB kind of products with a warehouse type of system. Quite often, we find that though a customer has multiple source systems, they desire a centralised billing function.
Your source data, irrespective of where it resides—on legacy applications, homegrown systems, or Google cloud or AWS— can be integrated with the billing module in ORMB enabling a centrally calculated pricing.  
Implementing ORMB
ORMB's billing module can form quite a few of the AR functions independently within it. However, some large organisations prefer using ORMB just for its product pricing engine and/or billing calculations engine while all the backend AR processes take place in their ERP systems. Therefore, we have two options when it comes to implementing ORMB.
Option 1
We could deploy the product standalone without using the ERP's AR function. By doing so, you can do the cash management reconciliation with bank statements all within ORMB. This offers reduced number of integrations; it also means that the AR processes are not centralised within the organisation.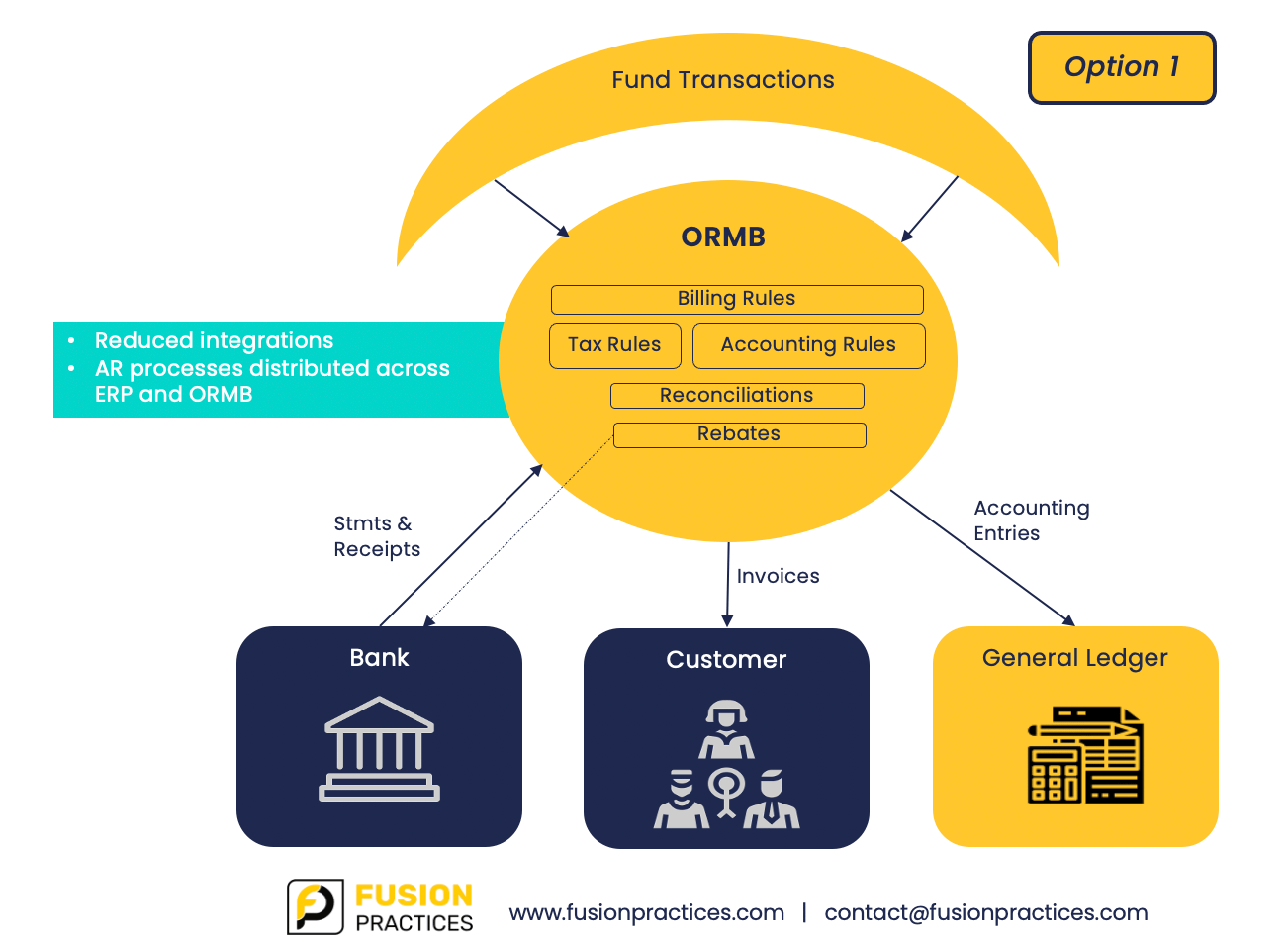 Option 2
Some organisations are architecturally more aligned towards doing as many of their Accounts Receivables processes in ERP. For example, Oracle ERP already has an in-built tax engine, and cash reconciliation process. Therefore, the second option is to use the ORMB product to do the billing and then pass the information to Oracle Receivables.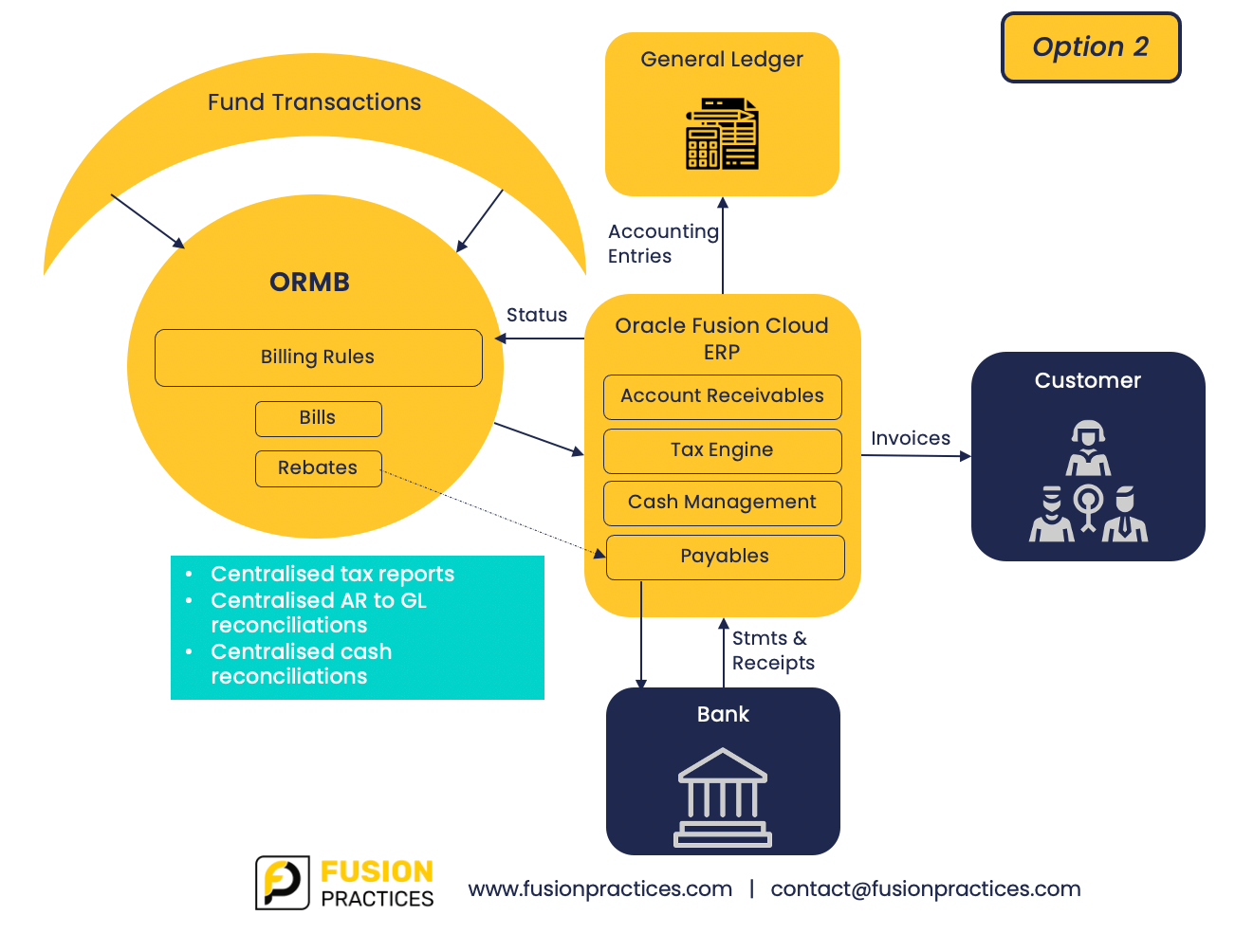 Integrations between ORMB and Oracle Cloud Receivables
In terms of handling the invoices, integrations will be required to handle invoices with automated processes. These integration use cases are delivered by our pre-built integration bridge between the ORMB and Oracle Cloud Accounts Receivables using the REST APIs and Oracle Integration Cloud Services (OICS).
Flexibility of billing rules, billing calculations, and approvals
We see a lot of commonalities in financial services and asset management—we see multiple disconnected systems and a lot of custom coding in systems. As a result, it becomes inflexible at some point to introduce new billing rules.
Accuracy of billing calculations
Inflexibility is not the only challenge that is overcome by ORMB. One of the other drivers for ORMB is that it mitigates risk of inaccurate billing calculations and processes. Inaccurate billing processes could not only result in loss of revenue for you but could also equally impact clients, creating a huge risk for both parties. Add to this the regulatory obligations. It is these risks that we address for our asset management clients using ORMB.
Simulations of billing charges
ORMB also offers simulation capability from the front end. If you were to simulate business for a new prospective or existing client, you can simulate price changes and symmetric changes and all such scenarios.
Level of data that is captured in ORMB
Information held in ORMB can be all the way down to the customer levels, the investment assets with their ISIN numbers, and anything related. ORMB by no means is meant to be your MDM or CRM, however it requires to hold attributes that can drive your product pricing and billing. You will always need a certain level of granularity within ORMB to make the calculations work. The data could further be aggregated within ORMB, which is a common requirement we see in asset management, where we want to aggregate over a month or quarter and so forth. The system can do calculations daily or aggregate them at month end and quarterly periods.
Billing calculation rules in ORMB
The real power of the billing engine in ORMB is its ability to calculate simple or complex pricing patterns. So long as the requirements can be specified mathematically, in our experience there is always a way to deliver it in ORMB using the data captured within ORMB. For any fees that you want to charge, for all the services that you offer, you can easily plug in a calculation formula for each one.
The icing on the cake in ORMB is that such configurations and rules can be managed by the business users themselves without relying on IT developers to make such changes.
The configurable pricing rule engine allows easy implementation of tier-based pricing structure. It is possible to structure a set of templates and even though the rates you choose to charge clients may differ. Therefore, after the GoLive we expect business owners at our clients to own some of the system information. For instance, a calculation structure or a fee type that is done through an admin screen. Any use cases given are usually configurable and therefore those can be maintained within the system. The calculation templates can also be parameterised making them even more generic and these parameters are received from the transaction being priced.
Tax calculations in ORMB
Taxes can either be calculated in ORMB or can be a pass through. For example, if you decide to use Oracle Fusion Tax engine, then use pass through option for tax in ORMB. Some of our customers use the ORMB engine to create the taxable amount. It is quite easy in ORMB to define a rule to tag whether something is tax exempt or tax eligible. We can attach that to your fee types of products, services. So, all kind of options exist on how we do taxes in ORMB. Again, the product is flexible to show invoices with tax or without tax.
Sometimes we come across some interesting requirements—in South America when you withdraw money from ATM, tax is applied. ORMB is being used by one such customer to calculate these tax charges. ORMB has been certified for tax calculation in Europe.
Billing schedules in ORMB
ORMB allows billing to be done in advance or in arrears and your customers can be billed from ORMB at whatever frequency you want. Technically you could bill your customers every day if you wanted to but most asset management customers bill either monthly or quarterly. For example, let us say we have a monthly fee calendar from January to January, but in March you may have a monthly fee plus a quarterly fee. It is quite easy in ORMB to manage such orchestrations for billing schedules. For asset management, sometimes their billing fee could be also influenced by the performance of the fund, and it is quite easy for performance fee logic based on a fund of one type or a type of share class or any other asset attribute.
Approval workflows in ORMB
From the workflow standpoint, it is easy to set up approval chains through in ORMB. For example, if a billing rule is changed then such changes must go to one manager or to X managers for approval. The changes to billing rule are crucial to your business and therefore the changes to billing rules are not effective until they have been approved.
In conclusion
ORMB offers multiple business benefits including
Automation and Transparency
Controls
Centralised billing function
Integrations
Flexibility
Accuracy
Simulations
If you are interested in understanding how ORMB can be relevant to the various functionalities in your organisation email us at contact@fusionpractices.com or respond to this post by filling up this quick form: