Oracle Cloud EPM Narrative Reporting
Reporting processes play a vital role in unfolding and combining the business objectives with stakeholder requirements. With the right technology partners and Oracle's Narrative Reporting, management information, disclosures, and regulatory submissions can be produced from one place.
Dynamic reporting requires a combination of data with narratives, distinct portrayal of KPIs, and periodic threshold versus actual performance reports. An efficient reporting process must ensure timely periodic deliveries incorporating relevant comments from the top management.
Expansion of Business Reporting
Insurance
In this industry, the real challenge is to go beyond the traditional ad-hoc reporting and expand the analytics practices to make predictions about future trends. Continuous monitoring and analysis of extensive data is essential for a comprehensive study of the markets, customers, products, and competitors. This, in turn, leads to data-driven decisions and streamlines the insurance process.
Also, the transition to IFRS 17 has increased the granularity of reporting that cannot be met purely out of one data source.
Retail
In the case of the retail industry, analytics needs to dive deeper into the sales data, deduce patterns and correlations to identify outliers through visually appealing and intuitive dashboards. Moreover, for retail analytics, a system that can slice and dice the information is needed. For instance, an option to filter data by product type, period, and customer group.
Statutory Reporting Requirements
Each industry has its own set of statutes that mandate the submission of financial and non- financial information to government agencies. For instance, mandates as per the International Financial Reporting Standards (IFRS) and country-specific Generally Accepted Accounting Principles (GAAP).
Though global IT spending might be down as businesses and economies suffer, cloud growth is the bright spot, with cloud spending expected to rise 6.3% year-on-year. The diverse reporting requirement in today's scenario has created a need for a complete solution that enables effective reporting.
Here is a combined package that offers a complete solution for
Multidimensional analysis of data through integration with varied data sources
Managerial, narrative, and statutory reporting in a single environment
Managed collaboration among multiple users in a report development lifecycle
Tracking progress through task assignments and due dates
Audit, backup and restore functions
Narrative Reporting Product Features
Broadly, the product features can have a threefold classification: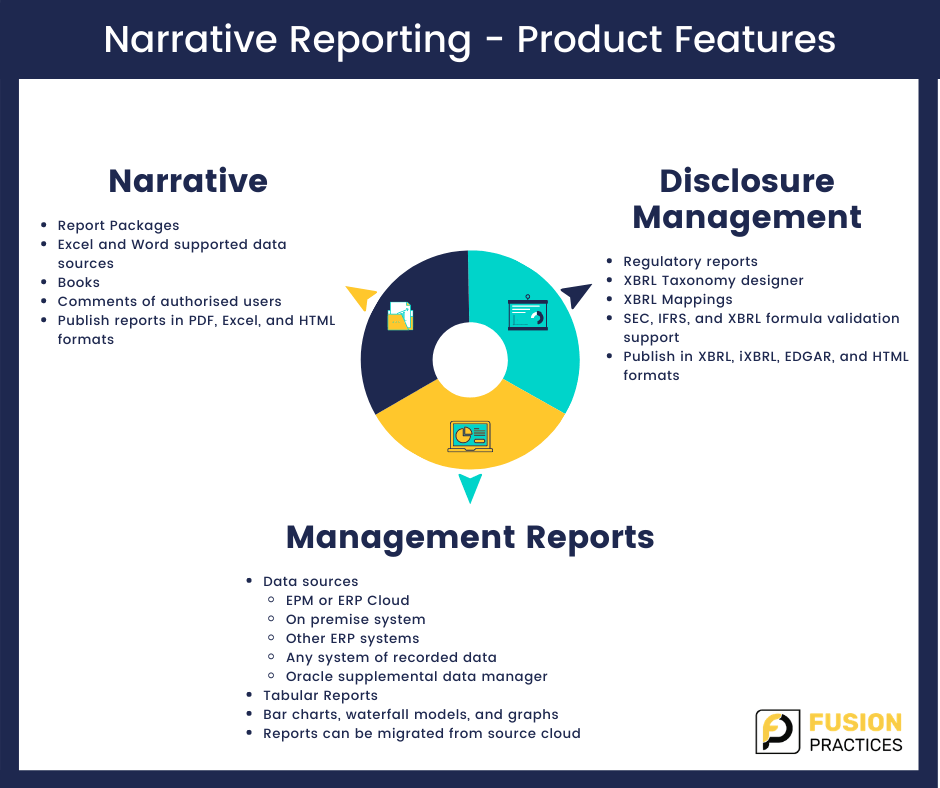 Components of Narrative Reporting:
Management Reports
Narrative Reporting Management reports pulls the data from a selected source for different periods—a month, a quarter, or a year—and represents the same in tabular and graphical reports. These can further be used as a reference for Report Packages and Books. For instance, IFRS statutory income statement, balance sheet, quarterly summary of activities for executives, credit risk exposures, and ratings of financial assets. 
Report Packages
The Narrative Tool Report Package enables you to define and customise the look and feel of your report. It can combine the data, narratives, data visualisations by referring to Microsoft Excel, Word, and management reports. The 'variables' feature helps manage the common text, numbers, and dates to be displayed throughout the Report Package. The Report package defines three roles:
Author – Multiple users responsible to compile various reports and supporting data into a cohesive report package.
Reviewer – Responsible for reviewing the draft versions and providing comments thereon to revise the reports.
Sign off – Involves signing off reports using electronic signatures and prevents further modification of reports.
For instance, Report Package can embed the quarterly activity summary table and the comments in the different sections of the table. It can also embed the content of statutory disclosure requirements such as business performance, system of governance, capital management, public disclosures, and many more.
Books
The Books in Narrative Reporting provide the ability to group together one or more management reports or documents to generate a single PDF output. You can provide a custom 'table of contents' (ToC) and use 'sections' to loop through multiple reports or to group the reports at one level of ToC display. One can select the parameters for all the reports in a book at the time of its execution.
Disclosure Management
Disclosure Management converts the statutory financial statements into Extensible Business Reporting Language (XBRL). It ensures data accuracy, secured management, and regulatory compliance. It offers XBRL taxonomy development and management, mapping concepts, and validation in a Microsoft Office environment.
These features make Narrative Reporting an apt solution to address complex reporting requirements. You are just a step away from bringing the tool into play. All you need is a thoroughgoing experience with the tool. At Fusion Practices, we match your business requirements with the product features. We explain how management information, disclosures, and regulatory submissions can be produced from one place, thus addressing reporting requirements at par. To know more, get in touch with us.
Author – Deepanshi Chaturvedi is an Oracle EPM Consultant at Fusion Practices