A fully configurable pre-awards solution that can be changed to meet your organisation's terminology and needs. To know how this solution can help your institute's pre-award process
Out of the box integration capability making it simpler to integrate with your existing systems such as HR, Finance and post awards. Get in touch to find out more
Dedicated ethics module where questions and answers can be configured specifically to your organisation. Fully configurable approval routing for proposals and ethics.

Full economic costing capabilities in line with TRAC requirements.

Funding rules and costing templates provided that can also be configured for your own needs

Budget versioning capabilities to help you get the best costs.

Build your own dashboard and reports highlighting the key information you
want to see.
Why do you need a pre-award solution?
You need a pre-award solution, if you want to apply for research grants. While there are many post award solutions that help make the process and
tracking seamless and rich, very few pre award solutions exist in the market.
Our pre-awards solution makes it possible to apply and gain funding for research grants.

Creation of proposals with required information. Storing and managing abstracts and supporting documents.

Full economic costings integrated with Oracle Cloud HCM and Payroll. Multiple costing versions to explore different options.

Approval routing and workflow management.

Recalculations on demand to get updated figures and comparison of multiple version of cost and price.

Integration into Oracle Grants Management Cloud to post awards process.
Here is a snapshot of a typical pre-awards journey considering different user viewpoints.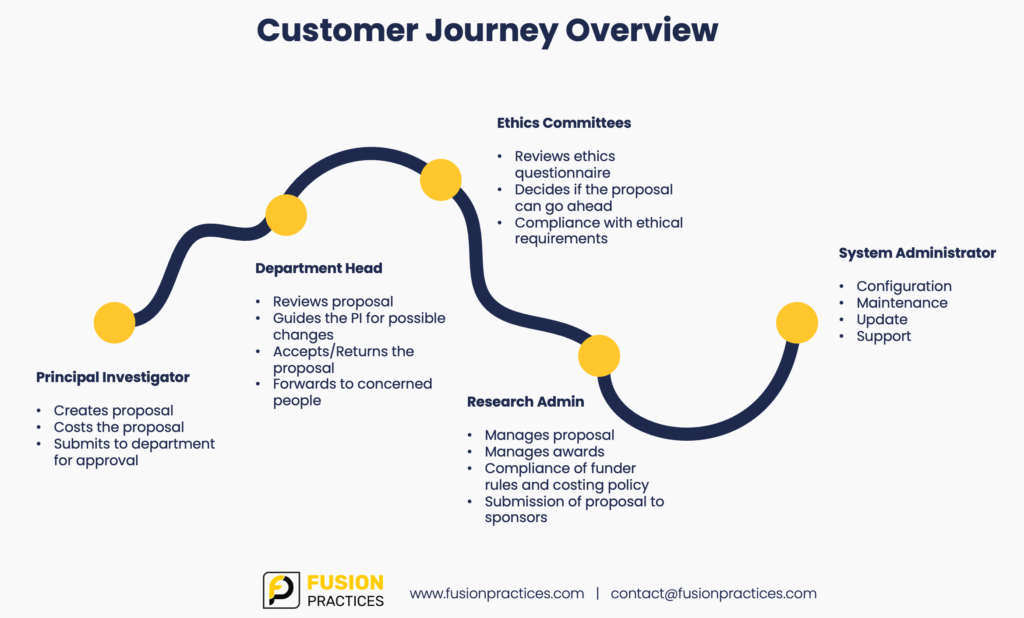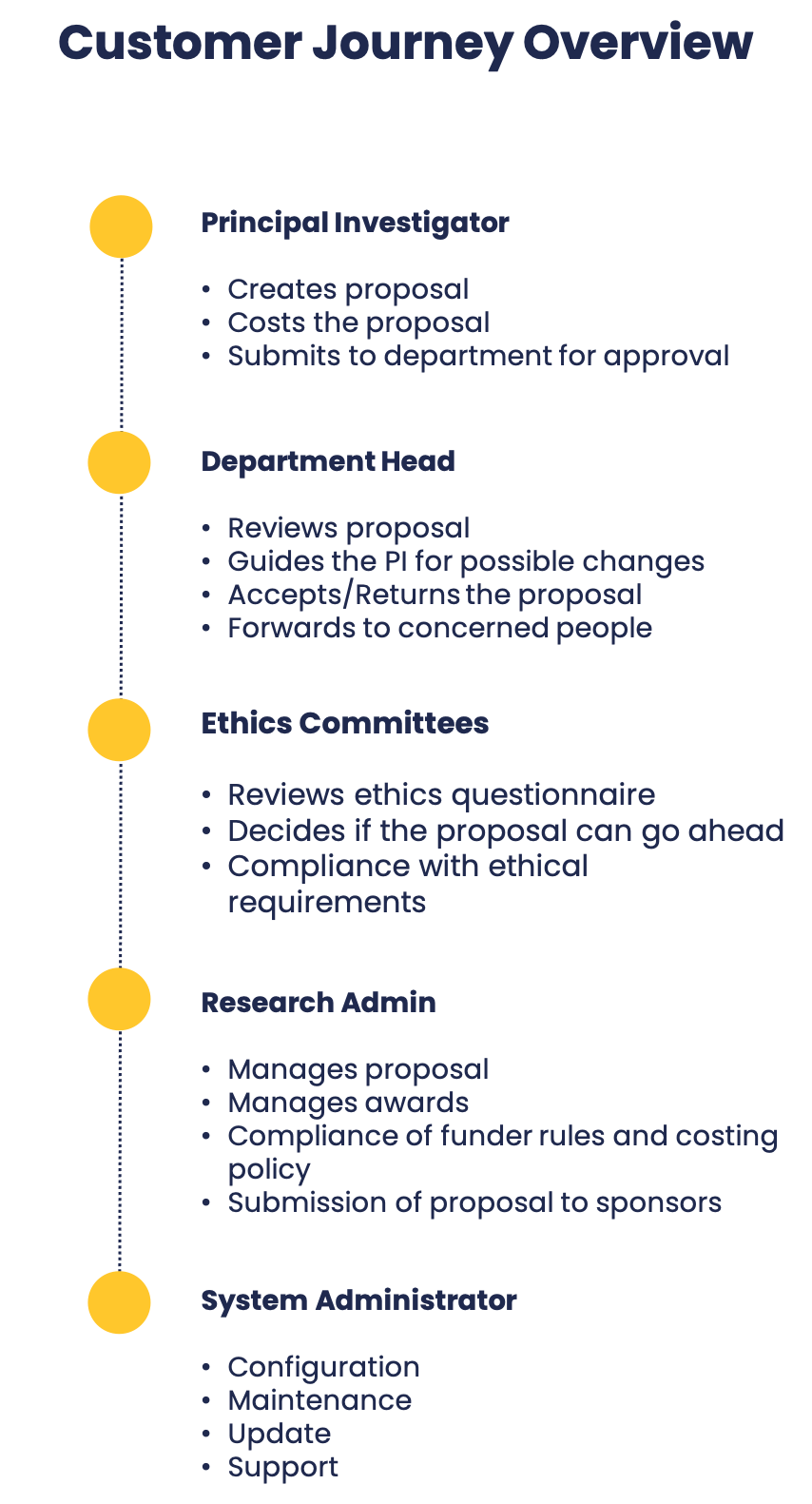 Our experience with pre-awards spans 16 years. We wanted to do this as
our core team members have had experience with pre-awards systems
where they came across numerous challenges. Some of these are shown
in the diagram below: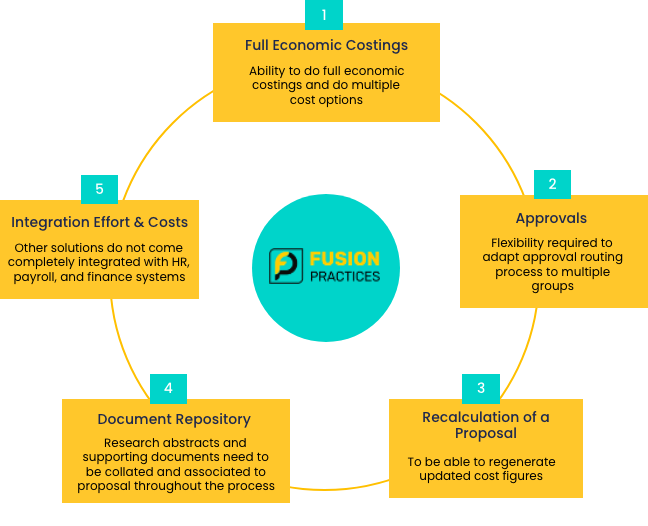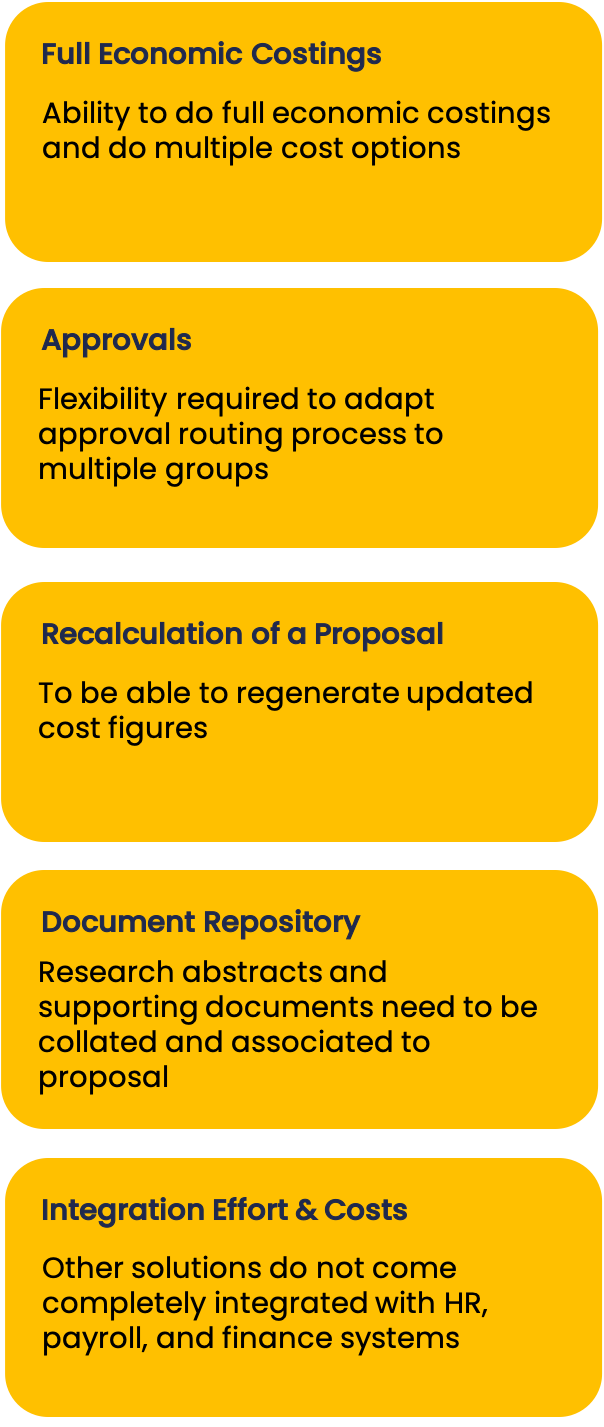 The FPL Edge
Our system is designed to meet these challenges. We also engaged with other institutions to understand other important areas. We therefore expanded our scope to include dashboards that can be built by the users, ethics questions, increased configuration and encompassed other new methods for how universities can raise money.


No double keying since information only needs to be stored once due to integrated systems. For example, sponsors, staff, grades, spinal points, award budgets etc.



Unified look and feel with Oracle Cloud ERP so users feel like they are using a single product



Fully integrated pre-awards solution reduces the number of 3rd parties and needs less technologies to support



Our solution offers the flexibility by configuration. Customers can use their own research terminologies


Competitor products are standalone, ours will be fully integrated to Oracle Cloud ERP



We will deploy our pre-built integrators allowing us to reuse our artefacts in Oracle PaaS



Pre-integrated to Oracle Financials and HR means our solution will be much faster to implement in comparison to other offerings



Reduced delivery risk of your finance and HR platform integration to pre-awards process The Oracle Advantage
Fusion Practices is an Oracle partner, so we have made use of our expertise and knowledge in this area to ensure our pre-awards solution comes with pre-integrated adaptors with Oracle Financials and HR. It also has the additional benefit of the same look and feel which will create a more seamless experience. Platform-agnostic solution
Non-Oracle customers can also integrate in a much faster timescale than would otherwise be possible because of flexible APIs. It can equally be used as a standalone or integrated with other HR and Financial systems.