Introduction to Mobile Apps
Mobile apps are applications that are built specifically to be used on smaller wireless devices such as mobiles and tablets instead of bigger devices such as the computer or the laptop. The mobile apps are drafted taking into thought the ability to make maximum use of their unique capabilities and advantages as well as the constraints of the devices.
Most simple Mobile Applications take an application based on a PC and transfer it to a smaller more portable Mobile Device. The drawback with this technique is that as Mobile Apps get more powerful, it is found to be inadequate to follow this technique as it may not make the best use of all the advantages that a mobile app can bring. An advancement and now more acceptable development would be applications for the Mobile or Tablet that would be able to make use of its advantages while being mindful of its limitations.
Difference between Native Mobile Apps and Hybrid Apps
Native Mobile Apps
Apps that are built within mature ecosystems following user experience guidelines and technical user preferences provided by the operating systems itself is what makes a Native Mobile App.
A Native App is a smart phone application developed and designed specifically for mobile operating systems. An ideal example would be that of any app for IOS or java for android with features like swipe jesters and alignments for Android and IOS.
To achieve the look, feel and consistency within the app most of the other Native Mobile Apps are built into the devices, thus provisioning Native Mobile Apps to offer the fastest, most reliable and most responsive experience to the user. Native apps have the significant advantage of being easily accessible and utilize the capabilities of the user's device itself, with features like GPS,  address book, camera etc.
Hybrid Mobile Apps
Hybrid Apps look and feel like the basic app but are ultimately outside the frame of the application. These types of Apps are powered by the company's website. Examples of Hybrid Mobile Apps are sites like Facebook, Netflix etc.
Hybrid applications are at core website packages wrapped into native wrappers, for instance, PhoneGap (a framework for software development used to develop mobile applications initiated by Adobe) or others.
It really makes sense to get started with a Hybrid App if you consider that It does not make sense to launch a native app platform or even recompile the app for just one feature as it would take a lot of time and could be comparatively very heavy.
Native functionalities like camera or GPS can also be used on Hybrid Apps by third party plugins. Nevertheless, the fact cannot be neglected that a lot of code needs to be enclosed with it, while on the other hand native applications are pretty easy to use and utilities functionality.
Reasoning that Determines the Choice in Types of Apps
Native vs. Hybrid Apps
Choosing a Native App when there is an enormous amount of data could be a tough decision or rather a decision to be rethought, Hybrid apps are more ideal in such situations.
Android vs. IOS
As mentioned earlier the BusinessProcessNow provision for Native Mobile Applications is available both on Android and IOS. The choice is yours!
Suggestions:
If you're starting in the mobile market it is suggested that you take the effort to research the sectors where the majority of your target audience is actually relying, whether they are on Android or IOS or Both.
When your choice is based on pricing factors. If you want your users to use paid apps then IOS is the go to in most cases whereas if you want your user to access the app freely Android would be the go to in most cases.
The choice between IOS and Android is also widely dependent on Geographical locations.
Benefits of Mobile Apps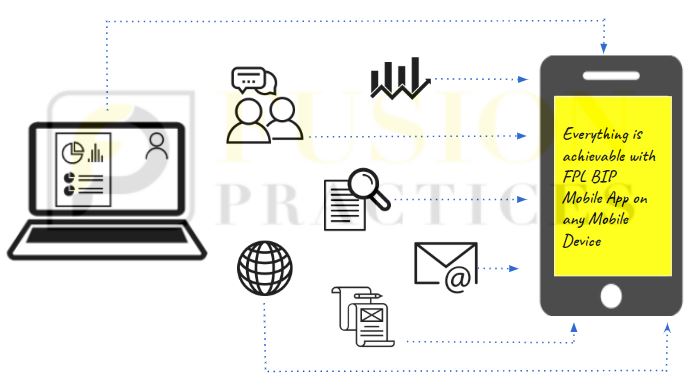 In this day and age where it is statistically proven that around 90% of the world's population are acquainted with smartphones when considering users between the ages of 18 & 50, smartphones have reached this new mountain peak. These factors have caused an awakening amongst Business owners as they have begun to come to terms with the importance of mobile apps.
Looking back at not more than 3 years ago, the traffic on the website from a Smartphone would have only been 10% or even less. But in today's scenario, the traffic coming in from a Smartphone would make up at least 70% of the overall traffic. When such is the trend it would be underestimating the trend to say that it will not increase from here. It can safely be said that businesses, clients and customers likewise will focus on intensifying mobile apps and the use of it if they haven't already made that consideration.
It is important to re-emphasize that a mobile app is not the same as a mobile friendly website and many unique features within your app can be better developed and more engaging than web elements.
Benefits of using Mobile Apps for Business
Increased sales
Facilitating your customers with constant visibility of what your business has to offer, notifying them of recent changes or improvements, a platform to maintain communication with them accessibility are all ideal ways to maintain customer experience and employee satisfaction and hence elevating sales.
A well developed Mobile App has the potential to check in and check out quickly, creating easy access to communicate and interact with the customer making sure to deliver on customer loyalty.
Compete Effectively With Targeted Competition
It is understood that the more frequently an occasion causes an authorized user to interact with your mobile app; it is more likely that they are going to make use or purchase something regardless of it being a product or service.
This can be analyzed positively in 2 perspectives, one that a client makes more purchases and is more satisfied with the service your app is providing. The other way of analyzing its use is that an employee is equipped with an app to enhance the individual's performance and make their tasks a little easier, resulting in not only employee satisfaction but also better, more effective results.
Effective frequency can be doubled if the business has a Mobile App that is in the precise market and is targeted towards the appropriate audience.
Customer Retention and Loyalty
We have established that an installed app can create a direct marketing channel, offering easily accessible information right at their finger tips.
We all know that it's not just the first impression that we're concerned about, as a business all of us aim to assist our customers in the best possible way throughout their journey with us.
We would like to believe that it must be accredited to mobile apps that they are better suited for user retention and re-engaging with clients, as it is always on your home screen and always logged in, as opposed to just a responsive website.
As Fusion Practices emphasis on Customer satisfaction within our organization,  we aim to participate in strengthening the user experience and satisfaction in your mobile app through our BPN Native Mobile App.
Helps You Stand Out From the Crowd
One of the ways that can be particularly emphasized in getting your business to stand out from the umpteen numbers of competitors out there is by getting your own Native Mobile App , soon most businesses will be on Mobile Apps , now and going forward what BPN promises is an app that grows and adapts with your business with no exorbitant costs of upgrades.
Sync all the changes you want from the web portal to your mobile app in seconds. The importance of an app in getting your business to stand out from your competitors cannot be emphasized enough. At this point, apps are still a rare implementation in certain sectors of business.
By launching a native app for your business, you can grab the attention of potential customers and capture a large part of the market share. By the time your competitors catch on(based on the nature of your business) you would have by then, hopefully effectively managed customer engagement and built strong customer loyalty.
Personalization Makes Users feel Special
Is the aim of Mobile Apps only to facilitate your users with wonderfully constructed useful and convenient software? Humans are social beings, strong emotional bonds are important to build trust. Brand trust is essential that every business desires. One of the ways this can be achieved is by personalization and also quick accessibility.
Some common valuable elements that make mobile apps more effective are:
Push Notifications – to allow businesses to keep close contact with news, updates and deals
Personalization- so that users can configure their notifications and favourites
Social Networking – to get users to share, which is essentially free advertising
How do we compare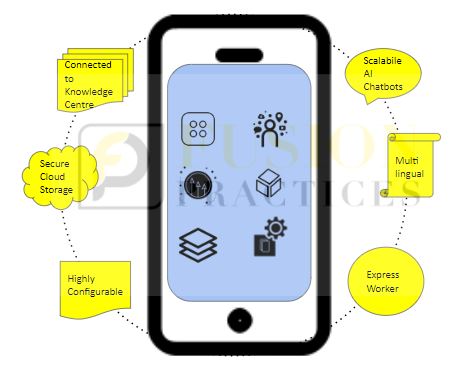 Imagine this: Sitting in front of your computer/laptop and taking the time to fill in details. Boring and cumbersome right? The thought of it makes you want to skip it or makes you gloomy. That is why Fusion Practices has a solution, introducing the BusinessProcessNow as your user-friendly friendly, highly customizable Native Mobile Application. You gain access to your one stop workstation anytime and anywhere, and finish your work in comparatively shorter periods of time. Being user effective and simple to use. Why? Because you find everything you need in one place literally on your finger tips, your Mobile Phone! No need to worry if it is adaptable for your phone since it is available both on IOS and Android.
One Stop Shop
One app to do everything may sound like it has only one use. But with the BPN Native Mobile App, you can make it your own and customize it for your needs giving different access to users based on their ranking and roles. All rights can be controlled from the Admin Portal and monitored accordingly.
No Network Requirement(Mobile Worker)
Your employees do not have to be connected to the internet while on-site with a client, they can simply key in the data which will then be uploaded once the device is connected to the internet.
Express Worker
Everyday brings with it different challenges but the hustle of life still doesn't change.The app helps that  Express Worker to complete the task soon leaving the worker time to continue or move onto his next task.
Knowledge Search
When you are in a hurry and searching for something takes time,Knowledge Search can make it easier. Use the search bar to type in what you are looking for and all the options which are related or close to what you have typed in will be displayed. With the saying 'Time is Money',every minute you spend is precious and knowledge search can help save those minutes.
No Expensive Upgrades
Are you concerned that your mobile phone will run out of space or that whatever you have saved might be lost due to corruption or when you change your phone? BusinessProcessNow's Mobile App is designed to be automatically updated in the cloud which is highly secured and can be used on any device.The Mobile App is also upgraded to meet the latest upgrades to keep you always in touch with the latest and never miss out on anything.
Business Automation Chatbot
The Native Mobile App has a Business Automation Chatbot (BAC) which provides real-time assistance.The Chatbot is powered with speech to text capability and uses style match technology, enhanced personalization, controlled tasks , case management and Request submission to help you find what you want and get the answers you need. This also reduces the work of your support agents as it acts as a Frontline assistant and improves by learning through scenario based experience over time.
Enhance your customer's experience and equip your employees with your own Branded Native Mobile App!