What is BusinessProcessNow?
Is your business operational efficiency being slowed down due to restrictions with the speed at which IT can deliver technology? Do you wish for all your business processes to be automated and made more efficient and integrated into related processes? Is the fear of costs of technical intervention stopping you from adding new processes to your enterprise?
We understand your concerns.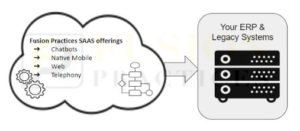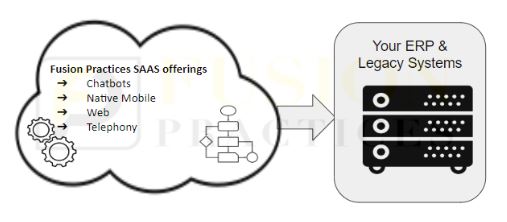 To address those concerns, Fusion Practices offers our BusinessProcessNow (BPN). The BusinessProcessNow is a one-stop Multilingual Highly Configurable Innovation Platform to innovate your ERP and Legacy Systems, available on Native Mobile Apps, the Web, Telephony and Chat Bots to transform a business wish list into a working reality that helps boost efficiency throughout your business.
The BPN solution consists of an Administration portal which facilitates customization and configuration of various forms, approval rules, lifecycles, task schedules from websites etc. It also consists of a self-service portal, offering to the users Native Mobile Apps, Web User Portals, Chatbots etc.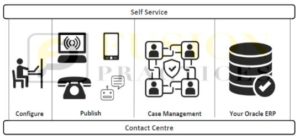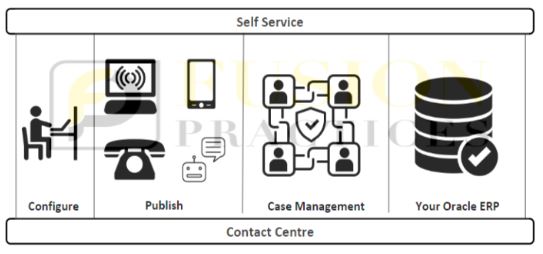 The Integration Layer allows it to integrate the innovations of our platform with your back office ERP and Legacy systems, for example, different kind of requests such as Expense and Requisitions based on your business requirements. Approvals can then be carried out from the BIP platform or within your ERP system based on your preference.
How will it Benefit You?
What difference is the use of BPN going to make to my organisation? What are its benefits? What can I do differently from the current process that I am following?
If these are the questions running through your mind, these were the same questions that ran through ours and trust us that's a great place to start! Let's take the next couple of minutes to address those very important questions.
Let's look at some of the pain points that Customers, Employees and Organisations face on a day to day basis through their business endeavours, the struggles that we face and the roadblocks that slow us down and how  BusinessProcessNow (BPN) solves them. This will help us facilitate the understanding of the benefits and capabilities of the BPN and what it is that we do differently that will revolutionize your business processes, customer and employee experience.
Pain Points
Customization
Platforms and Applications are all standard and cannot be modified to suit my needs.
Customizations of ERP's are very expensive and not recommended.
It takes a long time for custom development.
Custom development TCO is expensive for long term maintenance costs
….However, I want my ERP & legacy systems to be innovative and should provide a platform that works across all my business processes. I do not want to have offline excel based processes and want to centralize my data for value add analysis.
Automation
My ERP lacks innovation resulting in increased headcounts and disjointed solutions creating a void in automation and robotic processes.
Deprivation of automation causes overburdening of tasks on employees resulting in inefficiency and avoidable errors due to human limitations.
Unforecasted situations let businesses suffer as current tools take time and technical intervention to create processes capable of handling the current burning situation.
….However, I want to avoid manual work and have automation achieved
Multilingual
My business is fast growing and becoming a global enterprise but I am restricted due to language barriers of my tool where the software is in English but the user base is across the world and different languages.
I am in a particular geographical location but my target audience is located elsewhere.
My client's customers are from different global language ethnicities and this restricts the capabilities and business opportunities that I can offer to my clients.
….However, I want my business processes to work across all languages.
Safety and Security
There is constant conflict about who is responsible for the different layers of security of the systems governed by the organization.
The mounting pressure of maintaining laws set by the Risk and Compliance terms and fall-throughs which could pose a threat to the business monetarily and affect employees growth due to unintentional breaches which could be avoided by security features of the tool.
Risk, and Cyberthreats of Cyber attacks on ERP's leading to Cyber Espionage, Cyber Sabotage and Fraud.
Protection of the platform itself from vulnerabilities, misconfigurations and security of the custom code.
….However, I want my custom processes to be highly secured with data encrypted at REST.
Expensive ERP Upgrades
ERP system upgrades are too expensive and at times add no value to the business. However, your business user needs new capabilities and maintaining black box customizations to ERP are expensive.
Tools are created only to run certain functions, resulting in usage of stagnant processes though business concepts and approaches have evolved.
Implementation of cumbersome workarounds due to the fear of upgrade costs.
….However, I want my business users to get the latest features such as mobile apps, chatbots and telephony integrations to work across my ERP and legacy systems
 Standard Design and Content
All the  pages of my tool look the same
I wish I could have customisable colour coded pallets to distinguish required milestones of a specific process
A desire for my tool to be more interactive with a provision of a communication platform as a one-stop shop , which can be monitored based on roles instead of using multiple tools for various interactions, facilitating comment documentation.
….However, I want my business processes to offer common look and feel regardless of ERP, or business processes.
Benefits
Customization
Our platform boasts the capability to be customized by configuration and tailored according to your needs. All it takes is a couple of configuration steps and you're good to go! Creation and implementation of your custom processes is the very heart of the tool.
We at  Fusion Practices strongly encourage the good practice of not customizing your ERP but would like for you to benefit from a tool that allows you to create and implement those customizations on our tool and we will integrate it with your ERP for you.
Simple and Easy To Use
Though the Business Innovation Platform is highly configurable it is also Simple and Easy to use endorsing user-friendliness for customers, employees and the organisation.
Implementing our tool requires no technical knowledge, therefore, allowing trained subject matter experts on simple and easy to understand concepts to rapidly implement their innovative ideas. We all know that someone who is happy stays loyal be it your customer, supplier or employee based on your use case.
Cost Effective and Time Effective
BPN is designed to be intuitive for both implementation and usage, therefore, reducing the costs for adoption and change management. Our platform is scalable and fits with most budgets. The BPN is capableof keepingg up with the growth rate of your organisation and  grows as your organization grows, eliminating the need for infuriating upgrades.
Life today is fast-paced and losing a few minutes leads to a lot of damage and loss. The platform converts even the normal worker into an express worker making sure that no time is lost due to its high efficiency, ease of use, well-defined process steps and Rule configurations that govern the process flow ensuring the damages or losses incurred is cut down completely or to a bare minimum.
Security
To keep data safe and to prevent loss or theft of important data to an organization is crucial and we believe the absence of which could lead to huge crevices in any organization. BusinessProcessNow holds data security solutions as a very integral part of our system.
BPN is highly secure, as it is a SAAS offering we are hosted on a secure cloud that has never been hacked. Further our application is fully validated by security specialists. All the communication is over a highly encrypted secure channel ensuring secure data transfer.
Automated and Library based Knowledge Management
Answering Frequently Asked Questions (FAQs) can be easier with the help of our Chatbot and Knowledge Search modules, instead of consuming your support teams time with these queries, they could take up unique questions and cases that necessarily require human intervention.
We can help you present a unified Chatbot across your ERP and legacy systems and Knowledge search functions that assist your users to support articles as well as direct them to desired tabs instead of them having to remember navigational steps.
One Stop Shop Communication Arena
Communicate with your team members, authorities and clients within our portal. Send SMS 's, emails and make use of telephony services which are built-in features in the platform and mobile app itself. Enhance your contact centre experience with our Contact Centre module and our optimized Interactive Voice Response (IVR) technology.
Multilingual
English is the most common universally used language but not all employees/customers are extremely comprehensive in English to be comfortably productive enough. BusinessProcessNow is multilingually giving it room to be used in any language from anywhere around the globe as it is equipped with all the languages that Google supports. Gone are the days that language and cultural differences can ever be a barrier in confining eminent knowledge but only a global asset.
Monitoring User data and Reporting
Monitoring user data helps a company to make vital decisions.BusinessProcessNow supports disputes, feedback etc.
Extensive customization Reporting and Dashboarding is widely supported by BPN.
Platform Capabilities and Workflow
We at Fusion Practices have equipped BusinessProcessNow with capabilities that we are confident will help you strengthen relationships with your customers and employees.
Highly Configurable Admin Portal
presents the opportunity for forms to be configured to the degree required by you and for you, permitting Role Based Access Control (RBAC) at every stage from the highest to the lowest level providing the perfect scope to collect data based on roles and enhance security features. With a wide variety of field or items available to use.
Create your own set of priorities at as many levels as you desire to get the best custom results to help you prioritize your work, cases, requests and tickets that you receive.
Define the different stages of workflow and Life Cycles in your organisation as a Status or Life Cycle and add them to your respective libraries, which will then appear at all times as available options when creating your forms instead of recreating them at every required instance.
Govern the data that you accept, your processes and workflows by Rules that you define to avoid rework and audit issues.
Let those desires flow and determine how you want your Native Mobile App, Web User and Admin portals to look by creating your own themes, logos and colour schemes. You can change these as many times as you want, even if it's one for every season with no additional costs but only a couple of few simple steps without the need for an expert designer or artist.
And many more …
Workflow
Service Desk
Need help with anything, walk to the closest service desk or help desk and they will clarify and resolve the issue for you.BIP has a service desk which does just that for you without walking anywhere. It is a  feature that is inbuilt into the platform to help you resolve any issue that you are facing.
View a list of all Service Requests raised, with all related information. Configure filters to view the kind of information you want to concentrate on and analyze them with graphs and charts.
Case Management
Knowing today's fast-paced world, keeping track of all your updates and everything important to you can be challenging. Your suppliers, your customers, your employees all send requests for something. If this happens on emails then it is easy to lose track of the status of it. Our platforms service desk and case management system avoids you losing track and automates your entire business process and enables streamlined audit. You can track the status of your requests or any task, and achieve enterprise task process automation through our platform.
Once implemented as the ticket moves from one state to the other it is auto-updated so you can track the status of your service desk request.
Providing a list of all cases raised depending on the form type. Manage these queues based on your roles, analyze and make the best use of graphs and maps.
Tasks
Attach a task to a service request or case and follow up on it. You can also use the Task portal to plan your schedule and assign tasks to your team members. Your team members will be notified once a task is assigned to them, they can also view a list of all the tasks assigned to them and their respective status. You can monitor these tasks and answer any questions related to it. This finds its use very convenient in Mobile apps.
Community
Define People and Users within the application and assign Roles to them that you have predefined in your system library based on your requirements. Create User Groups based on User Function, Alignment or Business Processes. View a list of your community members and all their attributes and skill sets, which can be edited and updated from the admin portal based on roles.
SLA
At every level of the organisation, there are different Service Level Agreements (SLA) that form a binding, it helps to have them tracked in a single place and followed up stringently, hence the BPN provides a solution for you to define them and keep a keen track on it.
Dashboarding
An array of options are available for you to custom create your Dashboards and it's parameters to boost your preferences in dashboarding.
Native Mobile App
Gone are the days when the computer or even the laptop was needed to do anything. Today mobile is useful, so useful that sometimes it replaces its bigger brothers-the computers, laptop. When such is the case, the mobile cannot be ignored.
That brings us to the fact that our platform is available on the mobile phone which is user-friendly and highly customizable and performs the same functions as the web user portal if not more functions like our Mobile Worker, available on both IOS and Android. The Native Mobile App is so simple to use that it requires basic commonly used technical knowledge.
The app boasts the ability to be used offline as well. View tasks assigned to you and key in the data even though you're not connected to the internet and it will be automatically uploaded and synced when your back online.
Chatbots
Chatbots are gaining more popularity in the marketing industry and this is because they are bringing a new way for businesses to communicate with the world.
Our BPN's Chatbot uses Style Match Technology to help users find what they want and get the answers they are looking for. Our Chatbot also answers FAQs saving employees and users time and if and when needed it directs the user to someone who can help them if it does not know the answer and learns your process over time due to the Artificial Intelligence it is created with.
Filling in forms and details can be quite stressful at times if not always especially if you are in a hurry, that's why the Business Automation ERP Chatbot fills forms and likewise details for you once provided by the required details received by prompting for it. For example, we have integrated our Chatbots with Oracle E-Business Suite ( EBS ) ERP.
You can input and alter the answers and that you want to give your user and determine the conservation flow from within the platform itself.
Knowledge Search
Makes everything a lot easier for the business as well as users, write up a couple of articles and define the most used keywords your target audience will use, once the word is entered it will provide the user with your best-suited articles also through the Knowledge Search, we also suggest related Tabs and Forms parallelly to the articles which will take the user directly to that tab, avoiding long navigational steps.
iSupport
iSupport is the Support portal that Fusion Practices offers, if you or your team members have any concerns or queries related to our platform or for whatever reason that you may want to reach out to us, you could raise an iSupport ticket and set the priority and we will pick it up and provide assistance on whatever you need related to our platform within an agreed Turn Around Time (TAT).
Use Cases Integrated with ERP
Before you can get what you want, you have to know what you want and make a game plan to get it.
But don't worry, we got you covered since the use cases are already integrated with ERP.
The following are the use cases that are already integrated with ERP
Supplier Onboarding process that involves procurement, legal and finance teams
Supplier and Customer Dispute Management integrated to your ERP system
Field Service Management and Repairs
Employee Complaints and HR Helpdesk
Mobile and Chatbot Timecards integrated to your ERP systems
Requisitions and Expense management with mobile & chatbot enablement
Configurable Business Process Automation with their integration to your Oracle EBS, SAP, IBM, Workday etc.
Contact centre with Telephony, Web Chat and Mobile providing a unified front end for your legacy systems
Robotic Process Automation to reduce manual work